Berlin attack: Tunisian man freed after being investigated as possible contact of Isis supporter Anis Amri
Hunt continues for possible accomplices in Christmas market attack that left 12 dead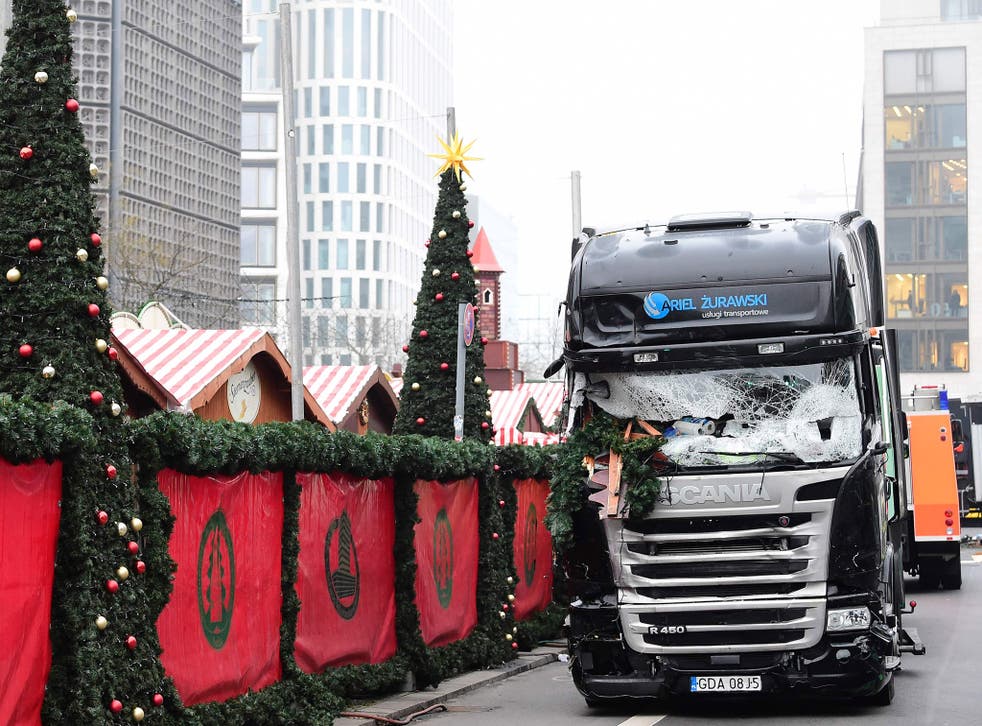 A suspected contact of the Berlin attacker has been set free in Germany as investigations continue into possible accomplices.
No charges were brought against the 40-year-old Tunisian man, who was arrested in Berlin on Wednesday, a spokesperson for federal prosecutors said.
Officials previously announced the man's number had been found on Anis Amri's phone, showing he "could have been involved in the attack".
But a spokesperson said no link was established and the man has been released.
Video surfaces of Berlin attack suspect Anis Amri
"Further investigations determined that the man who was provisionally detained isn't this possible contact person of Anis Amri, so he had to be released from custody," Frauke Köhler said.
Amri, a 24-year-old Tunisian man, fled the scene of the attack on 19 November and was shot dead by Italian police days later in Milan.
Ms Köhler said the gun he used to fire at officers was of the same calibre as the weapon used to kill a lorry driver as he hijacked his vehicle.
Investigations have also confirmed a video of Amri pledging allegiance to Isis that was released by the group following his death to be authentic.
Amri killed 12 people and injured more than 50 more when he ploughed the lorry into a busy Christmas market.
The vehicle's automatic braking system prevented more deaths by forcibly bringing it to a stop, prosecutors said.
The hijacker fled the scene and was later identified as Amri, whose wallet, identification, phone and fingerprints were found at the crime scene.
Minutes before the attack, he reportedly sent a selfie from the cab along with a message reading: "My brother, all is well, according to God's will. I am now in a car, pray for me my brother, pray for me."
"Brother" is frequently used to address other Muslims, rather than exclusively relatives, and investigators are still working to establish who received the messages.
Berlin Christmas market lorry attack

Show all 18
​The 24-year-old Tunisian man had a lengthy criminal history, including armed robbery in his home country and arson in Italy, where he was jailed for four years after arriving in Europe by boat in 2011.
Amri's brothers believe he was radicalised during his imprisonment, travelling onwards to Germany where he became part of an Islamist network including two hate preachers in Dortmund and Hildesheim who have since been jailed for supporting Isis.
Having flagged as a terror risk, he was put under surveillance over a separate attack plot in March but the investigation stopped in September after uncovering drug dealing and minor crime but failing to reveal evidence of extremism.
Security services rated Amri as a "five" on an eight-point danger scale, Süddeutsche Zeitung reported, despite having evidence he volunteered to commit a suicide bombing and researched making explosives, and updating his file just five days before the Berlin attack.
Amri's asylum application was denied in June but Germany was unable to deport him because Tunisia refused to accept the expulsion without documents proving his nationality.
Prosecutors in North Rhine-Westphalia also opened a fraud investigation after Amri was suspected using two of at least eight identities he employed in Germany to claim refugee benefits in two towns.
​Authorities across Europe are attempting to piece Amri's movements together through Germany, and then on his route via the Netherlands and France to Italy as he fled following the attack.
Join our new commenting forum
Join thought-provoking conversations, follow other Independent readers and see their replies