Brexit: European support for EU has increased since UK decided to leave, finds research
Nine out of 10 EU countries surveyed, including the UK, now have a positive view of the bloc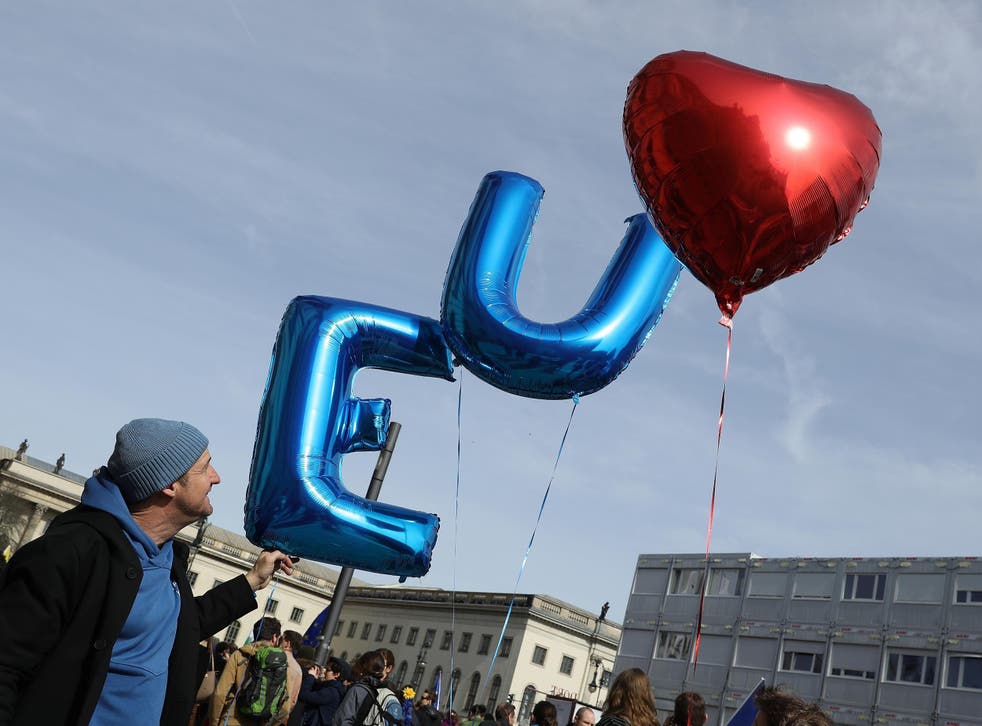 Support for the European Union has "rebounded dramatically" in most major member countries after Brexit, although the majority of citizens believe they should also have a referendum, new research has found.
The study by US think tank, the Pew Research Center found that people had a positive view of the EU in nine out of the 10 countries.
Even in the UK, 54 per cent of people approved of the 27 nation bloc, although 40 per cent disapproved.
The only country with a negative view of the EU was Greece which is still struggling to meet the terms of the deal made with the "troika" – the European Central Bank, the Eurogroup and the International Monetary Fund – for bailout loans in 2010, 2012 and 2015.
A decade on from the country's financial crisis and a quarter of the workforce is still unemployed and nearly a third live in poverty.
The findings come as pro-EU leaders are beginning to feel a renewed sense of confidence and believe that the tide of right-wing populism which has spread across Europe over the last few years is starting to ebb.
In France, where support for the EU has risen 18 points to 56 per cent in favour. It followed an overwhelmingly victory by pro-European centrist Emmanuel Macron in the presidential runoff against far-right Front National (FN) candidate Marine Le Pen.
In pictures: European parliament Brexit discussions

Show all 12
The victory was compounded over the weekend, when the FN saw its share of the vote drop significantly in parliamentary elections.
The party won around 13 to 14 per cent of the vote, which compared poorly with the 21 per cent Ms Le Pen won in the presidential race.
FN is on course to win between one and 10 seats in the National Assembly after the 18 June run-off while Mr Macron's centrist La Republique En Marche! Party and its MoDem party ally are expected to win of 445 out of 577 seats.
The report shows support for the EU is highest in countries with anti-EU leaders.
For instance, only 13 per cent of Hungarians believed the country should leave the EU even though their prime minister, Viktor Orban, has been a thorn in the side of his partners in Brussels.
Mr Orban called refugees entering Europe a "poison" last year and opposed the EU's plan to use a mandatory quota system to distribute migrants around the 28-nation bloc.
But the report also said immigration is still an issue which people believe they should have more control over.
Seventy four per cent of people surveyed across the 10 countries felt their national government should be able to do more to control immigration from outside the EU and 66 per cent said it should have more power to restrict migration within the bloc.
Register for free to continue reading
Registration is a free and easy way to support our truly independent journalism
By registering, you will also enjoy limited access to Premium articles, exclusive newsletters, commenting, and virtual events with our leading journalists
Already have an account? sign in
Register for free to continue reading
Registration is a free and easy way to support our truly independent journalism
By registering, you will also enjoy limited access to Premium articles, exclusive newsletters, commenting, and virtual events with our leading journalists
Already have an account? sign in
Join our new commenting forum
Join thought-provoking conversations, follow other Independent readers and see their replies