British man among aid volunteers arrested for giving food to refugees stranded in Italy
Local authorities cracking down in area dubbed 'mini Calais'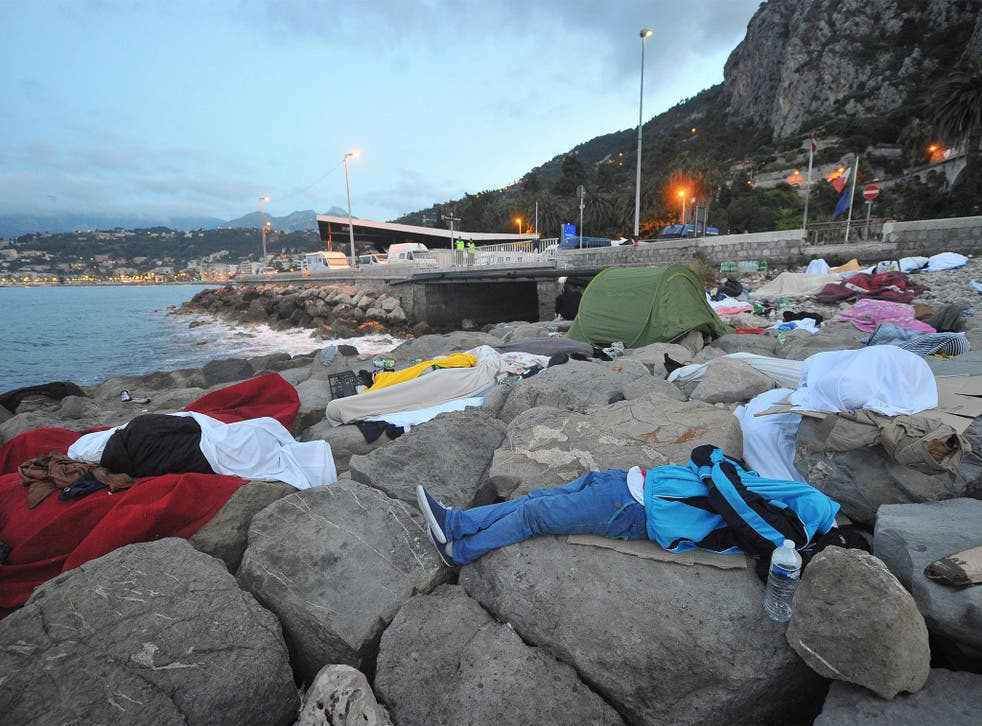 A British man is among a group of volunteers arrested for giving food to refugees sleeping rough in Italy amid a crackdown on migrants attempting to cross the border with France.
He was detained alongside two French volunteers in Ventimiglia, which has been dubbed "mini Calais" because of the number of asylum seekers stranded there.
Gerard Bonnet, a fellow member of the Roya Citoyenne group, said their fingerprints and photographs were taken by police before being released.
Italian police struggle to contain Ventimiglia migrants as French accused of foul play
"We were about ten people but they took the two drivers of the vehicles which had the food and Simon, a Briton who had forgotten his passport," the 64-year-old told AFP.
They had been distributing 160 packages of food, supplies and clothing donated by supporters.
After almost two years of continued attempts to walk along roads and through mountainous tunnels into France, Italian police have deployed a heavy police presence in the area.
As part of efforts to prevent informal migrant settlements springing up near the border, the mayor of Ventimiglia, Enrico Ioculano, issued an order forbidding the distribution of food and drinks to refugees in 2015.
The offence is punishable by a fine of around €200 (£170) and a three month prison sentence.
Thousands of those making the treacherous boat crossing over the Mediterranean Sea have journeyed to the area from southern Italy in efforts to reach France and other parts of Europe.
In pictures: A day of refugee rescues in the Mediterranean Sea

Show all 7
An increasing police presence has been met with protests by migrants and activists, with some devolving into violent clashes.
Local authorities have also been detaining and prosecuting people attempting to drive refugees from Italy into France on charges of "aiding illegal immigration".
More migrants are expected to arrive in Ventimiglia as thousands of asylum seekers attempt to cross the Mediterranean Sea in flimsy boats launched by smugglers in North Africa.
The vast majority are rescued and taken to Italy, where almost 21,000 asylum seekers have arrived so far this year, mostly from sub-Saharan African countries and Bangladesh.
A record number of migrants are dying attempting the treacherous crossing, with at least 240 feared dead in the latest disaster off Libya on Thursday and 11 more refugees drowning attempting to cross from Turkey to Greece on Friday.

Register for free to continue reading
Registration is a free and easy way to support our truly independent journalism
By registering, you will also enjoy limited access to Premium articles, exclusive newsletters, commenting, and virtual events with our leading journalists
Already have an account? sign in
Register for free to continue reading
Registration is a free and easy way to support our truly independent journalism
By registering, you will also enjoy limited access to Premium articles, exclusive newsletters, commenting, and virtual events with our leading journalists
Already have an account? sign in
Join our new commenting forum
Join thought-provoking conversations, follow other Independent readers and see their replies