Calais violence leaves four teenage refugees in critical state as smuggling gangs 'exploit growing desperation'
Sixteen-year-old boy among three others in intensive care after being shot in back of neck during clashes - as people smugglers 'pit groups against each other' amid rising tensions
May Bulman
Social Affairs Correspondent
Friday 02 February 2018 16:38 Comments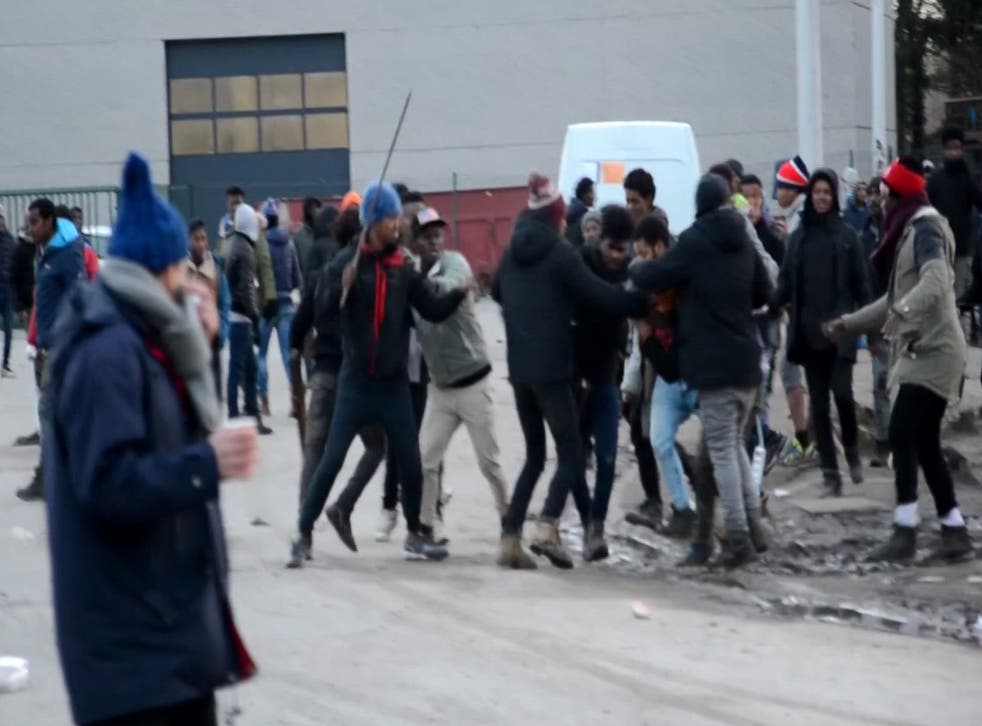 Four teenage refugees are in critical condition and more than a dozen others injured after violence broke out in Calais amid an increasingly desperate situation that has seen smuggling gangs, according to one charity, "pitting communities against each other".
A 16-year-old Eritrean boy who was shot in the neck is among some 22 people in hospital following a series of clashes on Thursday. The fighting is said to have started among around 100 young Eritreans and 30 Afghans during food handouts, after gunshots were fired by a man believed to be a people smuggler.
Charities on the ground have said the incidents left unaccompanied minors as young as 13 with "nowhere to go" because the scrubland they had been sleeping on became too dangerous following the conflict.
France's interior minister said it was a level of violence never seen before among refugees in the region, warning the situation had reached a point that was "unbearable" for both refugees and residents. He said more police would be sent to Calais to crack down on criminal gangs.
A surge in refugee arrivals since Emmanuel Macron urged the UK to take in more unaccompanied minors last month has seen an already overwrought atmosphere riddled with tensions as displaced people hoped to be granted passage to Britain.
Margot Bernard, field coordinator for charity Safe Passage, said around 200 more refugees had arrived in the last two weeks, with tensions being exacerbated by a dearth of information and a "lack of action" by the French and UK governments.
"Conditions have been very difficult for months. The horrible living conditions have been creating tensions," she told The Independent.
"Around 200 new people arrived in Calais in the two weeks after the Macron visit, most of whom has been in other parts of France. That created a lot of tension, and people were asking for information that no one had. We still don't have clear information to give to people. We need to see some political action."
Ms Bernard said limits and severe delays in the family reunification process and the Dubs Amendment were leaving children with a right to come to Britain languishing in Calais, with many of them caught up in the violence.
"We received calls from young people who didn't know where to go, because the place they used to sleep was no longer accessible and were very dangerous," she said. "We managed to get some into safe accommodation, but many are still out there with nowhere safe to go."
Charities said they had been warning the authorities of the dangerous and violent potential of smuggling criminal gangs in Calais, and the "destructive" influence they hold over those in the region.
Annie Gavrilescu, France regional manager for charity Help Refugees, said: "Yesterday's clashes tragically show the true extent of the suffering these criminal gangs can cause, pitting communities against each other for gain, while displaced men, women and children in Calais are barely surviving in the most inhumane conditions.
Refugees welcome here: Protesters demand UK resettle more migrants in response to refugee crisis

Show all 7
"The destitution, desperation and fear of the authorities have allowed these tragic events to take place, because smugglers exploit it. This has been brewing for a long time. It follows three deaths and two nearly fatal accidents in the last two months, showing the sheer hopelessness looming over everyone."
It comes less than a month after a refugee lost both his legs when he was hit by a train near Calais during an attempt to enter the UK – an incident that prompted warnings that displaced people were being driven to take "irrational and dangerous" risks amid "growing desperation".
Three refugees were killed on the roads outside the Calais port in December, a month after a 15-year-old refugee who was run over by a refrigeration truck.
Register for free to continue reading
Registration is a free and easy way to support our truly independent journalism
By registering, you will also enjoy limited access to Premium articles, exclusive newsletters, commenting, and virtual events with our leading journalists
Already have an account? sign in
Join our new commenting forum
Join thought-provoking conversations, follow other Independent readers and see their replies