Wives of Catalan leaders on trial speak out: 'All we can do is keep supporting them'
It is in Madrid – the capital of a country they do not consider their own and condemn as a 'dictatorship' – where the future of their husbands will be decided, writes Daniel Wittenberg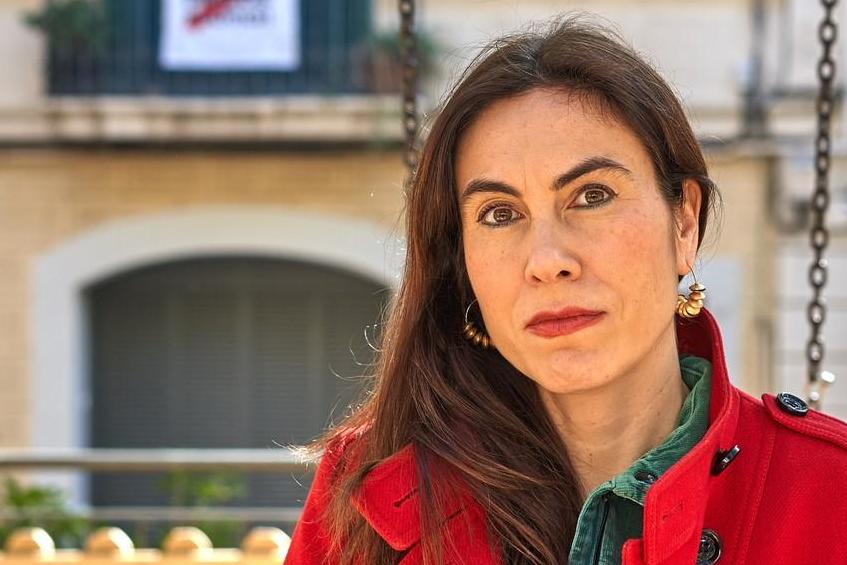 Barcelona and Madrid are roughly as far apart as Glasgow and London, and yet you could be forgiven for thinking the distance was even greater.
For the loved ones of the 12 Catalan separatists on trial at the Supreme Court in Madrid, this distance is both a painful metaphor and proof of what they insist is an unjust and "politically motivated" response by the central government to the Catalans' failed drive for independence after the unsanctioned referendum in 2017.
Yet it is in Madrid – the capital of a country they do not consider their own and condemn as a "dictatorship" – where the future of those on trial will be decided.
"It sums up the disparity between Spain and Catalonia on every level," Txell Bonet tells The Independent, near her home in the Gracia district of Barcelona.
Her partner is Jordi Cuixart, the president of Omnium, a grassroots activist group committed to Catalan independence, who along with most of the accused parties is charged with rebellion and faces up to 17 years in jail.
Protests as Catalan leaders face trial: in pictures
Show all 13
"The Spanish authorities didn't have enough integrity to hold the trial in Catalonia, where the 'facts' took place – instead it is in a court with no avenue for appeal," Bonet laments.
"They didn't even have the humanity to spare families from Barcelona having to travel so far to visit their relatives."
Bonet's commute to see her other half is particularly complicated, since she and Cuixart have a baby boy, Amat, who turns two in May.
Cuixart has been forced to do most of his parenting from prison. Detained in Madrid, he is only allowed one four-minute phone call a day and one family visit a week, Bonet says.
"We have to make an enormous effort to take the train, then a coach to the prison, and come back the same day," she says. "It's impossible for my son. Last time we went, Amat cried for nearly the whole journey. I don't know if I can take him this time. I don't think he is ready yet to go through it again."
The real democratic test will be snap Spanish elections scheduled for 28 April, in which the secession question is expected to dominate. Eyes will be on the trial to see if anyone on the Catalan side incited violence. The trial is not expected to reach the sentencing stage until the middle of May.
Laura Masvidal – a marketing manager – is the wife of ousted Catalan interior minister Joaquim Forn. He's also charged with rebellion and faces up to 16 years in jail.
Forn, unlike Cuixart, had the opportunity to escape when he travelled to Brussels with five other key members of the regional government, but chose to come back to Catalonia and make his case in court.
Whilst she is in no way disappointed by his decision to return home, knowing he risked being detained – instead of escaping trial by remaining in self-imposed exile like former Catalan president Carles Puigdemont – she is not optimistic about the prospects of her husband being released anytime soon.
"For the Spanish state not to punish them would be to admit they have made mistakes," she says. "It's clear they feel threatened by a growing movement demanding basic democratic rights. They will be tough, very tough."
Masvidal believes they had no choice but to hold the referendum. But what happened afterwards, she says, still took everyone by surprise.
"The leaders went into a state of shock. They had never prepared for a scenario in which innocent people would suffer from violence. That was when things started to fall apart."
When the Spanish court decided to suspend the Catalan parliament in the wake of independence vote, her husband told her that he "had to go abroad". She then didn't hear from him again, until five days later, when he appeared on TV in Belgium.
Masvidal argues that whilst the Catalan leaders made "serious mistakes", chiefly not establishing formal negotiations with Madrid, none of their actions were criminal.
"I don't have a proper relationship with my husband. When he comes back, things will have changed," Masvidal says.
Catalan secessionists block highways and train tracks in strike
Amid detailed coverage of the "dangers" of Catalan nationalism, there is growing frustration among Catalan circles that there is a lack of emphasis in the Spanish media on how the imprisonment of leaders is affecting their families, who never imagined their political commitments might end up forcing them apart.
"I don't want to live constantly as a victim. We have to go about our daily lives," Bonet agrees.
"Jordi and others will stay in jail for as long as it takes for justice to prevail. All we can do is keep supporting them and defending their ideals."
The trial continues, and back in Barcelona, life also has to go on.
Join our commenting forum
Join thought-provoking conversations, follow other Independent readers and see their replies