Catalan referendum: Spanish king accuses 'disloyal' separatists of breaking law
King Felipe has called for calm but accuses the Barcelona government of behaving irresponsibly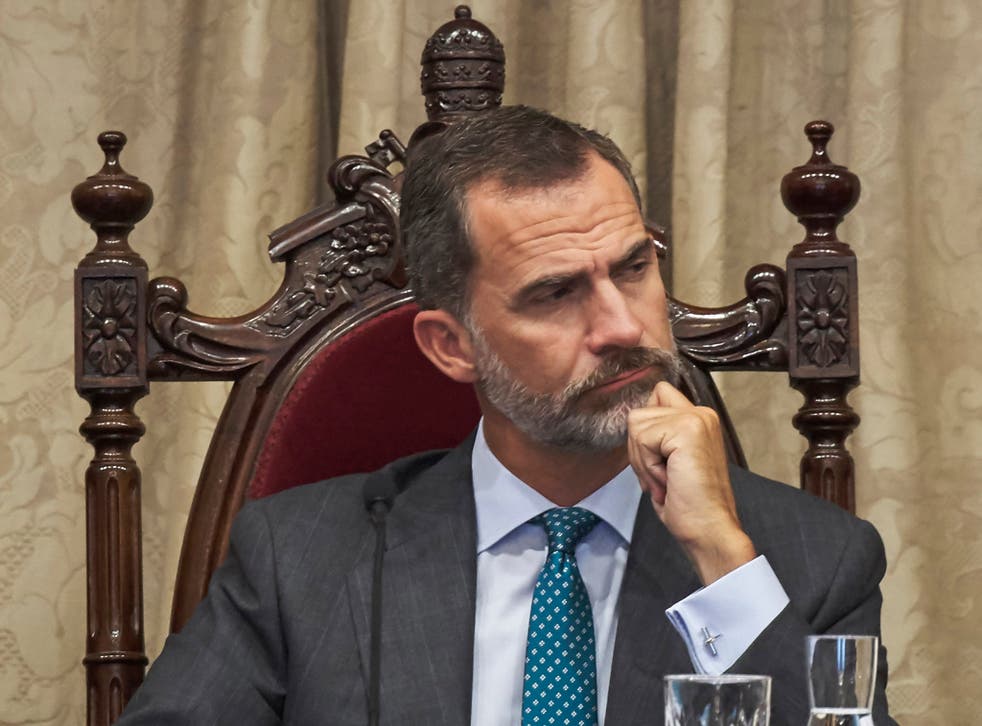 Spain's King Felipe has accused the Catalan government of an "inadmissible lack of loyalty" over the independence referendum which has lead to the worst constitutional crisis since the Civil War.
Giving a rare address to parliament, the royal called for calm but accused Barcelona of behaving "irresponsibly" by holding a referendum on independence which had been declared illegal by Madrid.
His intervention followed a 24-hour strike in Catalonia in protest at police brutality against people going to vote at polling stations which left nearly 900 people injured.
Members of the Civil Guard, a central police force bussed in from Madrid, fired rubber bullets at crowds of protesters and were seen beating and throwing voters downstairs as they went to the polling booths.
Defending the actions of the Madrid government, the King said they had a duty to maintain the rule of law in the region and said the situation was "very serious" but believed the country "will overcome difficult times".
Despite the violence 90 per cent of people voted for independence and the Barcelona government has threatened to unilaterally secede from Spain.
Catalan President Carles Puigdemont said the region had "won the right to statehood" and said of the violence "today the Spanish state wrote another shameful page in its history with Catalonia".
Speaking to crowds on Sunday, Jordi Sanchez – the leader of secessionist group ANC – told a large crowd in Barcelona's main square he hopes that "very soon we will see the birth of a new Catalan state."
Catalonia independence referendum: Riot police clash with voters

Show all 17
Mr Sanchez warns local leaders "Now, don't let us down ...The moment of truth has arrived. What the police are doing is simply savage. It's an international scandal."
Spain's Constitutional court had suspended the vote but separatist leaders in Catalonia went ahead with the vote anyway.
The controversial poll was pushed through the Catalan parliament in June but the court in Madrid said is violated the Spanish Constitution which refers to "the indissoluble unity of the Spanish nation, the common and indivisible homeland of all Spaniards" in September.
Register for free to continue reading
Registration is a free and easy way to support our truly independent journalism
By registering, you will also enjoy limited access to Premium articles, exclusive newsletters, commenting, and virtual events with our leading journalists
Already have an account? sign in
Register for free to continue reading
Registration is a free and easy way to support our truly independent journalism
By registering, you will also enjoy limited access to Premium articles, exclusive newsletters, commenting, and virtual events with our leading journalists
Already have an account? sign in
Join our new commenting forum
Join thought-provoking conversations, follow other Independent readers and see their replies