Catalonia referendum: 50,000 pro-Spain protesters gather in Madrid as dozens of smaller demonstrations call for dialogue
Thousands of people dressed in white push for talks with secessionists despite rising tensions in capital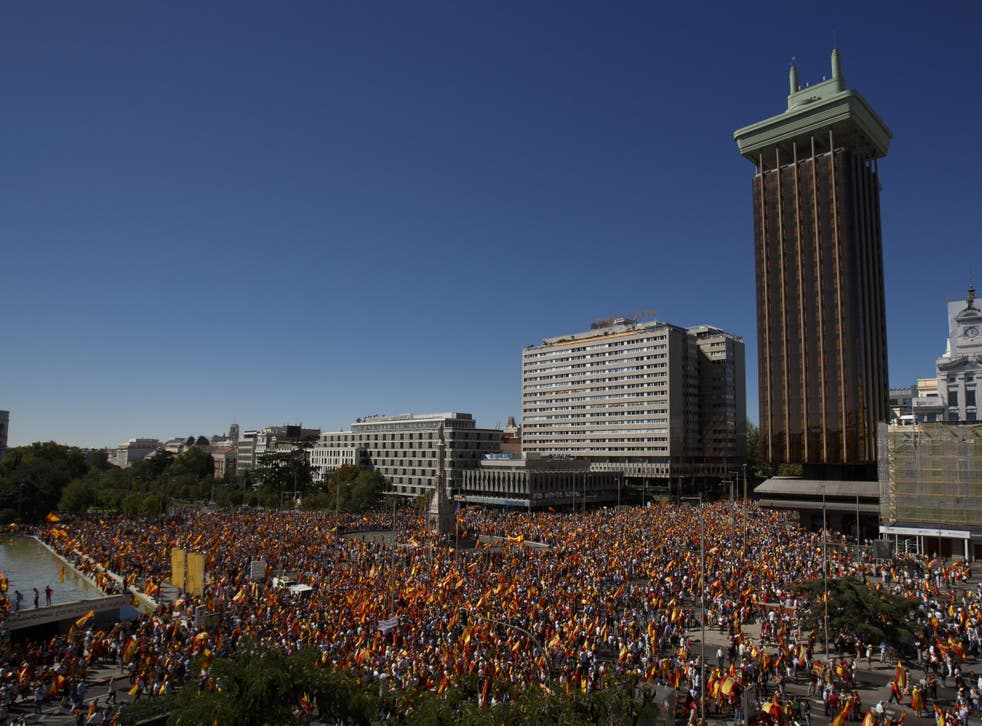 As the Catalan pro-independence crisis continues to deepen, tens of thousands of demonstrators have rallied in Madrid to express their support of Spain staying unified.
More than 50,000 demonstrators from across Spain gathered in Madrid's central Plaza de Colon, the square over which the world's largest Spanish flag, 294 square metres in size, flies permanently, waving their own smaller red and yellow versions of the same banner.
They chanted slogans both in favour of Spain and the country's constitution and repeatedly shouted "Long live the Guardia Civil" and "We're proud of our police". Both forces were strongly criticised for their brutal tactics in last week's pro-independence referendum in Catalonia, in which hundreds were injured.
There were calls, too, for the Catalan premier Carles Puigdemont's immediate incarceration and "no negotiations with [Catalan separatist] golpistas" – the Spanish word for conspirators in an attempted coup d'etat.
Whilst the Madrid demonstration is the biggest pro-unity show of strength since the Catalonia crisis reached a head last week, much smaller but more numerous protests – roughly 50 – in favour of dialogue with the Catalan independentistas simultaneously took place across in cities and towns across Spain.
Demonstrators wore white clothes and carried white banners to express their neutrality, bearing slogans saying Parlem? – Catalan for "Shall We Talk?", "Less hate, more conversations," and "This is not The Game of Thrones".
There were some brief moments of tension when the edges of the pro-unity and pro-dialogue demonstrations, the latter numbering roughly 1,500 people, coincided in the same central boulevard in Madrid, with a line of police separating the two groups.
The stand-off, reportedly sparked by small groups of the extreme right in the pro-Spain demonstration and which brought responding chants of "I am Spanish too" from the pro-dialogue supporters, finally ended without any serious incidents.
"We should start from scratch with no pre-conditions," Nuria Marin, the Socialist mayor of Hospitalet de Llobregat, said during the pro-dialogue demonstration in her large city near Barcelona. "Neither clause 155" – the part of the constitution permitting direct intervention in Catalonia from Madrid – "nor the unilateral declaration of independence should happen. We all want to live in peace".
Catalonia independence referendum: Riot police clash with voters

Show all 17
However, in a pro-Spanish unity march in Mallorca, attended by some 6,500 people, there was a brief but ugly clash with pro-Catalan independence supporters. Stones were thrown, with one person reportedly suffering head injuries.
And while Spanish Interior Minister Juan Ignacio Zoido made a surprise visit to Catalonia, rather than to open up negotiations, it was in a display of support for Spanish state police and Guardia Civil deployed in Catalonia.
The Catalonia crisis explained in 60 seconds
Mr Zoido emphasised that despite the recent apologies of the Spanish government's top official in Catalonia, Enric Millo, for police violence caused in last Sunday's referendum, "there is not one person in the government that does not support police actions". Police trade unions had called for Mr Millo's resignation for his apology. But whilst doubtless calming frayed nerves in the police, Mr Zoido's comments will do little to fuel hopes in some quarters that Mr Millo's words represented a gesture of reconciliation with the nationalists.
Mr Zoido is far from alone, though, in his support for the Spanish police at grassroots level in Spain. A police spokesman was forced to ask the public to stop flooding the emergency 112 number in Spain – the equivalent of 999 in the UK–- with calls to give them their backing.
As unease grows in Europe at the political turmoil in Spain's richest region, German Chancellor Angela Merkel and European Commission President Jean-Claude Juncker have discussed the Catalan crisis over the phone, an EU official told Reuters And another major business, Barcelona water distributor AgBar, announced it was temporarily moving its HQ to Madrid in the face of the ongoing political uncertainty. Two top Catalan banks, CaixaBank and Banco Sabadell, as well as energy company Gas Natural have also decided in recent days to move their legal headquarters out of Barcelona.
But whilst Catalonia's regional chief for business, Santi Vila, called for a "new opportunity for dialogue" with Spain in a radio interview late on Friday, so far there are no signs of any future negotiations.
Another big pro-unity demonstration, though, set to take place in Barcelona on Sunday, may yet bring renewed pressure on the nationalists to heed the government's demands.
Join our new commenting forum
Join thought-provoking conversations, follow other Independent readers and see their replies