Charlie Hebdo: Man regrets 'stupid' decision to put video of police officer's death online
Jordi Mir's footage of Ahmed Merabet's murder spread around the world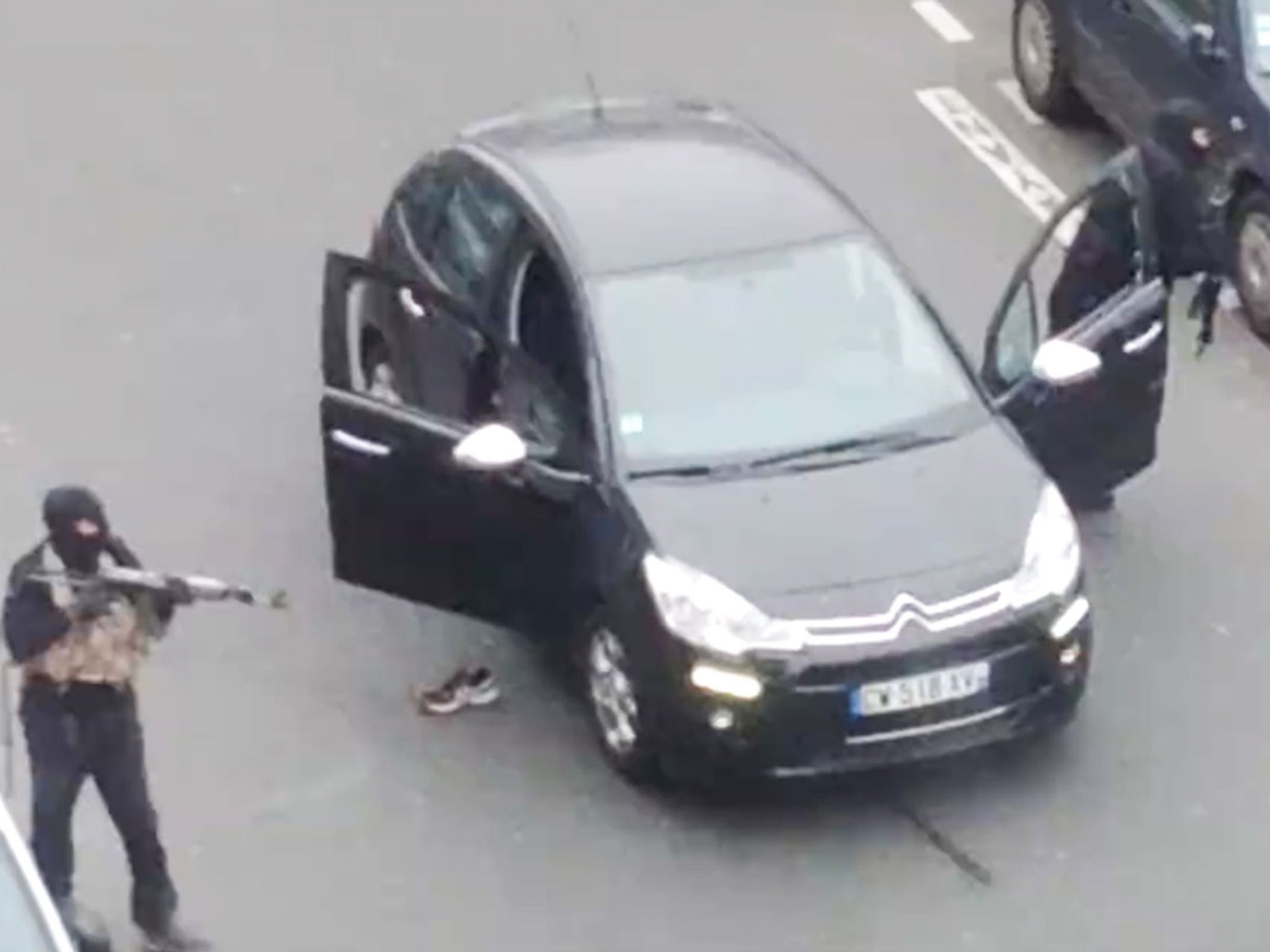 A man who filmed the Charlie Hebdo killers murdering an unarmed police officer in Paris has said putting it online was a "stupid reflex" caused by years on social media.
Jordi Mir, an engineer in his 50s, told the Associated Press he realised putting the footage of Ahmed Merabet's death on Facebook was a mistake within minutes but when he took it down 15 minutes later, it was too late to stop it spreading around the world.
He did not realise what he was filming at first on Wednesday morning, when he walked to his window after being disturbed by the sound of gunshots.
Mr Mir initially thought a bank robbery was being carried out and believed gunmen Said and Cherif Kouachi were part of a police SWAT team, unaware they had just massacred 11 people at the Charlie Hebdo offices.
"I was completely panicked," he said, being interviewed across the Parisian boulevard where Mr Merabet was shot dead.
"I had to speak to someone. I was alone in my flat. I put the video on Facebook. That was my error."
Less than an hour after he took it down, Mr Mir said he was horrified to see his footage airing on the television and spreading on YouTube.
The 42-second clip shows two masked gunmen – later revealed to be the Kouachi brothers - walking towards 42-year-old Mr Merabet as he lay on the ground injured.
"You want to kill us?" one of the brothers says as he strides toward the wounded officer.
"No, it's OK, boss," Merabet says, raising his hand in a gesture of surrender. He was then shot point-blank in the head.
The footage prompted a new wave of horror and revulsion as the world reeled from the Charlie Hebdo attack. The front page of the next day's Le Figaro newspaper featured a still from the video over an editorial called "war".
As police started arriving at the scene, Mr Mir downloaded his video on to a memory device and rushed outside to hand it to officers, before putting it online.
Mr Mir said he had "no answer" to what prompted him to share the footage with his 2,500 Facebook friends, except force of habit after a decade of social networking.
"I take a photo - a cat - and I put it on Facebook. It was the same stupid reflex," he said, adding that if he could go back he would never have posted it.
"On Facebook, there's no confidentiality," he said. "It's a lesson for me."
The video's publication around the world has distressed Mr Merabet's family, who have had to re-live his murder every day.
"How dare you take that video and broadcast it?" his brother, Malek, asked journalists on Saturday. "I heard his voice. I recognised him. I saw him get slaughtered and I hear him get slaughtered every day."
He urged people not to confuse terrorists with Muslims like his brother, who he said was a "pillar" of the family who was proud to serve the public in France for eight years in the police and stood by the national principles of "Liberté, égalité, fraternité".
Asa Cusack, a research fellow at the University of London, wrote in the Huffington Post that the video had stripped Mr Merabet of his dignity.
His death sparked the #jesuisAhmed hashtag as the world paid tribute to the officer who died defending a magazine that ridiculed his faith.
Mr Mir wanted the officer's family to know he was "very sorry" and that he had refused offers to buy the footage and asked media organisations to blur Mr Merabet's image before running it.
Many outlets broadcast the unedited footage without permission, he said.
In pictures: Reaction to Charlie Hebdo attack
Show all 39
Mr Merabet said he has been told his video helped galvanise international opinion and compared it to a "war photo" like Robert Capa's controversial "the falling soldier", an image of a fighter being shot dead during the Spanish Civil War.
The Kouachi brothers went on the run for two days before being killed in a shoot-out with police at a print works north of Paris on Friday. Their associate Amedy Coulibaly took more than a dozen shoppers, including a baby, hostage at a kosher supermarket and threatened to kill them if police made a move on the brothers.
He had murdered a police woman the day before and killed four hostages before being shot dead by officers who stormed the shop.
Additional reporting by AP
Join our commenting forum
Join thought-provoking conversations, follow other Independent readers and see their replies