Cologne attacks: American woman tells how Syrian refugees rescued her from New Year's Eve sexual assault
A group of Syrian men helped Caitlin Duncan escape the crowds and find her boyfriend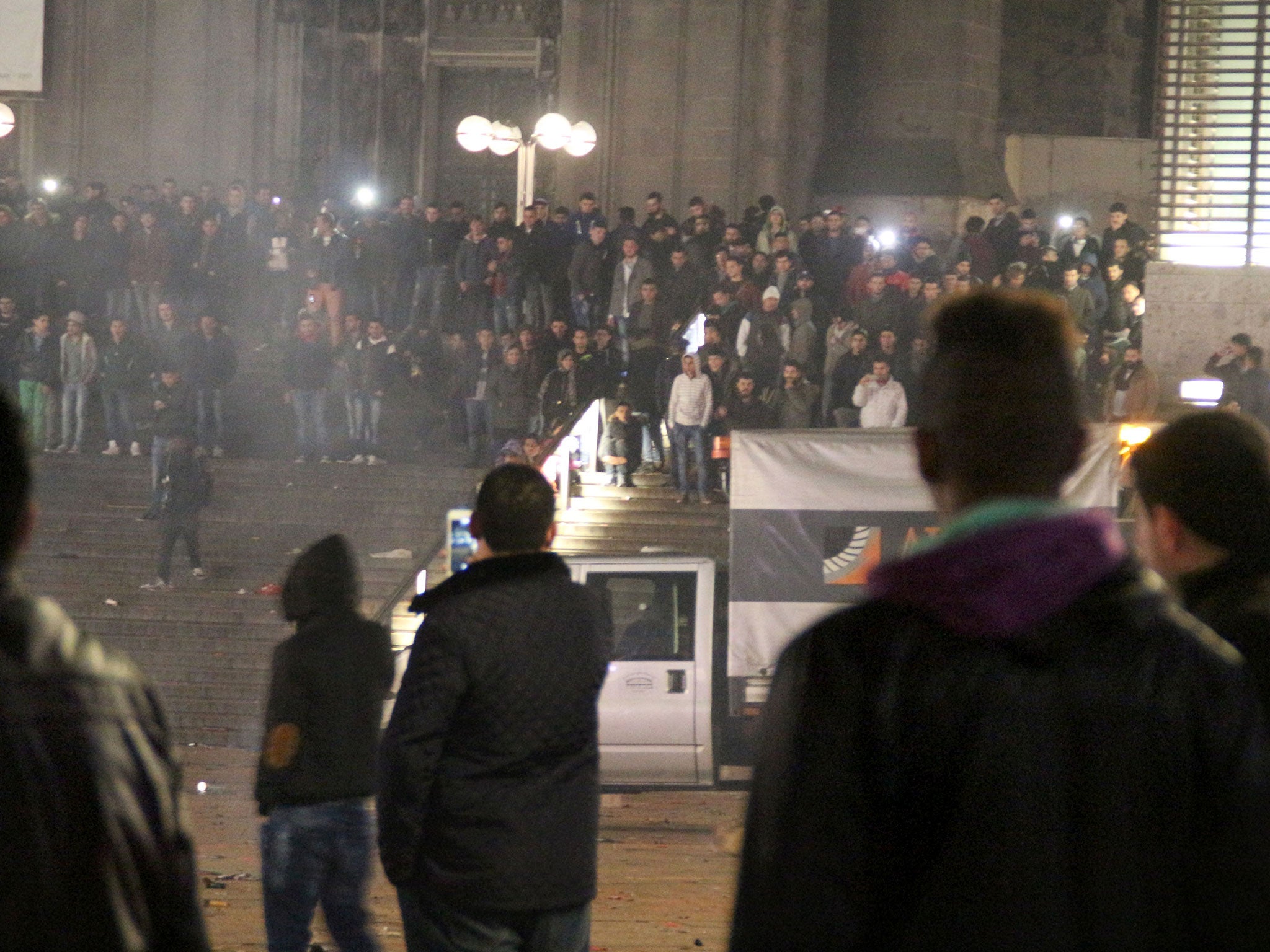 An American woman has told how she was rescued from being sexually assaulted on New Year's Eve in Cologne by a group of Syrian refugees.
Caitlin Duncan, a neuroscience student from Seattle, told the New York Times she had become separated from her boyfriend in the crowded square outside the city's famous cathedral and main railway station.
She described a man stealing her hat before another "grabbed" her from behind, searching through her pockets and a third man tried to kiss her face and neck.
The 27-year-old escaped and attempted to complain to police but they were busy trying to clear the square and shoved her back into the crowd, where another group of men started groping her and pulling her hair.
"I went into a kind of fighting mode, and kicked and hit and pushed until I got away," she said. "I was getting really scared."
That was when she was approached by a group of Syrian refugees offering help.
They formed a protective cordon around Ms Duncan to help her through the crowd, offered to phone her boyfriend and searched for him with her when she could not remember his number.
The couple were eventually reunited inside the railway station, with Ms Duncan crying in relief.
Among the group was Hesham Ahmad Mohammad, a 32-year-old primary school teacher who fled Aleppo and was celebrating New Year's Eve in Cologne with other Syrian friends who have recently arrived in Germany.
He told the New York Times he was also frightened by the groups committing the attacks, saying they had "lost their minds" on drink and drugs.
"We keep hearing news about refugees all day: 'They are bad people, they must go back to their home,' " he said.
"When I hear that in the news, I am sad. Because we know that there were bad boys and bad people. But the good people, nobody speaks about them."
Germany reacts to Cologne New Year's Eve attacks
Show all 13
Ms Duncan said she and Mr Mohammad are now friends and speak regularly, adding: "In the end it turned out really well."
Police said asylum seekers were among up to 1,000 drunken men mostly of "Arab of North African origin" responsible for the attacks, sparking a wave of anti-refugee protests and revenge attacks across Germany.
Opinion polls show support for taking in current levels of migrants has declined in the fortnight since the assaults, while Angela Merkel has already vowed to review asylum rules and make it easier to deport foreign criminals.
A total of 751 people have filed 676 criminal complaints relating to the New Year's Eve in Cologne, including 347 allegations of sexual assault.
Out of 19 main suspects being investigated, 10 are asylum seekers, and the hunt for perpetrators continues.
Police have put up appeals for information in Arabic and German in all refugee accommodation in the state of North Rhine-Westphalia.
Rewards are being offered for anything leading to arrests for sexual offences, the poster says, describing "groups of young men approaching victims to rob them and commit "serious sexual assaults".
Tensions continued in Germany today, with a public swimming pool in the town of Bornheim banning male asylum seekers because of sexual harassment complaints.
Businesses also reported a huge increase German sales of Tasers and pepper spray since New Year's Eve.
"People are afraid of refugees," manufacturer Vladimir Kupa told the Handelsblatt newspaper.
Additional reporting by agencies
Join our commenting forum
Join thought-provoking conversations, follow other Independent readers and see their replies