Ursula von der Leyen threatens to restrict EU vaccine exports
EU threatens to restrict Covid vaccine exports to UK in row over supply
'This is about making sure that Europe gets its fair share,' says Ursula von der Leyen
The European Union has threatened to restrict exports of Covid vaccines to the UK in an effort to safeguard jabs for its own citizens, as parts of the continent face a third wave of the pandemic.
Ursula von der Leyen said the bloc would use "whatever tool" it needed to ensure doses reached its citizens, including seizing production of vaccines, and singled out the UK as "country number one" in terms of exports from the EU.
She spoke on Wednesday as data showed coronavirus cases surging in some member states, including France and Italy, where a fresh lockdown has just been introduced.
"We want reliable deliveries of vaccines, we want an increase in the contracts, we want to see reciprocity and proportionality in exports, and we are ready to use whatever tool we need to deliver on that," she said.
"This is about making sure that Europe gets its fair share."
Read more:
Asked if this included invoking Article 122, which could result in the bloc effectively seizing production or waiving intellectual property rights to secure vaccine supplies for member states, she said: "All options are on the table. 
"We are in the crisis of the century and I am not ruling out anything for now. We have to make sure that Europeans are vaccinated as soon as possible."
She added: "Open roads run in both directions, and this is why we need to ensure that there is reciprocity and proportionality. If the situation does not change we will have to reflect on how to make exports to vaccine-producing countries dependent on their level of openness.
"We are exporting a lot to countries that are themselves producing vaccines, and we think this is an invitation to be open so that we also see exports from those countries coming back to the EU.
"We will reflect on whether exports to countries who have higher vaccination rates than us are still proportionate."
Ms von der Leyen said the UK was not a nation where she deemed there was "reciprocity" in terms of vaccine supply.
"Where the UK is concerned, we have observed that in the last six weeks 10 million doses by now have been exported to the UK," she said.
"Indeed the UK is producing AstraZeneca. In our contract with AstraZeneca there are even two sites in the UK that are put in the contract for potential deliveries for the European Union.
"We are still waiting for doses to come from the UK, so this is an invitation to show us that there are also doses from the UK coming to the European Union so that we have reciprocity."
Ms von der Leyen added that of the vaccine export authorisation requests submitted to the bloc, 314 had been granted and only one had been refused.
That was earlier this month, when Italy blocked the export of more than 250,000 coronavirus vaccine doses to Australia in the first invoking of EU rules designed to allow member states to stop shipments destined for other parts of the world.
The announcement from the president of the European Commission risked escalating tensions with the UK and the US over their approach to deliveries of vaccines.
Back in Westminster, Downing Street urged Brussels to "stand by its commitment" that it would not restrict vaccine exports.
Asked about Ms Von der Leyen Comments Boris Johnson's official spokesman said: "I would point you back to the conversation the prime minister had with Ursula von der Leyen earlier this year.
"She confirmed then that the focus of their mechanism was on transparency and not intended to restrict exports by companies where they are fulfilling their contractual responsibilities.
"It remains the case we would expect the EU to continue to stand by its commitment."
Foreign Secretary Dominic Raab said the EU's position "takes some explaining", adding: "The world's watching. We've, all of us, including with our European friends, been saying throughout the pandemic, that you'd be wrong to curtail or interfere with lawfully-contracted supply. We all said it last year on PPE. We've been saying it this year, on vaccines and other things.
"And it also cuts across the direct assurances that we had from the commission and indeed, which I followed up on this week and over the last few days, with Vice President Borrell and vice president president Dombrovskis, and we were reliably informed that they weren't aware of any plans to restrict lawfully contracted supply to the UK."
Mr Raab added: "Frankly, I'm surprised we're having this conversation. It is normally what the UK and EU team up with to reject when other countries with less than views democratic views than our own engage in that kind of brinkmanship."
The European Commission president spoke as six EU countries complained to Brussels about reduced deliveries that are slowing the rollout of vaccinations.
Austria, Bulgaria, Croatia, the Czech Republic, Latvia and Slovenia have all raised concerns about "possible gaps in the vaccine distribution between member states".
Austrian Chancellor Sebastian Kurz said he and his eastern Europe allies were pushing for the EU to adjust the way it distributes vaccines.
There was no unanimous support in Brussels for Ms Von der leyen's position. German MEP Bernd Lange, leader of the socialist group in the European Parliament, said threat of export bans would be "a sign of helplessness rather than strength", adding "We've seen this coming for months."
But some campaigners said suspending intellectual property on the vacines could be a good move and benefit developing countries. Heidi Chow, senior policy manager at the group Global Justice Now, said the proposal was "something that low- and middle-income countries have been demanding at the World Trade Organisation".
"If the EU backs the proposal to suspend global patent rules, it will set a global precedent that could unlock the world's productive capacity and ensure vaccines reach all countries, not just the richest ones," he said.
EU countries are under pressure to agree a common position on vaccines for their 450 million people – a task complicated by public scepticism about vaccines targeted at the AstraZeneca jab, which has been suspended in more than a dozen countries pending an investigation.
World news in pictures

Show all 50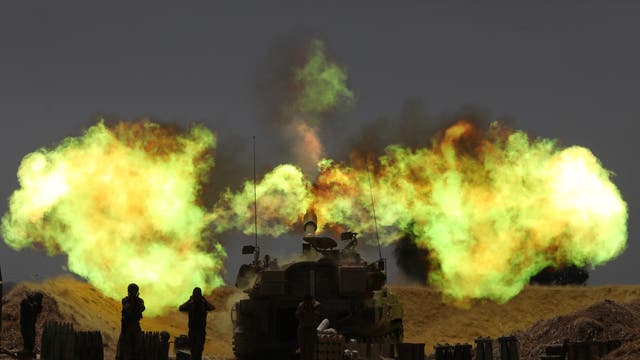 On Thursday, Bosnia became the latest country to temporarily suspend the use of AstraZeneca vaccines. France, Germany, Spain and Italy are among those to have halted the rollout of those jabs while the European Medicines Agency investigates reports of unusual blood disorders.
An intial response is expected from the regulator on Thursday, but the World Health Organisation has said countries should continue to administer them.
A poll conducted in Germany found a majority believed it was right for the government to suspend AstraZeneca's jabs pending an investigation.
According to the Forsa snap survey for broadcasters RTL and ntv, 54 per cent of respondents said the decision by Health Minister Jens Spahn had been right. Nearly four in 10 said the reaction was excessive. Some 39 per cent thought the suspension was wrong.
Elsewhere, Dominic Cummings has suggested the row over the use of the AstraZeneca vaccine in Europe shows the benefits of leaving the bloc.
The former No 10 adviser, giving evidence to the House of Commons' science and technology committee, claimed the situation was evidence of the "anti-science, anti-technology culture in Brussels married with its appalling bureaucracy".
And he launched a broadside against the EU vaccine programme, stating that it "looked like an absolute guaranteed program to fail" from the outset.
He argued that the UK's procurement system was "created by the European Union and goldplated by Whitehall", branding it "an expensive disaster zone" that would "completely fall over" during a crisis.
The bloc has ordered hundreds of millions of vaccine doses but its efforts have been hampered in part by a reduction in the number of vials it was expecting from AstraZeneca.
Ms Von der Leyen said the Anglo-Swedish company originally pledged to deliver 90 million doses of its vaccine in the first three months of 2021, but later said it could only provide 40 million, then more recently only 30 million. 
For the second quarter of 2021, she said AstraZeneca will only deliver 70 million doses, less than half of the 180 million it was "contractually obliged to deliver".
Join our new commenting forum
Join thought-provoking conversations, follow other Independent readers and see their replies