Italy enters fresh lockdown, shutting shops and schools as hospitals struggle with third wave
Half of regions – including those surrounding Rome and Milan – face new restrictions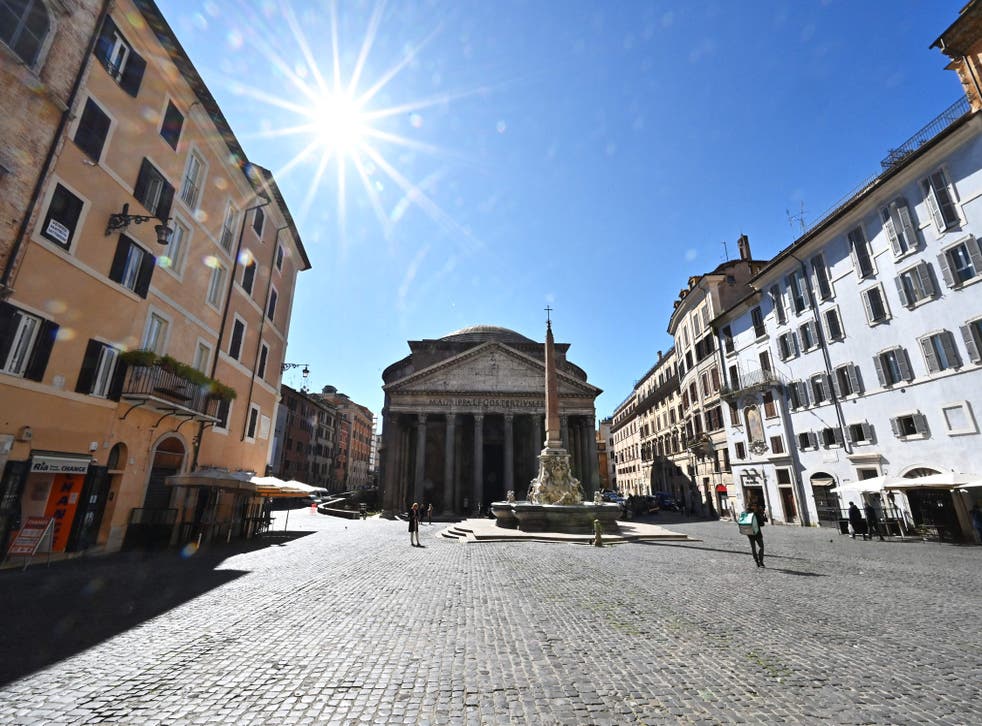 Millions of Italians are entering another strict lockdown on Monday as a third wave of the coronavirus sweeps the country.
Half of Italy's regions – including the two most populous containing Rome and Milan – are facing fresh restrictions in a bid to suppress the latest spike in Covid infections that have left hospitals struggling to cope with a surge in new admissions.
The curbs affect around three-quarters of Italy's population and come off the back of a 15 percent increase in cases in the last week.
Nurseries, schools and universities will be closed, shops told to shut and restaurants only permitted to open for takeaways.
The so-called red zones, where the toughest measures are in place, were imposed from Lombardy in the north to Puglia in the south, as well as the Lazio region around the capital.
Read more:
The new restrictions will extend until at least 6 April, the Tuesday after Easter.
Outdoor sports will be allowed to continue but a ban on movement between regions will remain, except for work, health or other essential reasons, and people must first fill out a permit to travel.
The rest of the country is being placed under a lesser orange level lockdown. Only the island of Sardinia has been designated a white zone given its infection rates.
Italy's health ministry imposed the tiered status of restrictions for individual regions last year, taking into account a weekly rise or fall in infection rates and hospital capacity among other criteria.
Until now, just a few of the worst-hit regions were under full lockdown.
World news in pictures

Show all 50
The full list of red zones includes Campania, Emilia-Romagna, Friuli-Venezia Giulia, Lazio, Lombardy, Piedmont, Veneto, Marche, Molise, Puglia and Trento.
Those in the orange are Basilicata (from tomorrow, on Monday it remains in the red), Bolzano, Tuscany, Abruzzo, Calabria, Liguria, Sicily, Umbria and Valle d'Aosta.
An exception to the tiers will be applied for the Easter weekend, when from Friday to Sunday the entire country will be in the red zone, leading to a near-total shutdown, although two people plus their children will be allowed to make a single trip to another person's home within the same region.
Italy reported 264 coronavirus-related deaths on Sunday against 317 the day before, the health ministry said, while the daily tally of new infections was down to 21,315 from 26,062 the day before.
The country has registered 102,145 deaths since its outbreak emerged in February last year, the second-highest toll in Europe after the UK.
Patients in hospital with Covid – not including those in intensive care – stood at 24,518 on Sunday, rising from 24,153 a day earlier.
There were 243 new admissions to intensive care units, down from 270 on Saturday. The total number of intensive care patients increased to 3,082 from a previous 2,982.
When Italy's second wave of the epidemic was accelerating quickly in the first half of November, hospital admissions were rising by about 1,000 per day, while intensive care occupancy was increasing by about 100 per day.
Join our new commenting forum
Join thought-provoking conversations, follow other Independent readers and see their replies