EU-Turkey migrant deal 'risks pushing refugees into the hands of Isis'
International Organisation for Migration tells The Independent an EU-Turkey deal risks creating 'resentment' among those it shuts out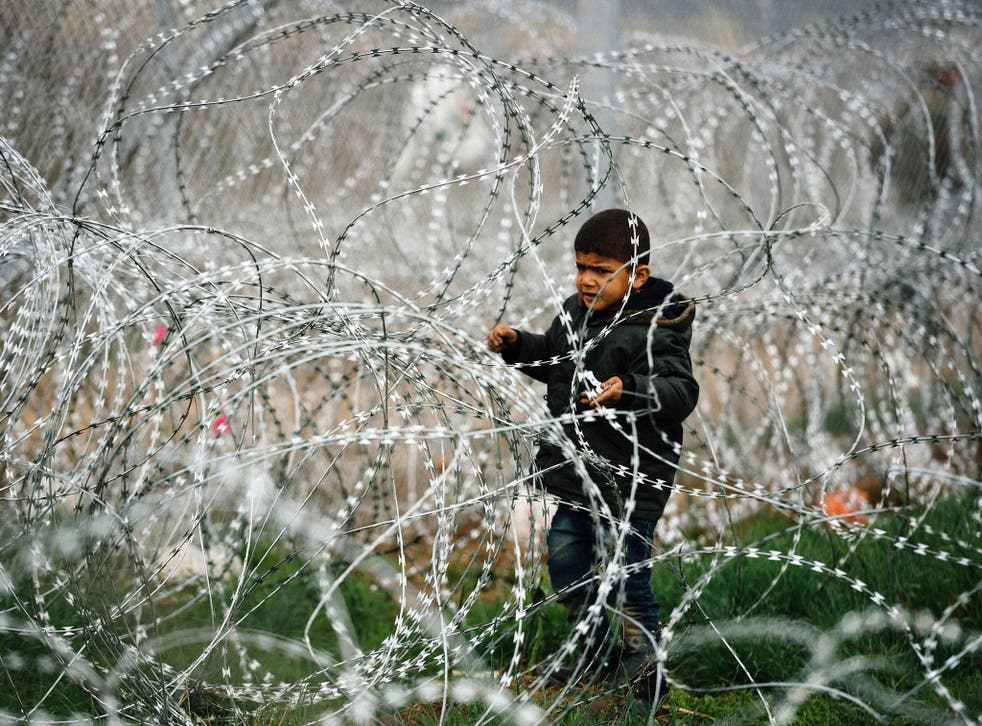 Completely closing Europe's external borders and sending all illegal migrants back to Turkey will only strengthen criminal groups and push refugees into the hands of Isis, the International Organisation for Migration has warned.
Speaking in an interview with The Independent, the IOM's EU director said a deal being forged in Brussels to try and stop the flow of refugees into Europe actually risked undermining the security of the economic bloc.
Eugenio Ambrosi said the idea of border controls as a security safeguard was a "myth", warning that turning Europe into a fortress would simply increase unchecked illegal migration while raising "resentment" among those who are kept out.
In Brussels on Monday, EU officials discussed with Turkey a radical plan to send back all potential refugees arriving in Greece while closing off the western Balkans land route of irregular migration.
Under the terms of the deal, Turkey would require a registered Syrian refugee to be welcomed by Europe for every unregistered one that is sent back on the boats, as well as concrete progress on plans to integrate Ankara into the EU fold.
Mr Ambrosi said the IOM is recording around 2,500 daily refugee arrivals into Europe at the moment and predicts the "substantial" flow to continue throughout 2016, if not quite reaching the million-plus figure who entered the continent last year.
And while he welcomed some of the "legitimate and adequate" measures on the table in Brussels, Mr Ambrosi said attempts to shut borders entirely were doomed to fail.
"The complete closure of the border seems not only excessive but also not very effective," he said. "These people are fleeing for their lives – so they are not going to be stopped by a fence."
Refugees break through Macedonia border fence in February

Show all 15
Rather than being deterred, the measures are likely to drive people traffickers to use other, more dangerous routes to get people into Europe, Mr Ambrosi said. "For the traffickers and smugglers, these people are disposable items – once they get paid to put people across a border they don't care if they arrive safely on the other side."
And Mr Ambrosi said those who are deterred from making the journey would be left as "easy prey" for criminal and terrorist recruiters.
Asked if Europe was pushing these desperate people into the hands of Isis, he said: "There is that risk.
"I'm not saying that is happening with everyone who is turned away right now, but marginalised people are easier prey of all sorts of criminal groups, not just terrorists.
"If you look at the profiles of the terrorists who carried out recent attacks in Europe, they all come from some level of history of marginalisation within their own society. The terrorist group offers them a way out – not necessarily a good one, but it might become the only one."
The deal agreed with Turkey remains provisional, with a final decision due to be made at the next summit between leaders in 10 days' time.
But speaking to reporters after more than 12 hours of discussions, EU chief Donald Tusk said: "The days of irregular migration to Europe are over."
David Cameron said the agreement to turn all refugees back to Turkey formed "the basis for a breakthrough". The Royal Navy this week joined the effort to turn back boats in the Mediterranean.
Register for free to continue reading
Registration is a free and easy way to support our truly independent journalism
By registering, you will also enjoy limited access to Premium articles, exclusive newsletters, commenting, and virtual events with our leading journalists
Already have an account? sign in
Register for free to continue reading
Registration is a free and easy way to support our truly independent journalism
By registering, you will also enjoy limited access to Premium articles, exclusive newsletters, commenting, and virtual events with our leading journalists
Already have an account? sign in
Join our new commenting forum
Join thought-provoking conversations, follow other Independent readers and see their replies