Refugees freezing to death across Europe after 'continued failure' on crisis leaves thousands at risk
Two Iraqi men were found dead after walking for 48 hours through heavy snow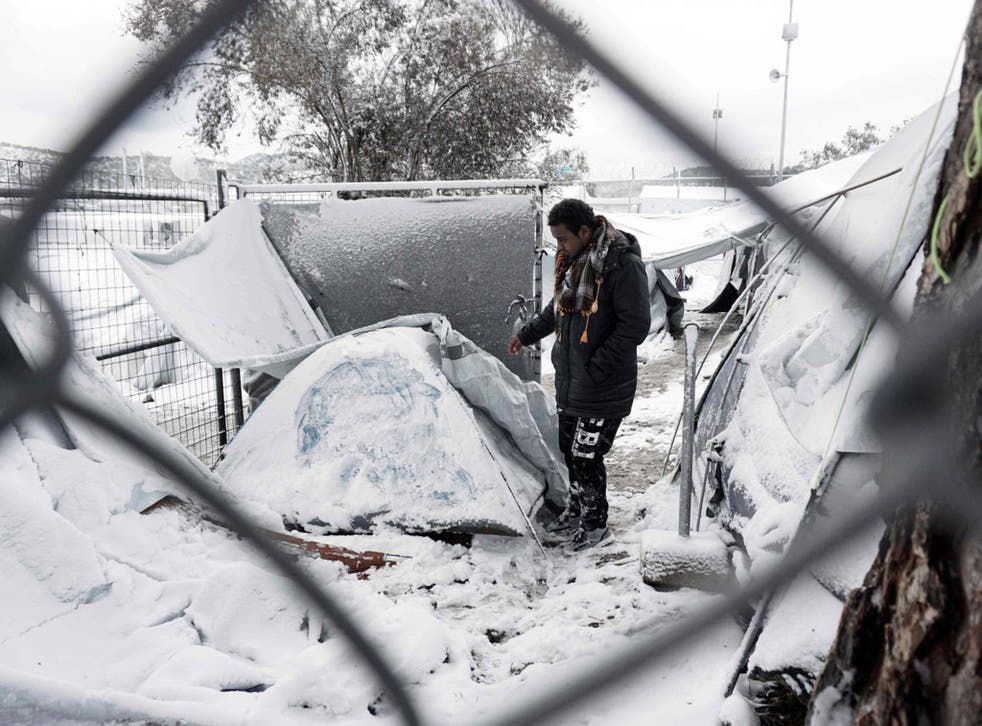 Humanitarian organisations have condemned European governments for leaving refugees to "freeze to death" as the continent is gripped by a deadly cold snap.
At least four asylum seekers are believed to have been killed by the conditions so far and thousands more remain at risk while sleeping on the streets or in tents and inadequate shelters, charities are warning.
Two Iraqi men and a Somali woman have died of hypothermia in Bulgaria after journeying through the snow, while an Afghan man died in Greece as temperatures plummeted to minus 14C.
Kirsty McNeill, Save the Children's executive policy director, said babies, pregnant women and unaccompanied children were among thousands of people literally left out in the cold by the EU's "continued failure" on the refugee crisis.
"The lack of political will to offer asylum or reunify separated children and families means these human beings, who have survived years of war, violence and deadly journeys to safety, are now freezing to death on Europe's doorstep," she added.
"These men, women and children need immediate access to warm, dry shelter, no matter what country they've fled. This basic and short term measure would prevent more unnecessary loss of life, particularly when children are so susceptible to hypothermia in freezing temperatures."
Plummeting temperatures have left authorities and aid agencies scrambling to provide emergency heating, shelter and blankets for thousands of refugees stranded across Europe by border closures and security crackdowns.
Ms McNeill blamed "a total inability to plan ahead" for winter and prepare government-run camps, where some asylum seekers have been stranded for up to a year.
In pictures: Deep freeze hits Europe

Show all 13
Greece's navy sent a ship to the island of Lesbos to house around 500 migrants from an "inhuman" tent camp left covered in snow, while other asylum seekers are being given emergency shelter in empty hotels.
Elsewhere, refugees are sleeping rough in abandoned buildings, or on snow-filled streets.
The bodies of two Iraqi men were found in Bulgaria's Strandzha mountains, near the Turkish border, on Friday
The Kurdish news site Rudâw said Talaat Abdulhamid, 36, and Hardi Ghafour, 29, had walked through the snow for 48 hours without food or drink.
Mr Abulhamid's brother, Samad, said his brother stayed by his friend's body for hours after he died, adding: "After a few hours Talaat also froze to death, as he had sat down by Hardi's corpse."
A post-mortem established the pair had died of exhaustion and exposure to low temperatures.
Italy waterfall begins to freeze
They had initially travelled to Turkey, hoping to cross through Bulgaria to Western Europe, but increased border patrols and the extension of a barbed wire fence that separates the two countries led them to take the treacherous route through the mountains.
Their deaths came days after the body of a Somali woman was discovered in the Strandzha region, while a 20-year-old Afghan man died of hypothermia on 3 January after crossing a river that marks the border between Turkey and Greece.
There are fears many more could succumb to temperatures as low as minus 20C over the coming days, with at least 69 deaths attributed to the conditions across Europe so far.
Médecins Sans Frontières (MSF) hit out at negligence as well as "systematic police violence" in France, where police allegedly stole migrants' blankets in attempts to move on rough sleepers in Paris.
The charity is particularly concerned for 2,000 asylum seekers living in the Serbian capital Belgrade, where temperatures have reached minus 20C as authorities have "severely restricted the provision of humanitarian assistance".
"For months, the strategy has been to block humanitarian aid to push these people into official camps," said Stephane Moissaing, MSF's Head of Mission in Serbia.
"But the camps are full and already stretched beyond their capacities, so today migrants are left with no option other than to sleep in abandoned, open buildings in freezing temperatures.
"For months we have called on EU, UNHCR and Serbian authorities to put in place long-term solutions to avoid this catastrophic situation. The collective failure of these institutions has left even the most basic needs uncovered, exposing already vulnerable people to even more suffering."
The new crisis comes after refugees died of hypothermia while crossing the Mediterranean Sea, where overcrowded dinghies are continuing to depart Libya for Europe despite the treacherous conditions.
More than 5,000 migrants died attempting sea crossings to Europe last year, the deadliest on record, and at least 11 more have drowned in as many days of 2017. Calls to increase search and rescue missions and provide safe passage have gained no response.
Josie Naughton, co-founder of the British charity Help Refugees, said she was "devastated" to see those who survived the crossings facing death in the supposed safety of the EU.
She added: "We call on governments, large organisations and international agencies to reassess their bureaucratic procedures and spend money where it's needed to prevent further loss of life."
Join our new commenting forum
Join thought-provoking conversations, follow other Independent readers and see their replies