Ferry fire: Two Albanian seamen die on tugboat during Norman Atlantic recovery operation
Dispute breaks out between Italy and Albania over which country's criminal jurisdiction the tragedy falls under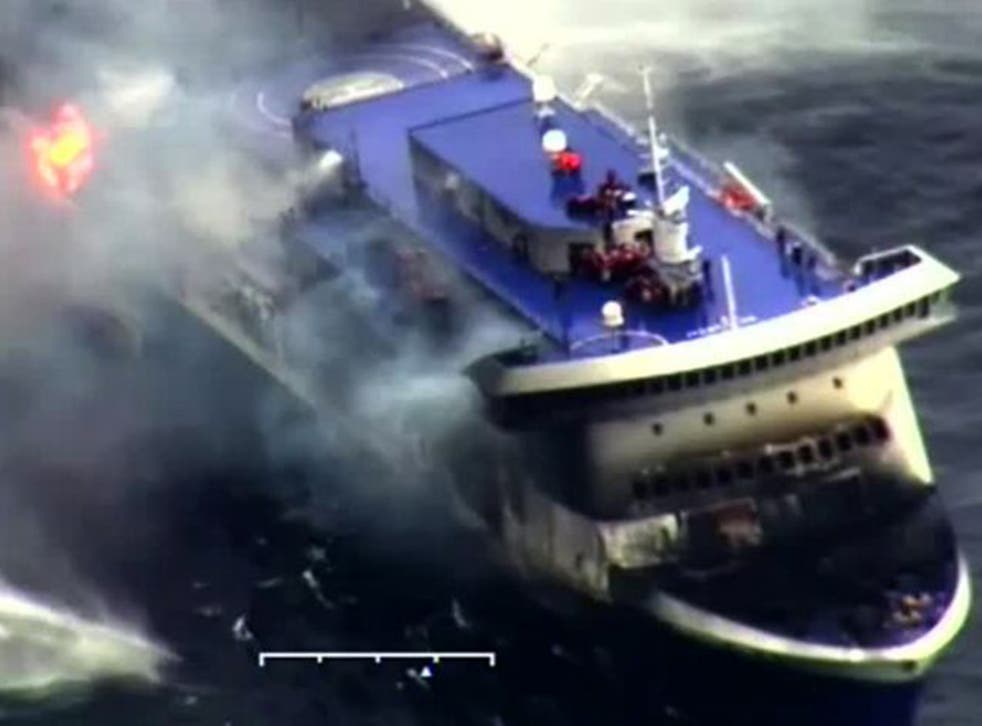 Two Albanian tugboat workers have died during the operation to recover a stricken ferry gutted by fire in the Adriatic sea.
Both men died after a cable connecting their tugboat to the ferry snapped this morning after it became entangled in a propeller, according to Albanian officials.
The Italian government has said that it does not know how many passengers are missing after the deadly ferry blaze in which at least ten people died.
At the end of the rescue operation last night the country's transport minister Maurizio Lupi said there were serious discrepancies in the ship's manifest and that there could still be people unaccounted for.
"We cannot say how many people may be missing," he said.
A total of 427 people were rescued, while the ship's manifest contained 475 people, meaning the death toll could be as high as 48.
But Italian officials said the names on the Norman Atlantic's manifest may have represented just reservations, rather than passengers who had actually boarded the vessel.
A minor international dispute also appears to have broken out between Italy and Albania over which country's criminal and civil jurisdiction the incident falls under.
The ship was passing Albania, which lies between Greece and Italy, at the time of the fire; officials in both Italy and Albania have said they have plans to confiscate the vessel.
The Italian military conducted a daring rescue operation using helicopters amid 46mph gale-force winds and thick black smoke bellowing from the ship.
Rescued passengers described being drenched from above by cold winter rain and fire hoses while the decks below them burned.
"I witnessed an image of hell as described by Dante, on a ship where the decks were melting and we were trying to find some place that was not burning to stand on," said Chrysostomos Apostolou, a Greek civil engineer who had been on holiday with his wife and young sons.
The ships captain, Argilio Giacomazzi, has been praised for having stayed on board the ship while it burned to oversee the rescue operation.
Passengers told the media that the ship's crew were unhelpful during the evacuation, however, and offered no help.
The Press Association news agency reports passengers as saying that there was no alarm and that they had awoken to the disaster on their own accord.
In pictures: Norman Atlantic ferry fire

Show all 20
Giorgos Stiliaras, a passenger, told Greece's Mega TV channel that he was awoken by "the smell of burning plastic" and that it felt like the floor of his cabin was "boiling" from the flames beneath it.
The ship is previously believed to have had problems with its fire doors, though its current owner said these problems had been fixed.
It was sailing overnight from the Greek port of Patras to Ancona in Italy when a fire started on its car deck. Investigators are still looking into the cause of the fire.
Register for free to continue reading
Registration is a free and easy way to support our truly independent journalism
By registering, you will also enjoy limited access to Premium articles, exclusive newsletters, commenting, and virtual events with our leading journalists
Already have an account? sign in
Join our new commenting forum
Join thought-provoking conversations, follow other Independent readers and see their replies