Leader of Germany's right-wing AfD party 'compares immigrants to compost'
 'What are we to think of these "Germany is colourful campaigns?" A compost heap is also colourful'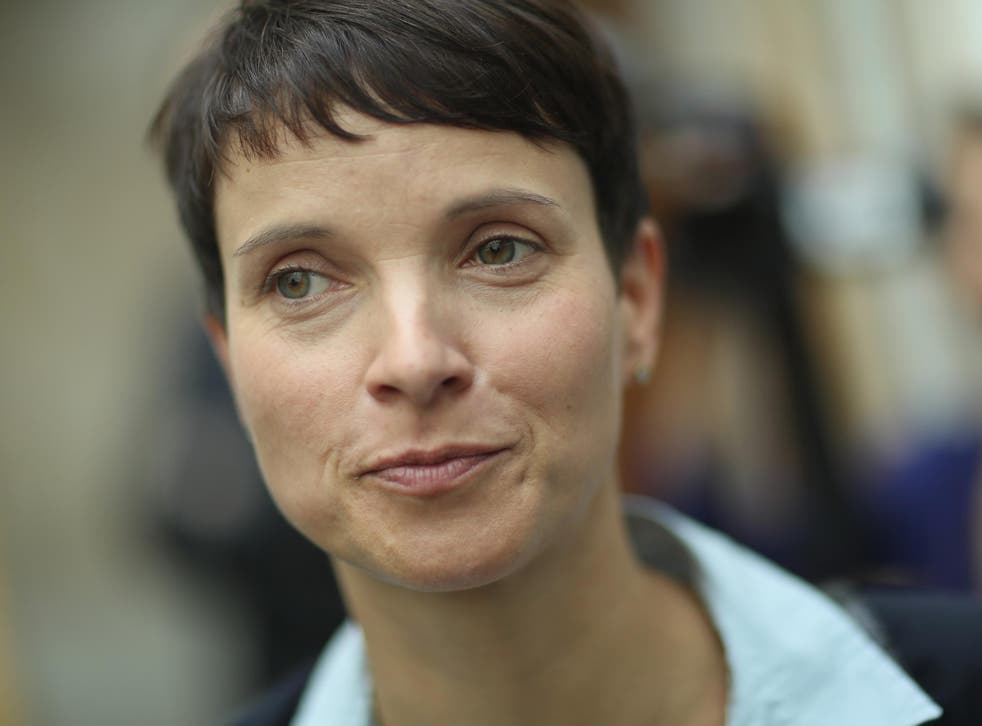 The leader of Germany's main right-wing party is facing a backlash after comparing multicultural societies with migrants and refugees to a "compost heap".
Frauke Petry has caused political uproar since she became leader of the Alternative for Germany (AfD) party in July last year, for her anti-immigration and xenophobic rhetoric.
Earlier this year, the 41-year-old was condemned for insisting that the country's border police should be authorised to shoot refugees trying to enter the country illegally.
Speaking in Stuttgart, Baden-Württemberg for German Unity Day on Monday, Ms Petry attacked calls for diversity from other German political parties, in comments which have been labelled by some local media as arguing for an ethically homogenous nation.
According to the Frankfurter Allgemeine Zeitung she said: "What are we to think of these 'Germany is colourful campaigns?' A compost heap is also colourful."
She also reportedly used the phrase "ragged proletariat of the Afro-Arab world" during her speech.
Her remarks have been lambasted as "repulsive" and "despicable" by fellow German political figures, The Local reports.
Refugees settle in Germany

Show all 12
The interior minister of Badden-Wuttemberg Thomas Strobl told FAZ: "The strategy of these people is to make people scared. Therefore we should not even get involved with them.
"[The AfD] is not the saviour but the traitor of the Western world [...] they live for crisis and have no other goal but to expand this in everyday life."
Andreas Stoch of the Social Democratic Party (SPD) of Germany said: "Once more the AfD has shown their hateful face. This blunder reaffirms that the AfD is by no means a bourgeois, but rather deeply inhuman."
German trade unionist and SPD politician Leni Breymaier said: "Ms Petry's miserable hatred has at least reached the next level of language. People are systematically humiliated and played against each other. It is not the diversity that threatens social peace in Germany - it is the AfD".
Germany's AfD says Islam is not welcome
The AfD predicted in September it will become the country's third major party after next year's federal elections following gains they have made against Chancellor Angela Merkel's Christian Democrats (CDU).
Set up three years ago, the AfD has been buoyed by Europe's migrant crisis and the party's success has been attributed to its hard anti-immigration stance in contrast to Ms Merkel's refugee-friendly policy which has inspired widespread opposition.
The party has no MPs in the federal parliament in Berlin, but has members in more than half of Germany's 16 regional state assemblies.
An INSA poll this week showed support for the AfD down half a percentage point from last week at 15 percent but still up around 9 points from a year ago.
Additional reporting by Reuters
Join our new commenting forum
Join thought-provoking conversations, follow other Independent readers and see their replies