French PM Manuel Valls suggests naked breasts represent France better than burkinis
'Marianne has a naked breast because she is feeding the people! She is not veiled, because she is free! That is the republic!'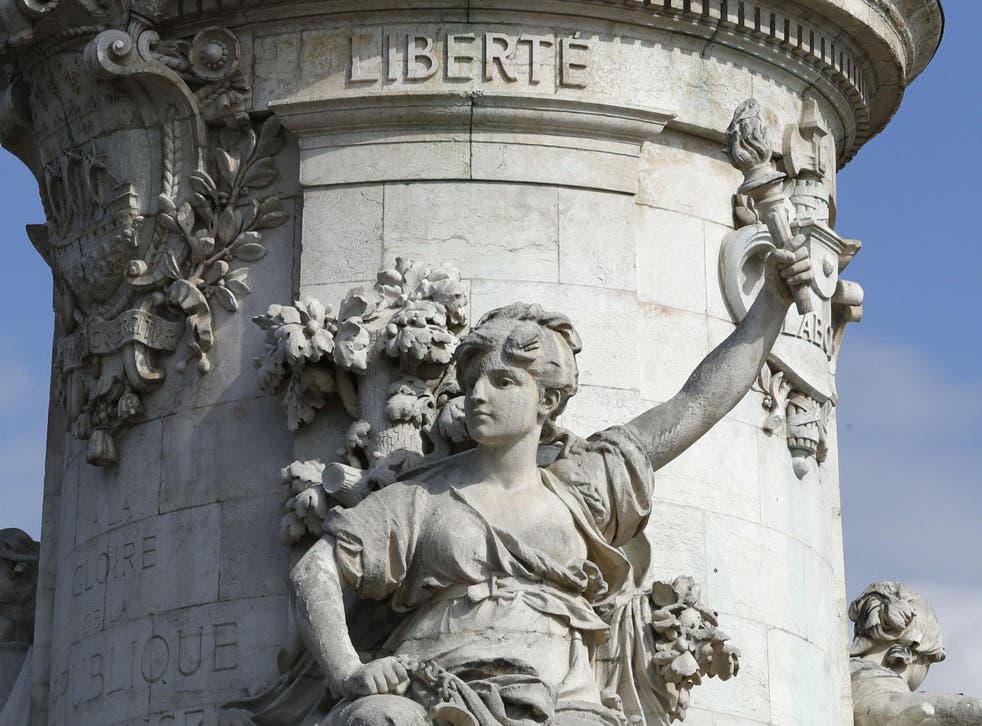 The French Prime Minster has faced ridicule from historians and politicians after suggesting naked breasts are more representative of France than burkinis, after invoking Marianne - a national symbol of the French Republic - at a government rally.
Controversy over "burkini bans", imposed in a number of the country's cities, resorts and communes, heightened after photographs emerged showing four police officers forcing a woman on a beach in Nice to remove her burkini.
Some of the prohibitions have since been overturned in French courts. On Tuesday, a court in Nice ruled the burkini ban in Cannes violated basic freedoms.
The decision followed a ruling by France's highest administrative court over a similar ban in the Riviera town of Villeneuve-Loubet, in which the Council of State said the ban "has dealt a serious and clearly illegal blow to fundamental liberties such as the freedom of movement, freedom of conscience and personal liberty."
Wading into the on-going debate over the full-body swimwear worn by some Muslim women, Manuel Valls invoked the image of Marianne, a depiction of the Goddess of Liberty and significant republican symbol, during the rally on Monday.
"Marianne has a naked breast because she is feeding the people! She is not veiled, because she is free! That is the republic!" he said at a Socialist Party meeting, Le Monde reports.
His comments have been mocked by historian Mathilde Larrere, who specialises in the French revolution and French citizenship. She called Mr Valls a "cretin", adding: "Marianne has a naked breast because it's an allegory."
In a series of Tweets, Ms Larrere explains that past depictions of Marianne with a bare breast were simply an "artistic code" and not related to femininity.
She further noted that the famous 1830 Eugene Delacroix painting was a representation of Liberty, not the Republic.
In pictures: Protest against burkini bans in London

Show all 10
The historian Nicolas Lebourg told French newspaper Liberation, he also thought the Prime Minister had confused Delacroix's Liberty Leading the People with Marianne.
Green Politician Cecile Duflot also mocked Mr Valls' remarks by noting that many depictions of Marianne show her with her head covered in a felt Phrygian cap, which has become a further symbol of the French revolution.
She posted several images on Twitter, with captions including, "In my opinion the main quality of Marianne is perseverance" and "Marianne, is a little each of us".
According to the BBC, Social Affairs Minister Marisol Touraine and Education Minister Najat Vallaud-Belkacem failed to applaud Mr Valls at the rally when he spoke of Marianne.
Marianne has been a national symbol of the French Republic since the fall of the monarchy in 1848. She is an icon of freedom, democracy and opposition to monarchy.
Depictions of Marianne are displayed across France, including the Place de la Nation in Paris. She is also represented on Government documents and engraved on French euro coins.
Last week, Mr Valls supported the decision of some local mayors to invoke burkini bans.
Earlier on Tuesday, the UN human rights office condemned local bans in France on burkini swimwear as "a grave and illegal breach of fundamental freedoms" and a "stupid reaction" to recent extremist attacks.
While lawyer Patrice Spinosi, representing the Human Rights League, said women who had already received fines could appeal against them following the overturn of the Villeneuve-Loubet ban.
Join our new commenting forum
Join thought-provoking conversations, follow other Independent readers and see their replies