Politically-motivated crime hits record high in Germany amid tensions over refugee crisis, Turkey and terrorism
Government figures also show 'disproportionate' rise in crime committed by non-Germans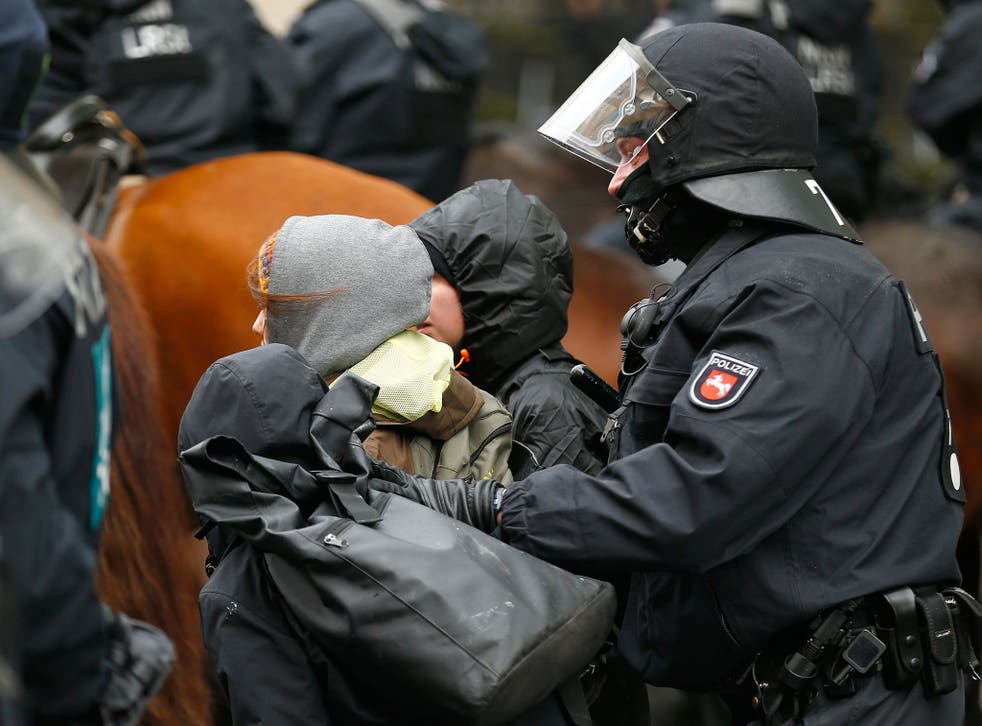 The level of politically-motivated crime in Germany has hit an all-time high as the left and right wing clash over the refugee crisis, terror attacks and the coming election.
Thomas de Maizière, the German interior minister, said total of 41,500 political crimes - 4,300 of them violent - recorded last year was "unacceptable".
"We will use the full force of the law again those who reject our legal system," he added, in an apparent reference to the radical Reichsbürger anti-government movement.
"A reduction in the number of politically-motivated crime is not expected. Security agencies are prepared for upcoming events including the G20 meeting in Hamburg and the election campaign and will take decisive action when necessary."
German crime figures for 2016 show the vast majority were committed by the right rather than the left, with right-wing violence up by 14 per cent and the left down by a quarter.
The refugee crisis is among the issues increasing tensions, with pro and anti-migrant protesters clashing at demonstrations and extremists attacking asylum seeker accommodation.
A police car was set on fire during protests in Cologne on Saturday, as thousands of demonstrators converged on the anti-immigration Alternative für Deutschland (AfD) party conference in Cologne.
Attacks on refugee accommodation fell for the first time since 2014 last year but still stood at around 1,000 incidents, with the interior ministry calling the fact that "those who have fled terror and war in their homelands are the focus of right-wing violence" shocking.
Violations of immigration law including illegal entry into Germany and overstaying visas contributed to an increase in crimes committed by foreign citizens, which rose by 4.6 per cent, constituting 40 per cent of all suspects.
But when immigration and asylum offences were excluded, the proportion of non-German suspects fell to 30 per cent.
Mr de Maizière said the "disproportionate" rise in crime by those classified as immigrants, including asylum seekers, refugees, illegal immigrants and people awaiting deportation, had risen to 174,4000 cases – up 53 per cent.
"As unpleasant as these figures are as a whole, they validate our course, to clearly make distinctions according to each individual's need for protection," he added.
Germany reacts to Cologne New Year's Eve attacks

Show all 13
"Those who need no protection have no right to remain in our country, and those who commit serious crimes have forfeited their right of residence.
"But neither will we allow all refugees living with us to be put under suspicion.
"The vast majority live alongside us, with our values and the rules of a peaceful and democratic co-existence."
Mr de Maizière said one reason for the high crime rate among asylum seekers and refugees – who committed 9 per cent of all offences in 2016 - was likely to be their accommodation situation, seeing fights break out in makeshift shelters and overcrowded rooms.
Right-wing political parties and movements have blamed Angela Merkel's decision to open Germany's borders to refugees in 2015 – sparking the arrival of more than a million asylum seekers – for a series of deadly terror attacks and mass sexual assaults in Cologne.
An Afghan asylum seeker injured four people in an axe attack on a train in July, while days later a Syrian refugee blew himself up in Ansbach.
Germany: Turkish nationalists clash with pro-Kurdish protesters in Cologne
A rejected Tunisian asylum seeker who Germany had attempted to deport killed 12 people in a lorry rampage at a Christmas market in Berlin. All three attacks were linked to Isis.
There was also a significant increase in crime motivated by "imported" ideologies – up 66 per cent - including Isis supporters and jihadis, and over Turkey and the Kurdistan Workers' Party (PKK) terrorist group.
Federal prosecutors have initiated numerous cases against suspected Islamists and former foreign fighters from Isis, al-Qaeda and the Taliban, as well as against suspected spies acting on behalf of Recep Tayyip Erdogan's government in Turkey.
A referendum on expanding the President's powers has increased tensions, as well as a failed coup in July and the ongoing crackdown on Kurdish separatists, political dissidents and alleged supporters of exiled cleric Fethullah Gulen.
When excluding immigration-related crimes, the largest group of non-German suspects were Turks, followed by Romanians, Poles and Syrians.
Figures from the German interior ministry also showed that violent crime had increased by 7 per cent, but a spokesperson emphasised that with immigration offences excluded the overall national crime rate fell.

Register for free to continue reading
Registration is a free and easy way to support our truly independent journalism
By registering, you will also enjoy limited access to Premium articles, exclusive newsletters, commenting, and virtual events with our leading journalists
Already have an account? sign in