Germany local elections: Far-right groups make huge gains
Small neo-Nazi party won 17 per cent of the vote in one district - making it the town's third largest party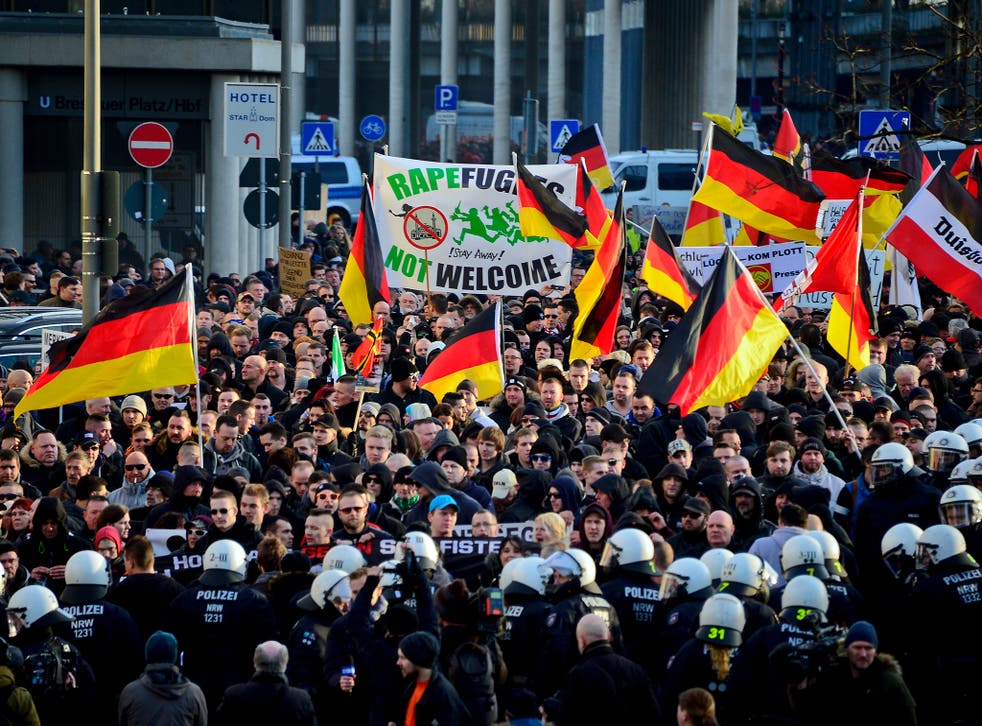 Far-right parties have made stunning gains in local elections in central Germany - with a small neo-Nazi group winning 17 per cent of the vote in one district.
The anti-immigration Alternative for Germany (AfD) won an average of 13.2 per cent of the vote across the state of Hesse on Sunday - making it the third largest party in the region behind Angela Merkel's Christian Democratic Union and the Social Democratic Party.
Meanwhile in the small town of Leun, 50 miles north of Frankfurt, the neo-Nazi NPD party managed to win 17 per cent of the vote - making it the third largest party.
In Büdingen, which is home to Hesse's largest refugee centre, the NPD took 14 per cent of the vote - up from two per cent in 2011.
The AfD's gains were particularly noticeable in Frankfurt - a global financial capital with a cosmopolitan population - where they won 10.3 per cent of the vote, coming in fourth place, Hessischer Rundfunk reports.
Previously the AfD had typically been most successful in the economically marginalised areas in the former East German states.
Germany reacts to Cologne New Year's Eve attacks

Show all 13
In the west of the country, it had usually struggled to win the five per cent of the vote required to be eligible for seats in the state parliament and the party's best result was 6.1 per cent in Hamburg in 2015.
The AfD was founded in 2103 as a single-issue, anti-Euro party but lurched to the right in 2015 following the onset of the refugee crisis and the ousting of its founder Professor Bernd Lucke, The Local reports.
A chart created by Statista for The Independent last month using data from the Bundestag shows growing support for far-right parties.
A total of 307,056 people have taken part in far-right demonstrations over the past decade with around 60,000 taking part in one in 2015 alone.
Pegida, a far-right movement founded in Dresden in October 2014, is seeing a dramatic rise in support following the influx of asylum seekers.
German police said around 1,700 people attended a special Pegida rally in Cologne in January following sex attacks on women on New Year's Eve which were blamed on refugees.
There has been a spate of arson attacks on refugee centres and homes in recent months.
In February, crowds reportedly "cheered" as a planned home for asylum seekers burned down in Saxony.
Investigators found traces of fire accelerant at the scene and believe the blaze was started deliberately.
Register for free to continue reading
Registration is a free and easy way to support our truly independent journalism
By registering, you will also enjoy limited access to Premium articles, exclusive newsletters, commenting, and virtual events with our leading journalists
Already have an account? sign in
Register for free to continue reading
Registration is a free and easy way to support our truly independent journalism
By registering, you will also enjoy limited access to Premium articles, exclusive newsletters, commenting, and virtual events with our leading journalists
Already have an account? sign in
Join our new commenting forum
Join thought-provoking conversations, follow other Independent readers and see their replies