Germany set to ban Turkish citizens from voting in death penalty referendum
Hundreds of Turkish officials, soldiers and judges seeking asylum in Germany after coup 
Lizzie Dearden
Saturday 06 May 2017 12:24 Comments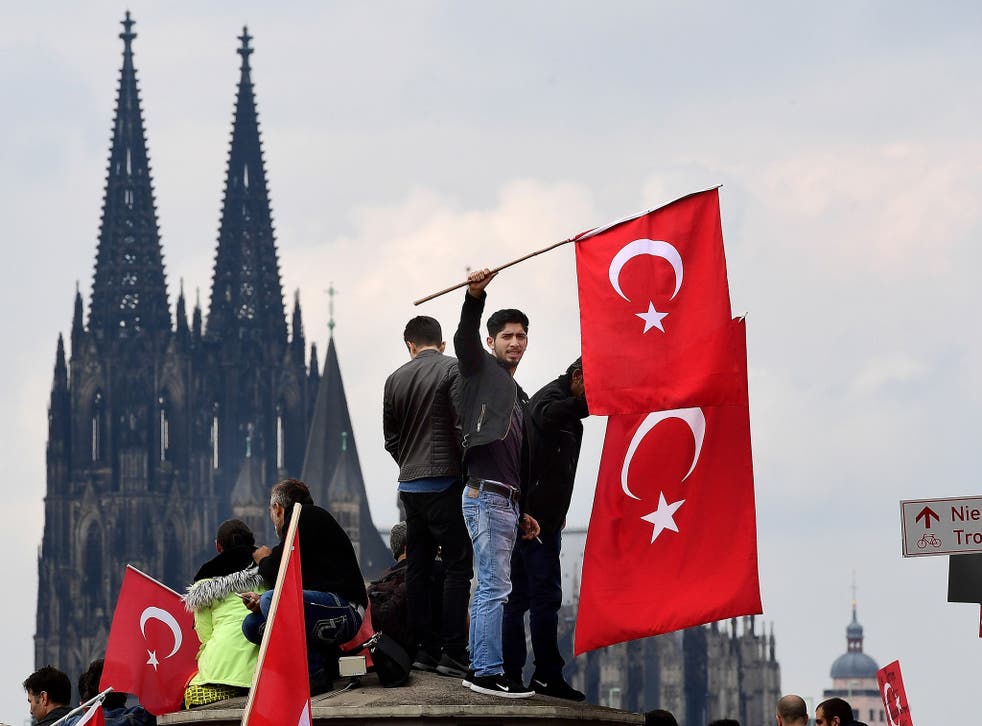 Turkish citizens living in Germany could be banned from voting in a possible referendum on reintroducing the death penalty as tensions between the two countries continue to rise.
Recep Tayyip Erdogan vowed to reinstate capital punishment during his victorious campaign ahead of last month's vote to vastly expand his powers using constitutional amendments.
"It is politically inconceivable that we would agree to such a vote in Germany on a measure that clearly contradicts our constitution and European values," government spokesman Steffen Seibert told a news conference.
"I assume that we would use all legal means to prevent something like this.
"If another state wants to hold elections or votes in its consulates here in Germany, then this is subject to German authorisation."
Social Democratic Party leader Martin Schulz, Angela Merkel's main challenger in upcoming elections, also supports the move.
Erdogan accuses Merkel of Nazi practices: Any country that harms a Turk will "face the consequences"
"We cannot allow voting in Germany on an instrument that contradicts our values and our constitution," he said.
Turkey could use a 1961 convention to instead hold voting in diplomatic premises to reach around 1.5 million expatriate voters living in Germany.
It abolished the death penalty in 2004 as part of a drive for EU membership, which has stalled amid concern over human rights abuses and would effectively be finished by the reintroduction of capital punishment.
Mr Erdogan has said he would approve its reinstatement if parliament submits a proposal or if the measure is backed in a referendum.
The Austrian foreign minister, Sebastian Kurz, said his country would also bar Turks from participating in a vote on the issue.
Both Austria and Germany were among countries seeing pro-Erdogan rallies cancelled before the constitutional referendum, sparking a row over the President's allegations of "Nazi practices" and tit-for-tat expulsions in the Netherlands.
Voting was allowed at diplomatic premises, but that spat further worsened relations between Turkey and European countries alarmed by wide-ranging purges and crackdowns seeing the detention of more than 110,000 people and formal arrest of 47,000 after an attempted coup in July.
In pictures: Turkey coup attempt

Show all 17
There are concerns the death penalty would be used as the punishment for terror offences, which have been used to convict thousands of soldiers, civil servants and journalists.
The Turkish government has accused US-based cleric Fethullah Gulen's "Hizmet" movement for launching the rebellion but the international community is unconvinced, sparking a series of diplomatic clashes.
Bruno Kahl, head of Germany's BND foreign intelligence service said that Turkey tried to "convince us on a number of different levels. But they haven't yet been successful".
The Gulen movement admits some of its supporters may have been involved in the failed uprising, which left hundreds dead, but ensuing purges have been seen as a wider crackdown on dissent.
A report by the House of Commons Foreign Affairs Committee found evidence of its involvement was "anecdotal and circumstantial", as was the basis of its terrorist designation by the Turkish government.
The US has refused to extradite Mr Gulen from his home in Pennsylvania, while Greece is among several nations denying Turkish requests to hand over coup suspects.
Ankara appears to be rounding up alleged Gulenists around the world, with two men including an international school headteacher "abducted" ahead of their expected deportation from Malaysia last week.
Ms Merkel, who is seeking a fourth term as Chancellor in September's election, has urged Europe not to push Turkey away in spite of mounting human rights concerns and accusations of espionage within Germany.
The country is now home to at least 450 diplomats, soldiers, judges and other Turkish officials, including their family members, seeking asylum following the attempted coup.
Soldiers stationed with Nato in Belgium and an African embassy military attaché are among those being considered by the Federal Office for Migration and Refugees (Bamf), Der Spiegel reported.
They are among more than 7,7000 Turks applying for protection in Germany, where last year's acceptance rate of 8 per cent is expected to rise significantly after the government updated its guidelines.
"There are clear indications of the systematic persecution of alleged supporters of the Gulen movement in Turkey," said an assessment by the foreign ministry in Berlin.
Meanwhile, the crackdown continued on Friday with the dismissal of 107 judges and prosecutors, 23 of whom are the subject of arrest warrants.
Anadolu news agency reported that the 17 judges and six prosecutors were wanted for "membership in an armed terror organisation" – a suspected reference to the Gulen movement.
Since the declaration of a state of emergency last summer, more than 4,200 judges and prosecutors have been dismissed.
Register for free to continue reading
Registration is a free and easy way to support our truly independent journalism
By registering, you will also enjoy limited access to Premium articles, exclusive newsletters, commenting, and virtual events with our leading journalists
Already have an account? sign in
Join our new commenting forum
Join thought-provoking conversations, follow other Independent readers and see their replies