Greece debt crisis: Watch angry Golden Dawn MP rip up bailout deal during heated debate
Greek MPs eventually approved the harsh conditions amid angry protests
Lizzie Dearden
Friday 17 July 2015 11:44 Comments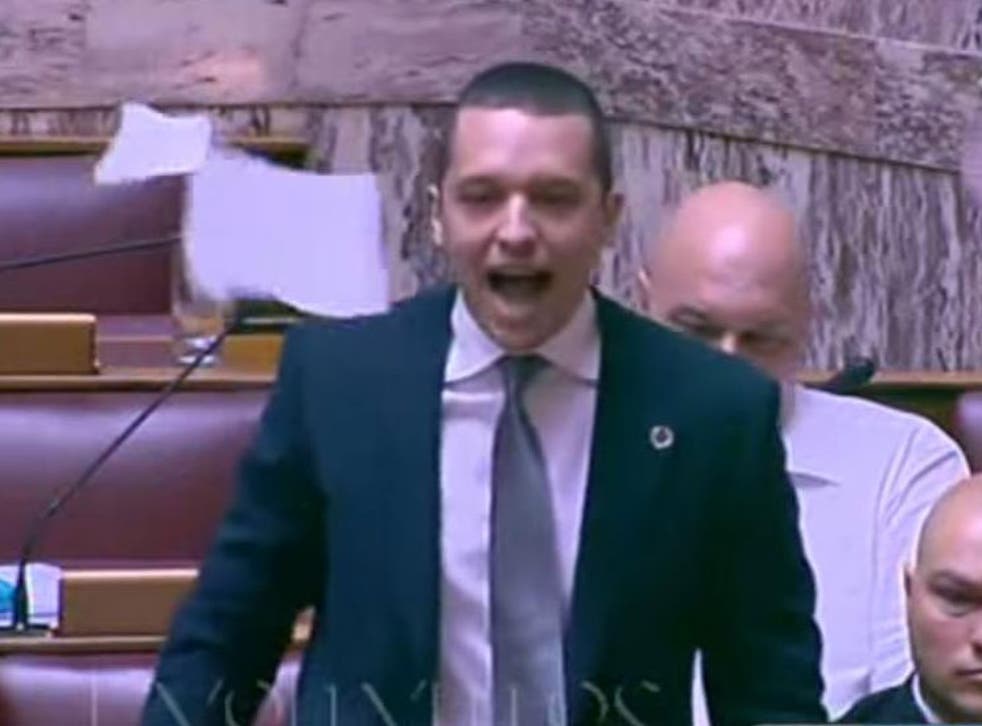 A far-right Greek MP has torn up the EU bailout conditions in parliament during a heated debate in Athens.
Ilias Kasidiaris, from Golden Dawn, threw the remnants of the agreement in the air after shouting about the "despicable document", which was later voted through.
"They [international creditors] are not going to get anything from Greece and those despicable memoranda to which the Greek people said no will send you [Syriza] and your policy to the rubbish bin of the Greek history," he said.
Mr Kasidiaris has been involved in several scandals, including appearing to suggest he was a Holocaust denier in parliament, being linked by police to criminal activity and slapping a female MP live on television in 2012.
Parliament eventually voted to implement more austerity measures to secure urgent debt relief from EU lenders as thousands of protesters gathered in the capital overnight.
Former finance minister Yanis Varoufakis was among the dissenting Syriza MPs, calling the deal a "continuation of debt slavery" before one heckler shouted "traitor" and he was booed.
In pictures: Riots on the streets of Athens as Greek parliament votes on a bailout deal

Show all 20
Parliament speaker Zoe Konstantopoulou slammed the deal as a product of blackmail, describing the increasing poverty expected as an act of "social genocide."
Embattled Prime Minister Alexis Tsipras said he had little choice but to accept the harsh terms in exchange for a three-year bailout worth €85 billion ($93 billion).
Additional reporting by AP
Register for free to continue reading
Registration is a free and easy way to support our truly independent journalism
By registering, you will also enjoy limited access to Premium articles, exclusive newsletters, commenting, and virtual events with our leading journalists
Already have an account? sign in
Join our new commenting forum
Join thought-provoking conversations, follow other Independent readers and see their replies