Iranian musician forced to stop Cologne concert after audience members jeer and shout 'speak German'
Mahan Esfahani put the furore down to his performance but German media suggested xenophobia may be to blame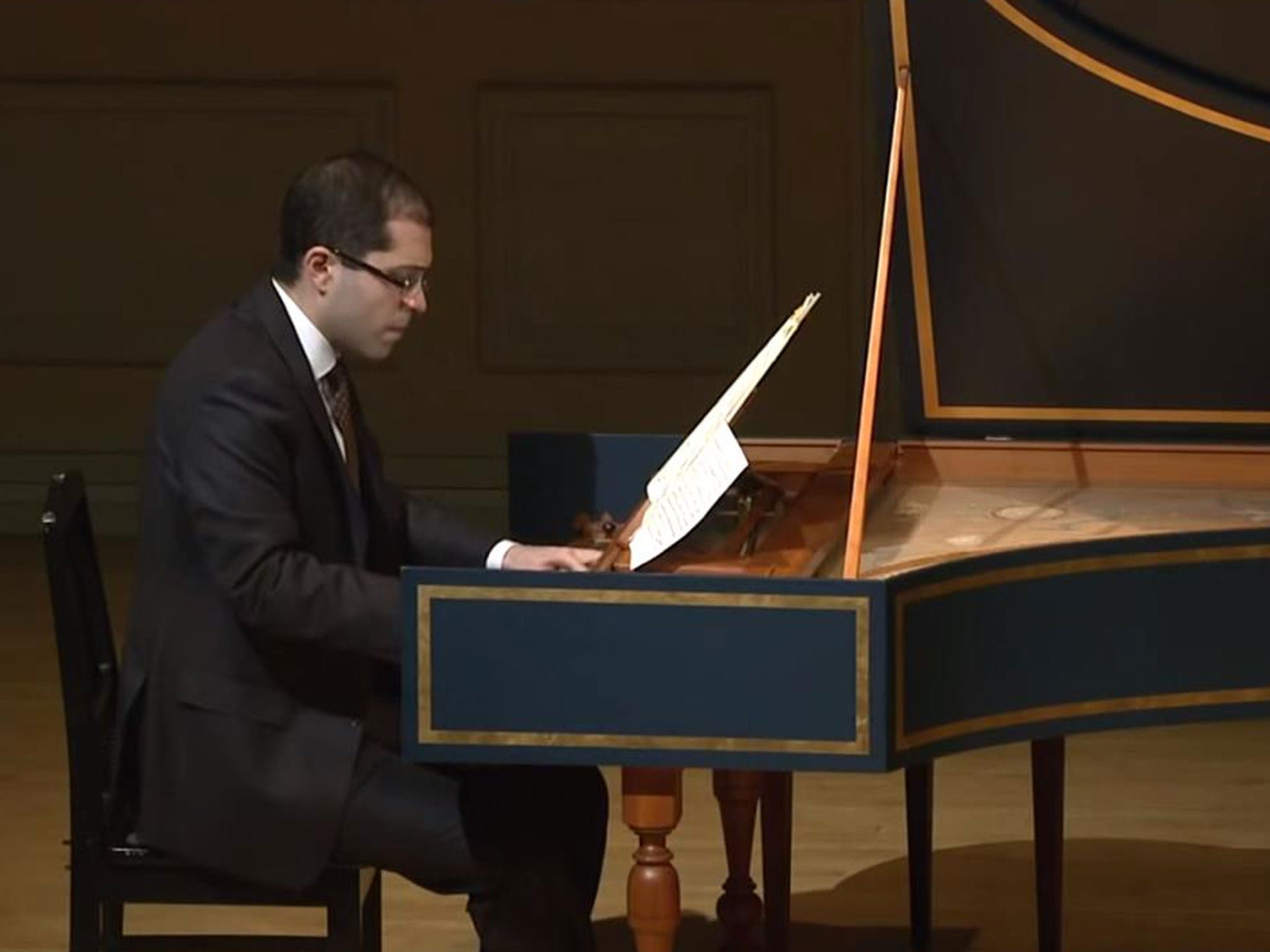 An Iranian harpsichordist has described his shock after being forced to stop a concert in Cologne following calls to "speak German" and jeering.
Mahan Esfahani, who has won numerous awards and teaches at London's prestigious Guildhall School of Music and Drama, was performing at the Kölner Philharmonie when the furore broke out on Sunday.
As he started to play Steve Reich's 1967 piece "Piano Phase", he gave a short introduction in English explaining the special arrangement allowing him to perform the work on a Baroque harpsichord dating from 1745.
An audience member shouted "speak in German" before other members of the 1,800-strong crowd started clapping, whistling and hissing, the Kölner Stadt-Anzeiger newspaper reported.
A number of people were seen walking out of the chamber as arguments broke out and some people were reportedly seen crying in their seats.
"I continued for about another three minutes until it became unbearable, with obvious different factions yelling each other down," Esfahani wrote in Slipped Disk magazine.
"I stopped in the middle of the piece and took my headphones off; the hall at this point was more or less in pandemonium on a scale that I've never seen in a concert hall for classical music."
Using his microphone, he asked the audience "what are you afraid of?" and compared Germany's freedom to the Iranian regime's suppression of music and the arts, before continuing with a Bach concerto.
"The atmosphere was tense but totally fascinating to witness," Esfahani wrote. "Most of the people who walked out or catcalled tended to be older men who clearly felt some sort of anger about having to listen to this piece.
"They were being shouted down by younger people – mostly women, in fact. A few people were crying."
The harpsichordist put the unprecedented reaction down to the performance of a modern piece during Cologne's weekly "Sunday at Four" concert, which is usually popular among older classical music lovers.
At the end of his performance the remaining audience burst into sustained and "intense" applause, he said, before a male audience member ran down the aisle and requested to use the microphone to make a public apology and say "how sorry he was for what happened".
Germany reacts to Cologne New Year's Eve attacks
Show all 13
"There was the invariable apology – but this is not necessary!" the musician said. "They should be glad to live in a city wherein people participate so actively in culture."
But German media suggested that the response may be linked to rising xenophobia following the New Year's Eve sexual assaults in Cologne and arrival of more than a million refugees in the country.
The city has seen waves of protests by far-right and anti-immigration groups, with some devolving into violent clashes with anti-fascist demonstrators and police, as well as vigilante attacks on refugees.
In a statement, the Kölner Philharmonie vowed to maintain its forum of "cultural diversity" and said Esfahani had been invited back to perform the same piece on 1 March next year.
"We are stunned at the unprecedented reaction by a part of the audience to a concert last Sunday," a spokesperson said. "We expect a respectful atmosphere.
"A small part of the audience cannot be allowed to disturb others and spoil their enjoyment."
Join our commenting forum
Join thought-provoking conversations, follow other Independent readers and see their replies