Isis condemned by 300 Austrian Muslim imams who sign declaration against 'extremism, violence and terror'
'These terrorists misuse our peaceful Islam religion to reach their political goals'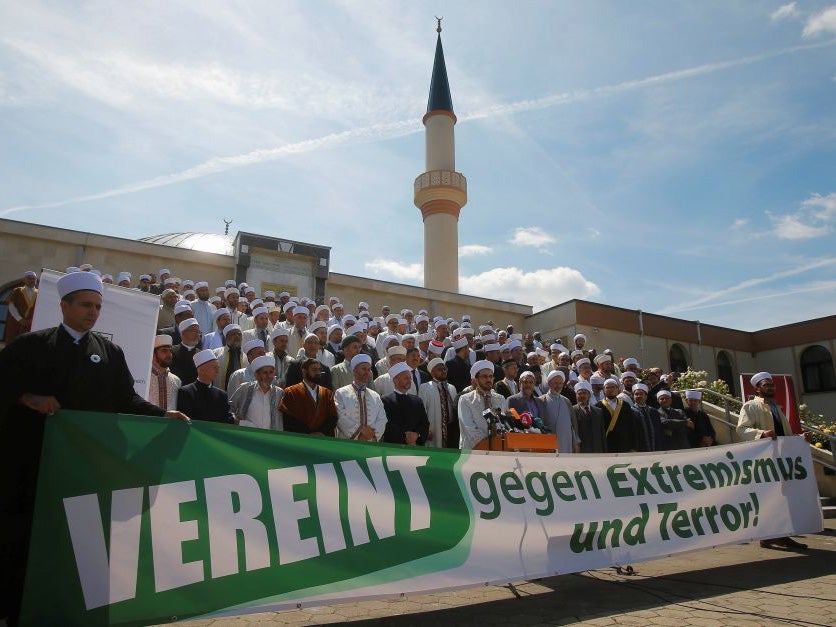 Around 300 imams in Austria have signed a declaration calling Isis the "black sheep" of the Islamic faith and called for fellow Muslims to take a greater role in society.
The Islamic Religious Community of Austria (IGGÖ) signed the declaration against "extremism, violence and terror" in Vienna which "holds that atrocities of the IS terrorists are contrary to Islam and must be condemned most severely".
"These IS terrorists misuse our peaceful Islam religion to reach their political goals," it added.
Around 180 imams who signed gathered outside a mosque in the city to unfurl a banner saying "United against extremism and terror".
​IGGÖ President Ibrahim Olgun said in a speech that "a religion that stands for peace can not have fundamentalist, terrorist or radical features" and that the Islamic faith was "polluted" by the actions of violent extremists.
The declaration said: "We, the Austrian imams, will continue to do everything they can to maintain peaceful coexistence here in Austria as part of this society.
"Nothing will stop us from using ourselves for peace, freedom, justice, equal opportunities for men and women, and social security based on reason and solidarity, and to make our active contribution to the preservation of society."
World news in pictures
Show all 50
It quoted a passage from the Quran which said "when a man kills a man, it is as if he had killed all mankind, and whoever saved a man's life is like saving all mankind".
The move comes as the Austrian parliament passed a controversial law which banned burqas in public last month, which is due to come into force in October, despite the fact that only a tiny majority of women in the country wear the full-face veil.
The provision will not apply to the hijab, which only covers the head and neck.
The ban has been criticised as a knee-jerk reaction to the rise of the populist Freedom Party of Austria which narrowly lost the presidential election to Green candidate Alexander Van der Bellen after a rerun of the vote in December 2016.
The first result in spring of that year, which was annulled after it was found some absentee ballots had been counted too early, resulted in a victory of just 0.3 per cent for Mr Van der Bellen in the second round.
Freedom Party candidate Norbert Hofer won the first round with 35 per cent of the vote to Mr Van der Bellen's 21.3 per cent.
Austria has not suffered the same extremist attacks on its own soil as its European neighbours.
But some 300 people out of a population of 8.7m have travelled to Syria to fight since the civil war began – one of the highest per capita numbers in Europe, according to the Guardian.
Join our commenting forum
Join thought-provoking conversations, follow other Independent readers and see their replies