Italian town files legal complaint against Charlie Hebdo following 'distasteful' earthquake cartoon
'This is a macabre, senseless and inconceivable insult to victims of a natural event,' says Amatrice lawyer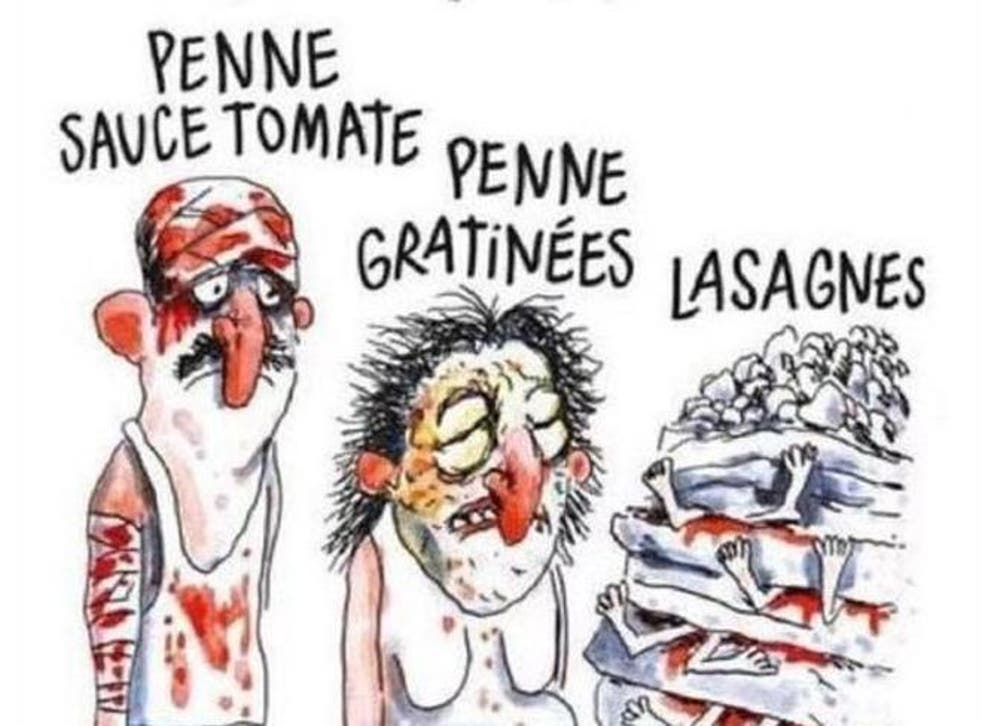 The Italian town that suffered a devastating earthquake last month has filed a lawsuit against Charlie Hebdo over its depiction of the tragedy.
Amatrice is suing the French satirical magazine for defamation after it published a cartoon entitled: "Earthquake, Italian Style", in reference to the magnitude 6.2 earthquake that killed more than 291 people and left a further 2,500 displaced.
The image depicted three people: a bloodied man labelled "Penne, tomato sauce", a charred woman labelled "Crustes penne" and a collapsed building with battered limbs poking out entitled "Lasagne".
Amatrice lawyer Mario Cicchetti filed the complaint on behalf of the town's local coucil in Rieti.
Mr Cicchetti told Italian news agency ANSA: "This is a macabre, senseless and inconceivable insult to victims of a natural event."
Italians had reacted to the cartoons with anger, and social media users described them as heartless" and "distasteful".
In response to the outcry Charlie Hebdo extended the unpopular joke by writing a message on their Facebook page stating: "Italians, it's not Charlie Hebdo that builds your homes, it's the Mafia!"
The Facebook post featured another cartoon depicting a bloodied and battered woman in the rubble with the same message.
Anti-Charlie Hebdo protests around the world

Show all 23
International opinion on Charlie Hebdo is mixed. In January 2015 the publication attracted global sympathy and was hailed as a bastion of free speech after Islamists stormed its Paris offices and killed 12 people.
Charlie Hebdo has not responded to a request for comment.
Register for free to continue reading
Registration is a free and easy way to support our truly independent journalism
By registering, you will also enjoy limited access to Premium articles, exclusive newsletters, commenting, and virtual events with our leading journalists
Already have an account? sign in
Register for free to continue reading
Registration is a free and easy way to support our truly independent journalism
By registering, you will also enjoy limited access to Premium articles, exclusive newsletters, commenting, and virtual events with our leading journalists
Already have an account? sign in
Join our new commenting forum
Join thought-provoking conversations, follow other Independent readers and see their replies