Kos crisis: The story behind the photograph of a Syrian father shared by thousands online
Laith Majid was photographed with his children by freelancer Daniel Etter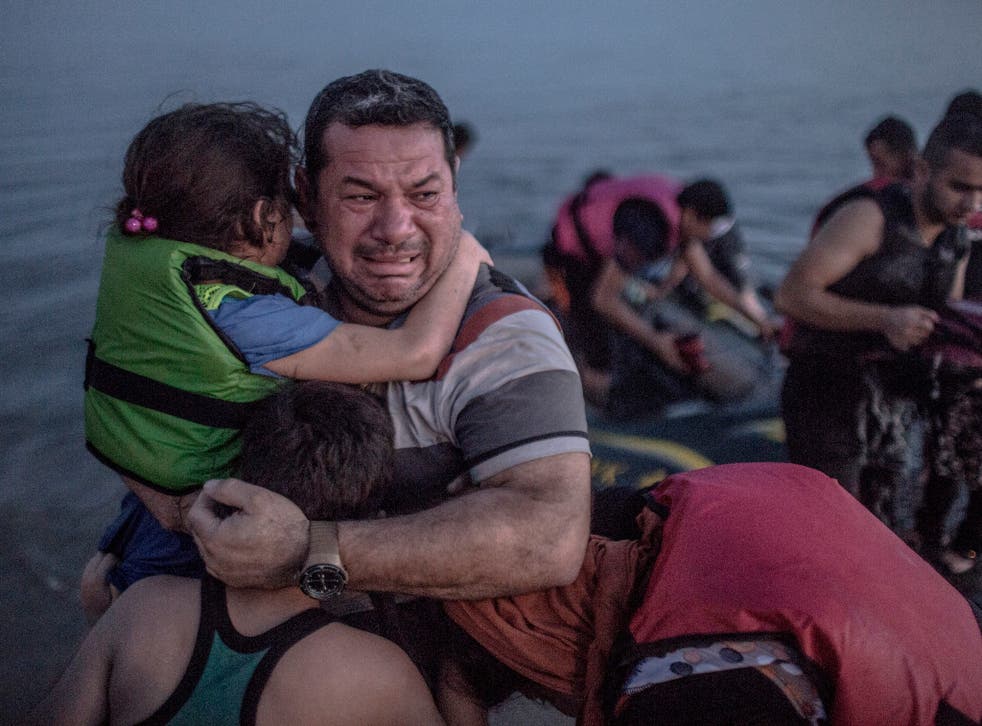 An image of a Syrian father sobbing as he cradles his son and daughter on a Greek beach has been shared by thousands of social media users.
The photograph of Laith Majid, taken by freelancer Daniel Etter at around 4.30am on a beach in Kos, Greece, has provoked a strong reaction to increasingly dehumanised depictions of migrants.
Mr Etter, 34, who confesses he has "never been so touched" by one image, managed to find out about the middle-class family from the Syrian city of Deir ez-Zor.
The family, who had endured years of bombardments from the Syrian government, rebel forces and most recently Isis, hoped to make it to Germany.
Mr Etter, based in Barcelona but currently photographing migrants along European Union borders, said the mother – who has not been pictured – had worked as an English teacher.
He told Spiegel Online the family of four came ashore with eight others in a small rubber dingy designed for just three people.
"After more than two hours of driving the boat had lost air, water had leaked into it, the refugees were soaked when they arrived at the shore. They were then completely relieved to have arrived safely," he said.
"In that moment it all came at them together, the joy of having done it; the love for their family; the grief over what had happened."
The family later stayed in a makeshift tent on another beach in Kos, before attempting to board the Eleftherios Venizelos established by Greek authorities to process Syrian refugees. "Whether they make it, I don't know," he said.
Mr Etter said although he was used to working as a photographer, witnessing many emotional scenes, he has never been so touched by an image. Looking at the photograph afterwards, he found "tears came again and again," he told Spiegel Online.
"That's never happened to me before."
It comes amid news that the number of migrants attempting to reach the safety of Europe has sharply increased, with a record high of 107,500 recorded in August.
Join our new commenting forum
Join thought-provoking conversations, follow other Independent readers and see their replies