Emmanuel Macron says the world is losing the fight against climate change: 'We're not moving quick enough'
Donald Trump not invited to Paris summit where tag line of event was 'Make Our Planet Great Again'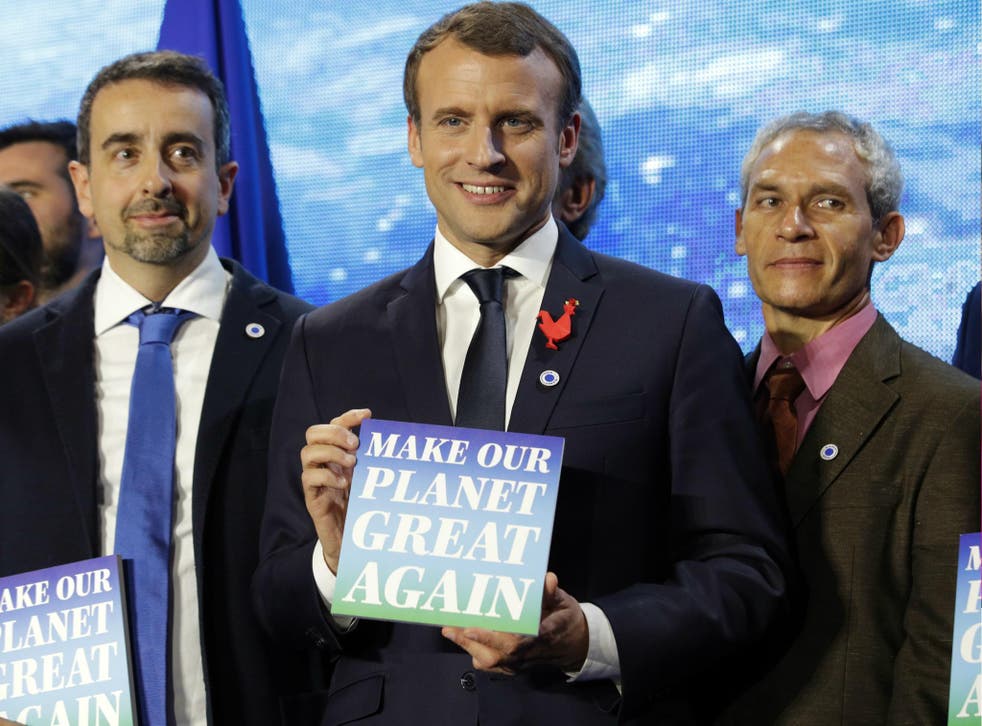 Emmanuel Macron has said that the world is "losing the battle" against climate change and issued a plea to the leaders of wealthy countries: "We're not moving quick enough. We all need to act."
Mr Macron was speaking at the One Planet summit in Paris, a meeting of 50 countries to which the US President was not invited.
But in a light-hearted nod to Donald Trump, who has called climate change a "hoax", the tag line for the summit was "Make Our Planet Great Again".
Mr Macron said the US was not willing to "join the club" on combating climate change, he told Time. As part of the summit, 18 mostly US-based scientists will win paid opportunities to live and conduct climate-related research in Europe, away from the climate scepticism of Mr Trump.
Other attendees to the summit included Mexican President Enrique Pena Nieto, Theresa May and the secretary-general of the United Nations, Antonio Guterres.
France announced a raft of 12 non-binding commitments, from a $300m pledge to fight desertification to accelerating the transition towards a decarbonised economy. But there was no headline promise likely to reassure poor nations on the sharp end of climate change that they will be better able to cope.
Developed countries have pledged to provide $100bn (£75bn) a year to poorer countries, every year after 2020 – when the Paris Agreement, a global accord to curb greenhouse gas emissions and limit global warming to 2C, comes into force.
The funds were supposed to go towards adapting poorer countries' infrastructures and economies to be more climate resilient, particularly in the event of a natural disaster. But specific details about financial pledges did not make it into the main text of the Paris Agreement in 2015, as governments called for flexibility.
Barack Obama jokes 'Thanks, Obama' when talking about climate change progress
Now, there are fears that countries are not getting even close to that figure for the first year. The Organisation for Economic Cooperation and Development (OECD) estimates only about $68bn (£51bn) has been collected.
Also in focus is how public and private financial institutions can mobilise more money and how investors can pressure corporate giants to shift towards more ecologically friendly strategies.
More than 200 institutional investors with $26 trillion in assets under management said they would step up pressure on the world's biggest corporate greenhouse gas emitters.
Part of the reason to keep up momentum on fighting climate change is the vacancy in action and financing left by the US government under Mr Trump.
10 photographs to show to anyone who doesn't believe in climate change

Show all 10
The US withdrew a $2bn pledge to the Green Climate Fund, one of the myriad pots set up for developing countries to receive aid money.
In June, Mr Trump ordered the start of the official withdrawal of the US from the Paris Agreement, after former President Barack Obama was obliged to use an executive order to join the deal in 2016 to bypass climate deniers in Congress.
The US remains the only country not in the Paris Agreement after previous holdouts Nicaragua and Syria joined the rest of the world.
And the US actively promoted the use of fossil fuels at a UN climate change meeting last month.
Industry representatives from coal, oil, gas and nuclear power companies like Peabody Energy, nuclear engineering firm NuScale Power, and Tellurian, a liquefied natural gas exporter, were prominently featured during the event.
During the panel, Mr Trump's international energy issues adviser George D Banks said it was "controversial only if we chose to bury our heads in the sand".
"Without question, fossil fuels will continue to be used, and we would argue that it's in the global interest to make sure when fossil fuels are used that they be as clean and efficient as possible," Mr Banks said.
However, the US private sector and state governments – like Governor Jerry Brown representing California – have not been left out of the One Planet summit.
Over a thousand governors, mayors, and CEOs in the US have pledged to keep up the commitments outlined in the Paris Agreement despite the federal government's inaction.
Register for free to continue reading
Registration is a free and easy way to support our truly independent journalism
By registering, you will also enjoy limited access to Premium articles, exclusive newsletters, commenting, and virtual events with our leading journalists
Already have an account? sign in
Register for free to continue reading
Registration is a free and easy way to support our truly independent journalism
By registering, you will also enjoy limited access to Premium articles, exclusive newsletters, commenting, and virtual events with our leading journalists
Already have an account? sign in
Join our new commenting forum
Join thought-provoking conversations, follow other Independent readers and see their replies