Man dressed as shark handed fine under Austria burqa ban
'I'm just doing my job,' mascot tells police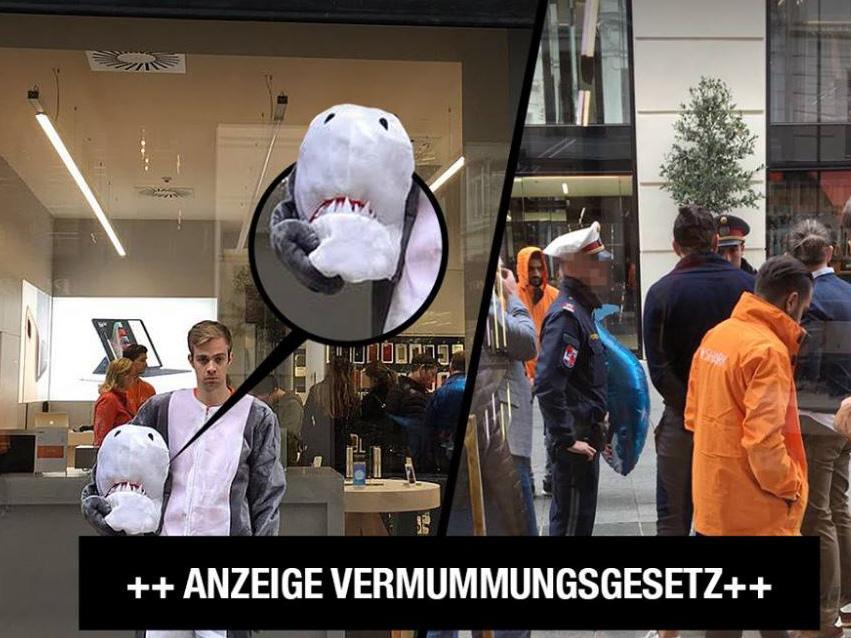 Austrian police have reportedly fined a man dressed as a shark under a controversial new law that also bans burqas.
The man was promoting the opening of a new electronics shop in Vienna dressed in a pink and grey costume when police asked him to remove his head covering.
He refused to do so and was given a fine, according to Austrian media reports. Penalties for violating the law can be up to 150 euros (£134).
Advertising agency Warda Network announced the fine in a Facebook post, saying: "Today we were at the Mcshark shop opening and our shark mascot received a fine from the Vienna police because of the new ban on face-coverings! Life is not easy!"
After the mascot was approached by the officers, he said: "I'm just doing my job", Heute reported.
The managing director of the advertising agency told the daily newspaper his company may not use mascots again following the incident, adding that ending the practice would be "a shame".
The controversial new restrictions on wearing face coverings in public places and buildings came into force in Austria on Sunday.
They technically apply to all face-concealing headwear, including surgical masks, fancy dress and balaclavas worn in certain circumstances.
The law – which was approved by the Austrian parliament in May – does not explicitly target Muslims, but has been accused of discriminating those who wear traditional Islamic dress.
The partial ban applies to burqas and niqabs, which cover the face, but not the hijab, which only covers the hair and neck.
Critics also argue the ban is unnecessary, since only a tiny number of women in Austria are thought to wear veils.
World news in pictures
Show all 50
Thousands of people protested against the proposals in Vienna's streets earlier this year, with organisers declaring: "Every woman must be able to move freely in public without harassment and discrimination — no matter what she does or does not wear."
Support for bans on face veils has grown across Europe since France became the first state to ban them in 2011. Belgium and Bulgaria followed, with partial bans being imposed in Spain, Italy, Switzerland, the Netherlands and Germany.
Join our commenting forum
Join thought-provoking conversations, follow other Independent readers and see their replies