Marine Le Pen retains lead in French presidential election polls despite gains by Emmanuel Macron
Far-right National Front party leader still expected to lose run-off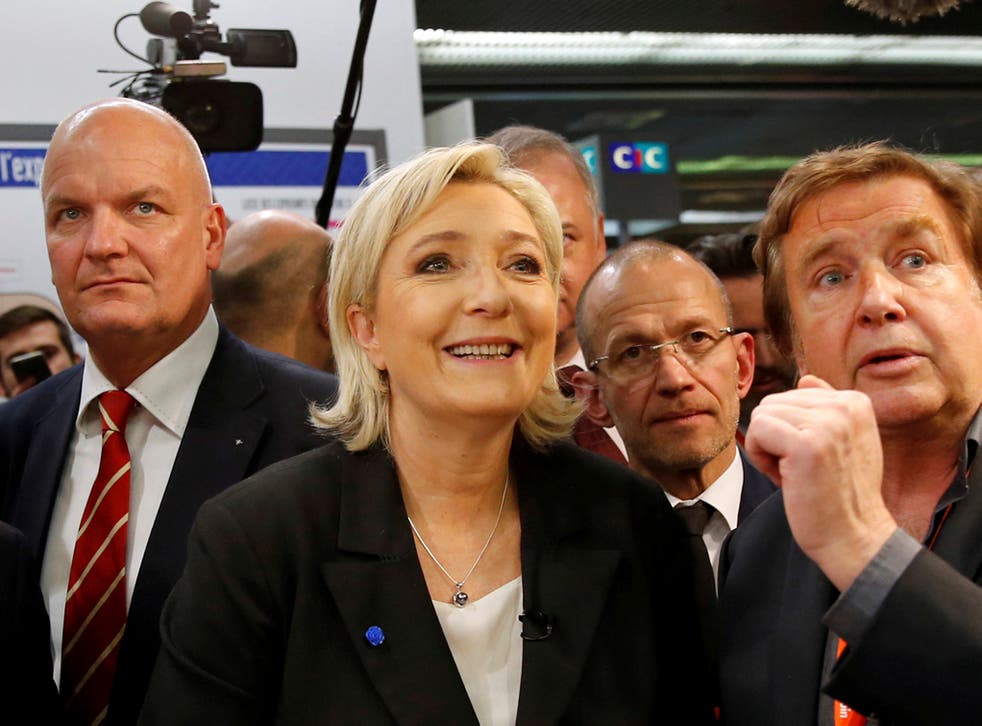 Far-right leader Marine Le Pen remains favourite to win the first round of France's presidential election but would lose the May 7 run-off against either the centre-right's Francois Fillon or centrist Emmanuel Macron, two polls have shown.
Both polls were conducted at the start of this week, before Wednesday evening's announcement that veteran centrist Francois Bayrou would ally with Macron rather than stand himself, a move that could boost the centrist candidate at Fillon's expense.
The polls' findings are in line with a slew of other opinion surveys over the last few weeks.
A BVA poll showed Macron beating Le Pen comfortably, by 61 percent to 39 percent, in the runoff vote.
If the scandal-tainted Fillon faced off against Le Pen in the second round instead of Macron, he would receive 55 percent against her 45 percent, a narrower margin of victory and well short of the 20-point lead polls gave Fillon a few weeks ago.
A separate Harris Interactive poll also had Le Pen leading in the April 23 first round, but in the run-off Macron would secure 60 percent against her 40 percent. Fillon would get 57 percent to Le Pen's 43 percent, it showed.
The campaigns of both Le Pen, leader of the anti-euro, anti-immigrant National Front, and of Fillon, a former prime minister, have been shaken by investigations into allegations that they misused public money. Both have denied any wrongdoing.
Fillon, 62, was once the election frontrunner but is now engulfed in a scandal over salaries paid to his wife and children out of public funds for work they may not have carried out. He says they did do the work for which they were paid.
Le Pen is facing accusations of paying her chief of staff and bodyguard illicitly from European Parliament funds that she is now being pressed by the assembly to repay.
World news in pictures

Show all 50
Macron, a 39-year-old ex-banker who has never held elected office, could benefit from his cleaner image as well as from Bayrou's endorsement, which on Wednesday cheered investors nervous about France's economic prospects under Le Pen.
Polls have suggested in the past that Bayrou, 65, has the support of about five percent of French voters, and his backing for Macron could prove crucial in a tight race in pushing the centrist into the runoff.
Macron says he wants to transcend the classic left-right divide in French politics and has drawn huge crowds to rallies that easily equal those of his closest rivals.
Macron and Bayrou were expected to work on the details of their alliance on Thursday.
Reuters
Register for free to continue reading
Registration is a free and easy way to support our truly independent journalism
By registering, you will also enjoy limited access to Premium articles, exclusive newsletters, commenting, and virtual events with our leading journalists
Already have an account? sign in
Register for free to continue reading
Registration is a free and easy way to support our truly independent journalism
By registering, you will also enjoy limited access to Premium articles, exclusive newsletters, commenting, and virtual events with our leading journalists
Already have an account? sign in
Join our new commenting forum
Join thought-provoking conversations, follow other Independent readers and see their replies