MH17 report: Investigators reconstruct wreckage to show how Boeing 777 was downed by warhead blast
The Dutch Safety Board found that the disaster was caused by a warhead exploding a metre from the cockpit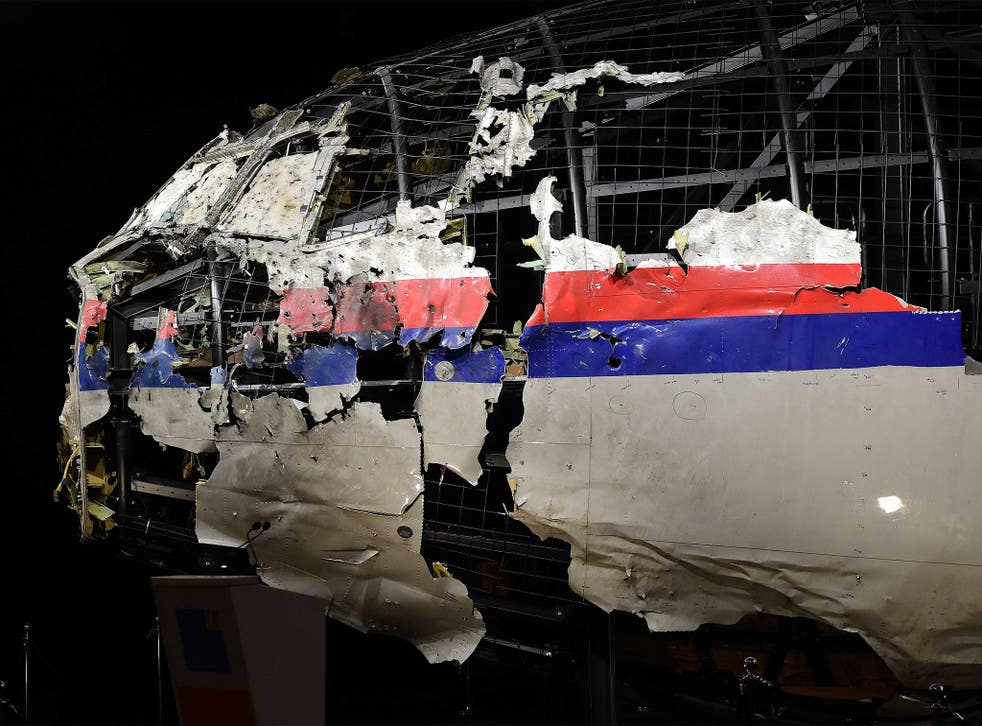 This is the reconstruction of MH17 used by Dutch investigators to conclude that the plane was shot down by a warhead fired from a Russian-made Buk missile system.
Wreckage collected from miles of countryside where debris was scattered across Donetsk Oblast in eastern Ukraine was mounted on a metal frame at the Gilze-Rijen Air Base, in the Netherlands.
The nose was missing, along with several large parts of the Boeing 777, but the left side of the cockpit could be seen embedded with shrapnel.
Burn marks and ripped sheets of metal were visible, next to blackened and pockmarked strips of the Malaysia Airlines livery.
Five windows from business class further towards the rear of the aircraft were assembled, as well as several seats that survived the impact.
The Dutch Safety Board (DSB) revealed the reconstruction as relatives and journalists were told the findings from its report into the MH17 disaster in July last year.
The warhead exploded just a metre away from the left hand side of the cockpit and around 800 "high energy" fragments sprayed the cockpit, killing the three crew members inside immediately, Tjibbe Joustra said.
The chairman told reporters that the front part of the aircraft was torn off, before the rest of the plane started breaking up in the air.
In pictures: MH17 final report

Show all 7
Mr Joustra said hundreds of cubic and bow-tie shaped metal fragments from the warhead were found embedded in the fuselage and in the bodies of dead crew members, allowing investigators to trace the type of weapon.
The report named it as a 9N314M-model warhead carried on the 9M38 series of missiles on a Buk system.
Here is a summary of the impact:
MH17 was cruising near the Ukrainian/Russian border at 33,000ft in airspace approved by Ukrainian air traffic control.
At 13.20.03 local time, a warhead detonated outside and above the left hand side of the cockpit.
The three people in the cockpit were killed immediately and structural damage led to a rapid in-flight break-up.
The front of the plane was ripped off and the people on board died over the 90 seconds of the crash.
The wreckage was spread across 50 square km between the village of Petropavlivka and the town of Hrabove.
Before the findings were delivered on Tuesday, Russian weapons manufacturer Almaz-Antey released its own report refuting the Dutch conclusions and claiming that the 9M38 is no longer used by Russia's military.
The DSB report did not aim to establish blame for the MH17 disaster, which is being examined in a separate criminal investigation by the Dutch prosecutor.
Join our new commenting forum
Join thought-provoking conversations, follow other Independent readers and see their replies