Nadiya Savchenko: Ukrainian pilot has charges upgraded to murder as she awaits trial in Russia
Pilot's lawyer accuses the Kremlin of working to 'accelerate the case' to trial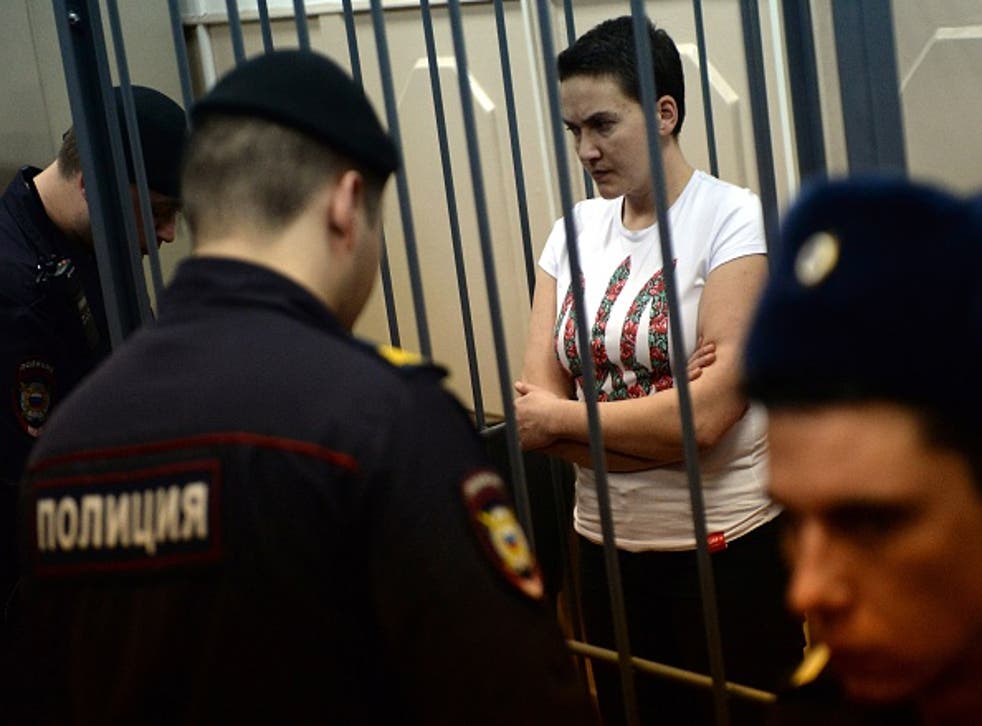 Investigators in Russia have upgraded charges made against a female Ukrainian army helicopter pilot who has spent two years in jail.
Nadiya Savchenko, 34, now stands accused of the murder of two Russian journalists as her trial gears-up to begin this summer.
Previously, the pilot had been charged with complicity in the deaths of reporters Igor Kornelyuk and Anton Voloshin who were covering the Ukrainian war last year.
The two journalists – who worked at Russia's state-owned VGTRK station – were said to be fatally wounded after Ms Savchenko allegedly took part in an attack on a rebel checkpoint.
Authorities in Russia said Ms Savchenko was detained after she crossed the border illegally, and of her own accord, while disguised as a refugee.
However, Ms Savchenko's lawyer, Mark Feygin, has always alleged his client is a prisoner-of-war and has consistently called on the International Committee of the Red Cross and the United Nations to release her immediately.
He took to Twitter this week to accuse the Kremlin of trying to rush the case to trial, writing: "The prosecutors and the court, and behind them the Kremlin, are very interested in accelerating the case, and in particular this summer."
Ukraine's Foreign Ministry said immediately after her capture that Ms Savchenko was taken over the border by rebel captors and accused Russian authorities of deploying terrorists to carry out crimes on Russian soil, adding that Russia was clearly "openly abducting citizens of Ukraine."
Last year, Russian President, Vladimir Putin, said Miss Savchenko should be tried and, of found to be guilty, she should be "punished in accordance with the decision of the court."
Register for free to continue reading
Registration is a free and easy way to support our truly independent journalism
By registering, you will also enjoy limited access to Premium articles, exclusive newsletters, commenting, and virtual events with our leading journalists
Already have an account? sign in
Register for free to continue reading
Registration is a free and easy way to support our truly independent journalism
By registering, you will also enjoy limited access to Premium articles, exclusive newsletters, commenting, and virtual events with our leading journalists
Already have an account? sign in
Join our new commenting forum
Join thought-provoking conversations, follow other Independent readers and see their replies