Tensions grow in Eastern Europe as Russia and Nato accuse each other of Cold War-style military intimidation
Defence Secretary Michael Fallon warned Russia that the Nato military exercises in the Baltic Sea are "not a game"
Doug Bolton
Thursday 18 June 2015 09:18 Comments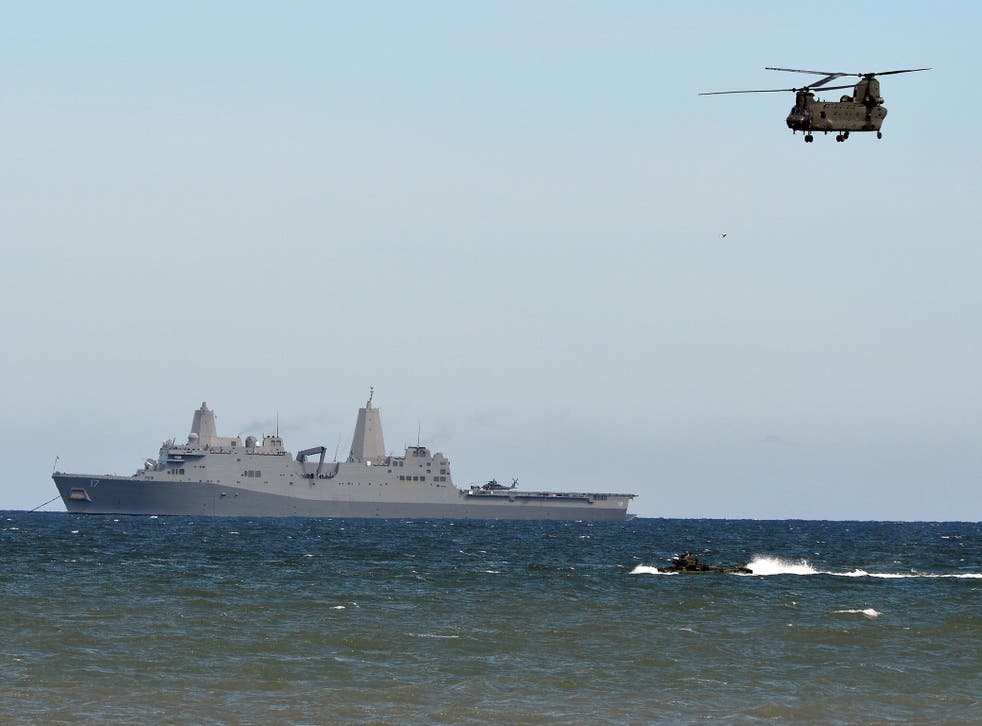 International tensions are mounting in Eastern Europe, as both Russia and Nato accuse each other of Cold War-style sabre rattling and military intimidation amidst continuing military exercises, which Defence Secretary Michael Fallon has said "are not a game" in a warning to Russia.
The accusations come at a troubled time between the two powers, as Nato military exercises continue close to the Russian border, Putin announces the development of 40 new nuclear-capable ballistic missiles, and the EU agrees to continue economic sanctions against Russia for another six months.
The flurry of militarism from all sides has led Russia to criticise Nato for reviving the ghost of the Cold War with its annual BALTOPS military exercise, which has been taking place this month in Poland and the Baltic States, too close to comfort for the Kremlin.
President Vladimir Putin's spokesman, Dmitry Peskov, in response to Nato criticism of Russia's new missile program, said today: "It's not Russia that's approaching someone's borders. It's Nato's military infastructure that is approaching the borders of Russia."
"All this... forces Russia to take measures to safeguard its own interests, its own security."
The Nato exercises have seen thousands of troops practicing sea landings, air lifts and assaults, in massive maneuvers on the eastern edge of NATO's boundary. The increased Nato presence has been welcomed by Eastern European leaders, who have grown increasingly jittery after Russia's annexation of Crimea last year.
Part of the BALTOPS sea exercises have taken place off the Polish coast, near Ustka, around 150 miles away from the Russian port of Kaliningrad, just across the Gulf of Gdansk.
Speaking to Sky News aboard HMS Ocean, a royal navy flagship that has been taking part in the exercises, Defence Secretary Michael Fallon has warned Russia that the Nato exercises are "not a game", and asserted that the UK will "stand tall, shoulder-to-shoulder" with its Nato allies to defend the alliance's integrity.
Which countries have nuclear weapons?

Show all 14
Fallon's warning may not be news to Putin, who yesterday announced the introduction of 40 new intercontinental ballistic missiles, which he says will be able to "overcome even the most technically advanced anti-missile defence systems."
His announcement was called "unjustified" and "dangerous" by Nato representatives, with German Foreign Minister Frank-Walter Steinmeir accusing Putin of acting on Cold War reflexes.
As a signatory to the Nuclear Non-Proliferation Treaty, Russia is not producing new nuclear weapons - but the new ballistic missiles will improve Russia's ability to deliver its existing arsenal of around 3,000 nuclear warheads.
Amidst the increasing military activities of both Russia and Nato, the EU agreed to extend the economic sanctions against Russia for another six months. The sanctions were first put in place in July 2014, in response to Russia's military support of separatists in eastern Ukraine.
The sanctions will economically target Russia's energy, defence and financial sectors. The decision to go forward with them still has to be ratified by EU foreign ministers, but this ratification is seen as a formality.
The larger-scale shows of military might can be seen as an escalation of more low-level attempts at intimidation that have occured since Russia's annexation of Crimea, and even before.
Last week, a Russian military jet 'buzzed' Nato warships in the Baltic Sea, passing within 150 metres of the group, in an incident which a US State Department official said was not "safe and professional".
Register for free to continue reading
Registration is a free and easy way to support our truly independent journalism
By registering, you will also enjoy limited access to Premium articles, exclusive newsletters, commenting, and virtual events with our leading journalists
Already have an account? sign in
Join our new commenting forum
Join thought-provoking conversations, follow other Independent readers and see their replies