Kos police use batons and fire extinguishers in fights with migrants screaming: 'We want to eat'
A police official said that riot police and additional officers from neighbouring islands would be called in as reinforcements
Doug Bolton
Wednesday 12 August 2015 16:18 Comments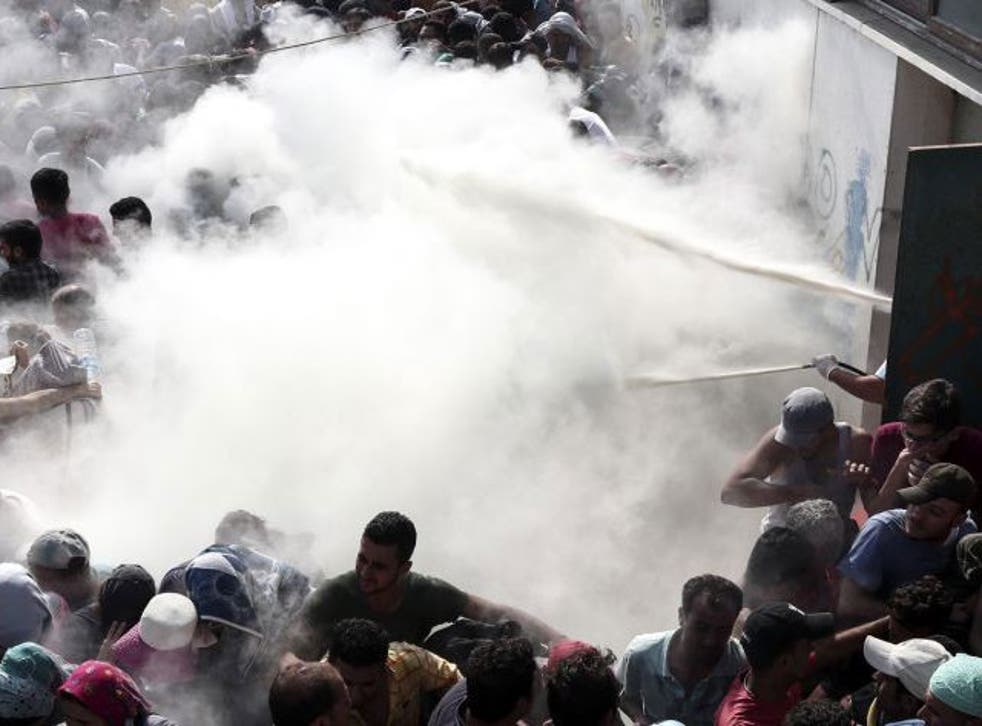 Police on the Greek island of Kos have used fire extinguishers and batons against migrants, as tensions boiled over in a sports stadium where hundreds had gathered to wait for immigration documents.
Local TV images showed the crowd of migrants jostling to get away from clouds of white powder, sprayed from fire extinguishers by police trying to disperse the crowd.
The scuffles at the stadium came a day after a police officer on the island was suspended for brandishing a knife and slapping a man who was identified by Greek media as a Pakistani migrant.
It is not clear, however, exactly what sparked today's violence.
Stranded migrants spend night on rocks

Show all 9
There was unrest elsewhere on the island, as hundreds of people blocked the main coastal road in the island's main town, chanting: "We want papers, we want to eat!"
Local authorities are struggling to cope with the huge influx of people arriving on the islands after having travelled over the sea on crude boats.
Fleeing warzones and troubled areas in Syria and Africa, many land in Greece, trying to make it into the EU after setting sail from Turkey.
The United Nations refugee agency UNHCR estimates that around 124,000 people have landed on Greek islands this year.
This is a huge 750 per cent increase on the figures from the same period last year. Since the beginning of the week, 329 migrants have been saved in separate search and rescue operations off the coast of Kos and Lesbos.
The Mayor of Kos, Yorgos Kyritsis, said that police and coast guards are simply unable to deal with the huge amounts of people arriving in Greece.
Speaking on Greek TV, he said: "This situation on the island is out of control. There is a real danger of uncontrollable situations. Blood will be shed."
A Greek police official who spoke to Reuters on condition of anonymity said that riot police squads would be deployed to the island, and reinforcements from the islands of Rhodes and Siros would be sent.
Register for free to continue reading
Registration is a free and easy way to support our truly independent journalism
By registering, you will also enjoy limited access to Premium articles, exclusive newsletters, commenting, and virtual events with our leading journalists
Already have an account? sign in
Join our new commenting forum
Join thought-provoking conversations, follow other Independent readers and see their replies