President Erdogan says freedom and democracy have 'no value' in Turkey amid arrests and military crackdown
Dozens of activists, politicians and academics have been detained in Turkey as discussions continue over the refugee crisis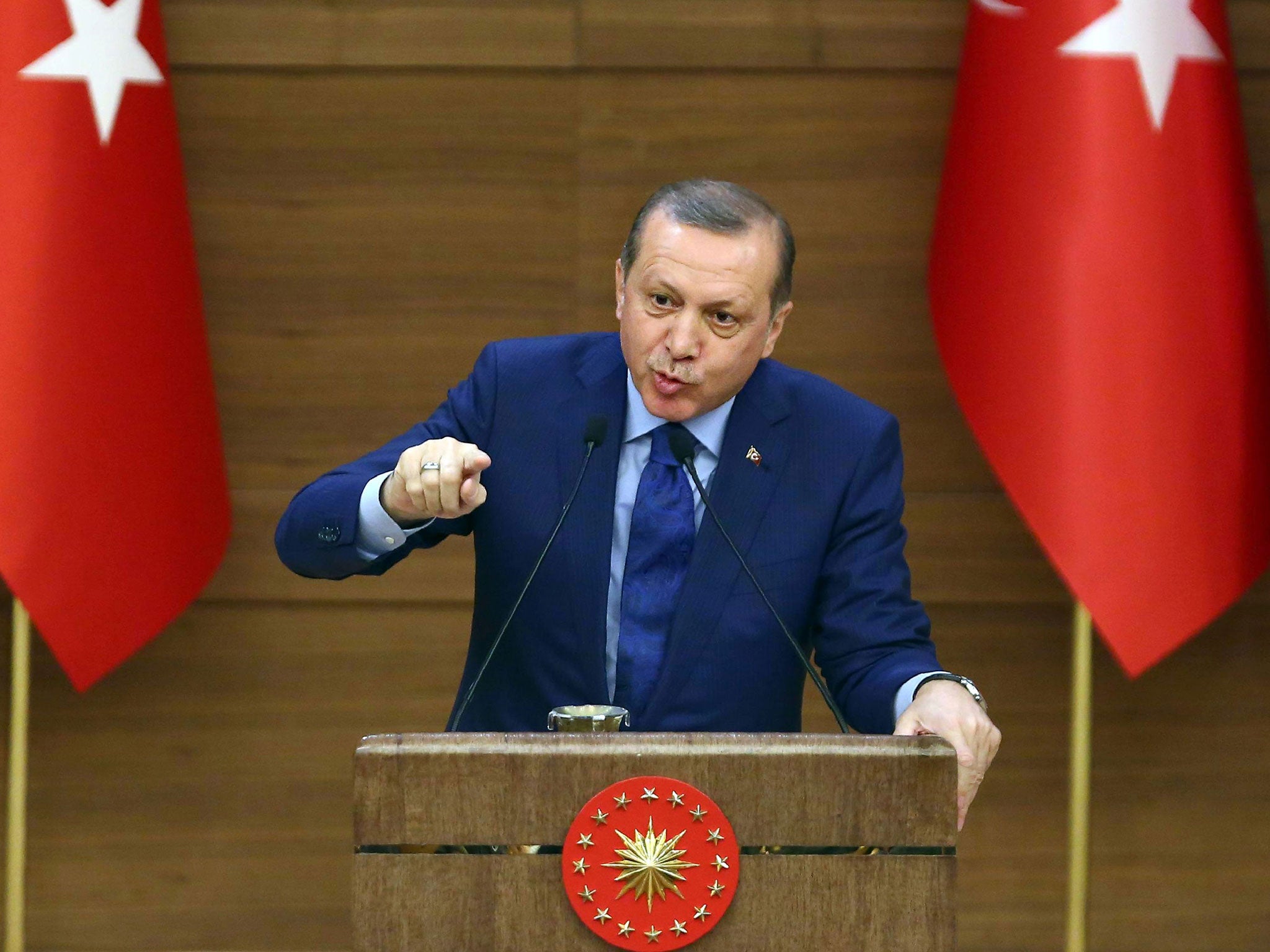 The President of Turkey has said democracy and freedom have "absolutely no value" in the country after calling for journalists, lawyers and politicians to be prosecuted as terrorists.
Recep Tayyip Erdogan spoke on Wednesday as almost 50 people, including activists and academics, were detained in a wave of police raids.
In a speech to local politicians in Ankara, he criticised critics raising concern over Turkey's record on "democracy, freedom and rule of law" as discussions over a landmark deal on the refugee crisis continue.
"For us, these phrases have absolutely no value any longer," he said in the televised address, according to a translation by DPA.
"Those who stand on our side in the fight against terrorism are our friend. Those on the opposite side, are our enemy."
Recep Tayyip Erdogan's most controversial quotes
Show all 8
On Monday, the President had vowed to extend the legal definition of "terrorists" to include MPs, activists and journalists.
"It is not only the person who pulls the trigger, but those who made that possible who should also be defined as terrorists, regardless of their title," Mr Erdogan said.
Police operations claim to be targeting the banned Kurdistan Workers' Party (PKK) following a bombing claimed by one of its splinter groups that killed 37 people in Ankara on Sunday.
Car bomb in Turkish capital
But friends of those detained have said they include academics who signed a declaration calling for peace and a British man arrested over leaflets found at his home.
Kurdish groups are suspected of orchestrating several recent attacks across Turkey as government forces continue a crackdown in south-eastern parts of the country where the minority has been demanding greater autonomy for decades.
A ceasefire between Turkey and the PKK collapsed in July and military operations intensified in December, seeing hundreds killed including civilians, the destruction of several districts and more than 350,000 people displaced.
The violence has been accompanied by restrictions on press freedom and civil rights, seeing the Zaman newspaper taken over by the government, journalists arrested and protests crushed by riot police with tear gas and water cannons.
European leaders have been criticised for failing to censure Turkish politicians over the alleged abuses as they attempt to secure a controversial deal that could help stem the flow of refugees and migrants crossing the Aegean Sea.
An agreement could be reached at a summit in Brussels today, where the German Chancellor Angela Merkel, and Turkish Prime Minister Ahmet Davutoglu will continue negotiations after EU leaders agreed a common stance on Thursday.
The accord would see Turkey agree to take back asylum seekers picked up off the Greek coast in exchange for Syrian refugees being directly relocated to European nations from camps in Turkey and a series of concessions to speed up the EU membership process.
Additional reporting by Reuters
Join our commenting forum
Join thought-provoking conversations, follow other Independent readers and see their replies