Two children among at least 16 refugees killed in boat disaster between Turkey and Greece
Pregnant woman survives sinking amid record deaths in migrant boat crossings to Europe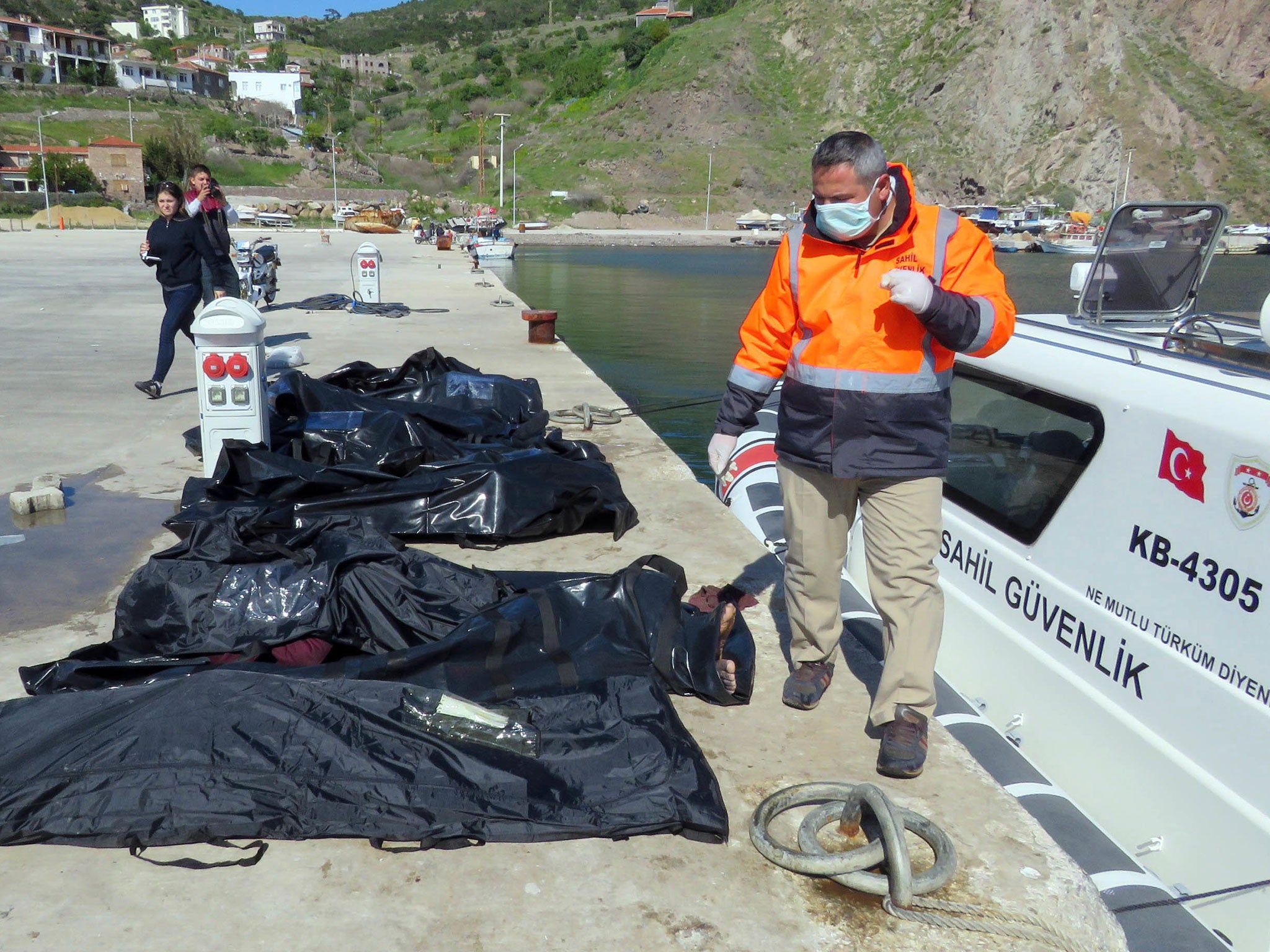 Two children are among at least 16 refugees who have drowned attempting to cross from Turkey to Greece.
The sole survivors of the disaster were two women – one of them pregnant – who said around 25 people had been loaded on to a smugglers' boat towards the island of Lesbos.
The UN Refugee Agency (UNHCR) said a six-year-old boy was found dead in Greek waters, alongside six women and two men.
Seven more bodies, of six men and a child were found in Turkish waters by the coastguard following the sinking on Monday night.
A spokesperson said that the survivors, an eight-month pregnant woman from the Democratic Republic of the Congo and another woman from Cameroon, were "out of danger" following hospital treatment and would receive accommodation and support in Greece.
"The number of people crossing the Aegean to Greece has dropped drastically over the past year, but this tragic incident shows that the dangers and the risk of losing one's life remains very real," said Philippe Leclerc, a regional representative of the UNHCR.
Refugee crisis: Stranded refugees face deteriorating conditions in Greece camps
It was the second reported boat disaster in waters between Turkey and Greece this year, which has seen a record number of refugees die attempting the longer and more treacherous crossing from Libya to Italy.
It has become the dominant sea route to Europe after new regulations were imposed under the controversial EU-Turkey deal in March 2016, seeing anyone arriving on Greek islands detained under the threat of deportation.
More than 62,000 asylum seekers have been stranded in Greece by the agreement and border closures throughout Europe, despite warnings over a "growing epidemic" of sexual violence and exploitation and suicide attempts in refugee camps.
Around 4,900 migrants have made the voyage this year, according to UNHCR data – an average of 20 a day – far down on the total of 173,000 for 2016.
Many of those already in Greek camps have been waiting for their asylum claims to be processed for up to a year while living in dire conditions under the threat of violent protests and attacks by right-wing groups.
A group of 12 Syrians of Kurdish origin started a hunger strike on Friday at the notorious Moria detention camp on the island of Lesbos.
Refugee crisis - in pictures
Show all 27
The UNHCR said its staff were working to help resolve the situation amid concern for their health, with the strikers cutting out water on Sunday.
They are preparing a letter to Greek authorities demanding their claims be considered in line with international law and the 1951 Refugee Convention.
The worsening situation is driving migrants into the hands of smugglers in desperation to escape the country.
An Iranian man died near the north-eastern city of Xanthi on Monday night after a van carrying him and 13 other migrants crashed while being chased by police.
Police said the van's driver, a suspected smuggler from Moldova, had swerved past a motorway checkpoint and crashed on a rural road before being arrested.
The migrants found inside, from Bangladesh, Pakistan, Iraq, and Iran, are believed to have crossed from neighbouring Turkey over a river that separates the two countries.
Almost 1,100 asylum seekers have died in attempted sea journeys to Europe so far in 2017, while several more have been killed by hypothermia, suffocation or in accidents on land.
Despite the record deaths, humanitarian organisations carrying out search and rescue operations have been increasingly attacked for allegedly aiding smugglers, which they deny.
Sophie Beau, the co-founder of rescue charity SOS Mediterranee, said NGOs were being forced to act by the "failure of European states", who should be increasing rescue capacity themselves.
"NGOs are being blamed for our presence, when authorities should be blamed for their absence," she added.
"There's a humanitarian tragedy unfolding in front of our eyes at the door of Europe and we cannot just remain blind."
More than 44,000 migrants, mainly from Syria, Afghanistan, Nigeria and Iraq, have arrived over the Mediterranean and Aegean seas this year.
Join our commenting forum
Join thought-provoking conversations, follow other Independent readers and see their replies