Refugee crisis: Children make up more than a third of arrivals and more than ever are making deadly crossings alone
Charity workers said children as young as nine were risking their lives on smugglers' boats completely alone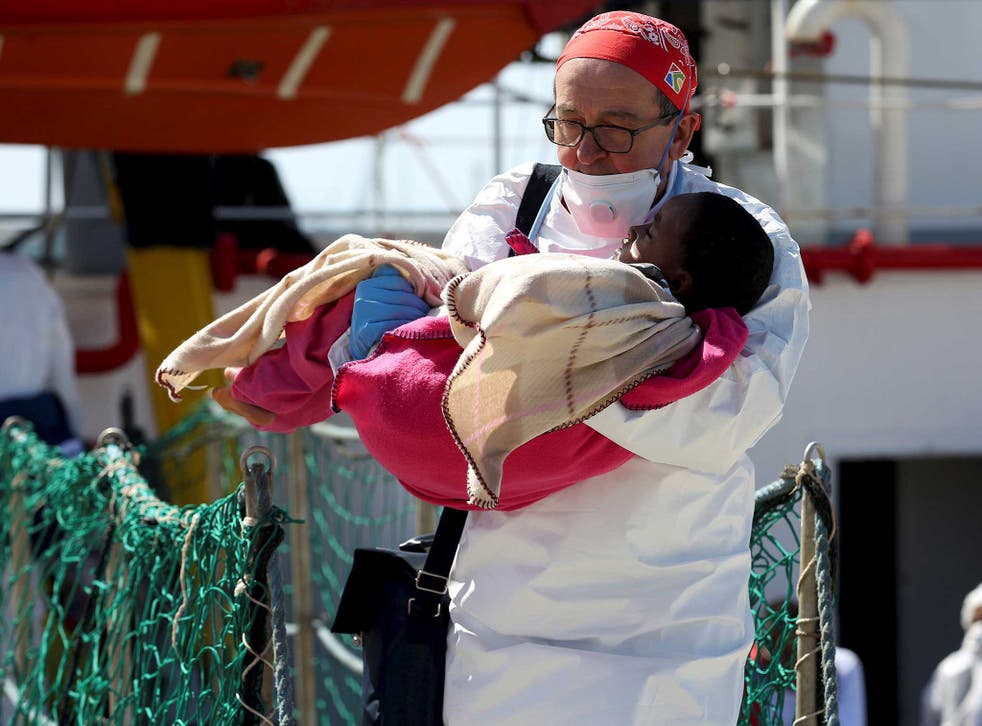 Children as young as nine are risking their lives in desperate attempts to reach Europe as the number of unaccompanied child refugees arriving on smugglers' boats rockets.
More than a third of almost 200,000 migrants to have reached Greece, Italy and Spain so far this year are under 18 and aid agencies are warning of a worrying new trend.
Gemma Parkin, a Save the Children spokesperson, said the proportion of unaccompanied children has increased dramatically.
"There are three times as many as there were this time last year and our staff anecdotally tell us that those chose children are getting younger," she told The Independent.
"We've had children as young as nine years old arriving completely on their own."
She puts the increase down to an "increasing level of desperation" from people living in camps for refugees and internally displaced people (IDPs) in North Africa and the Middle East, who are losing hope of being resettled through United Nations programmes.
"The loss of hope is being felt in communities – people feel they have no other choice than to make these journeys, or if they have limited economic opportunities they think their best option is to send their eldest child, usually a teenage boy, ahead to work and send money back," Ms Parkin said.
"That's an enormous amount of pressure on a teenage boy. They are incredibly vulnerable to the worst kinds of exploitation and extortion."
Last year almost 10,000 lone children went missing in Europe and have never been traced, while teenagers have been among migrants killed in desperate attempts to cross to England through the Channel Tunnel.
Refugee shipwreck survivors arrive in Italy
As well as risking death and illness, many report having been beaten, tortured and sexually abused during their journey or even in Europe, with allegations of rape in the Calais "Jungle".
Humanitarian groups have also voiced concern over the condition refugee children are being housed in in Greece, where they are being detained as part of the EU-Turkey deal.
The rising number of unaccompanied minors is particularly stark in Sicily, where the majority of people rescued from ships left to drift off the coast of Libya are taken.
According to Save the Children's figures, of the 33,200 asylum seekers who arrived in Italy between 1 January and 22 May this year, 5,400 were unaccompanied minors and another 500 children arrived with family members.
In the first four months of last year, there were only 1,700 unaccompanied minors out of the 26,000 migrants.
Among last week's arrivals was a nine-month-old baby who was orphaned when her mother burned to death in a fuel accident on a smugglers' boat.
She was one of four Nigerian women who died following a fuel leak in the vessel's engine on Wednesday. Her child has been taken into care by Italian social services.
The refugee crisis - in pictures

Show all 70
A Syrian mother who survived a sinking with her two children had fears for her 17-year-old son, who she had not seen since the boat capsized and was not among five dead bodies recovered and taken to shore.
The majority of asylum seekers currently arriving in Italy are from sub-Saharan Africa, with the largest group from Nigeria, at 15 per cent, followed by Gambia, Somalia, the Ivory Coast, Eritrea, Guinea and Senegal.
But since the controversial EU-Turkey deal dramatically lowered crossings over the Aegean Sea earlier this year, Syrian refugees have been returning to the treacherous Libyan route.
Since the start of the refugee crisis it has become the deadliest sea crossing in the world, seeing almost 3,000 people die in 2015, compared to around 800 on the shorter passage between Turkey and Greece.
Concerns that the threat of imprisonment and deportation in Greece would force families fleeing conflict and persecution onto the longer Central Mediterranean route have not so far been realised, although the presence of Syrians and Iraqis on a boat that capsized in the second disaster of last week suggested a potential shift.
The two nationalities made up the majority of arrivals in Italy in 2014 but deserted the treacherous crossing when smuggling routes to Greek islands opened up earlier last year.
"There's little evidence but it certainly seems that some Syrians are willing to make the journey even on the most dangerous sea crossing in the world," Ms Parkin said.
It has claimed the lives of more than 1,100 people so far this year according to the International Organisation of Migration, which said more than 10,000 migrants had been rescued between Monday and Wednesday last week alone.
Federico Soda, director of the group's co-ordination office for the Mediterranean in Rome, said: "What we are seeing today is not an emergency in terms of numbers: it is an operational emergency, since thousands of people are risking their life at sea and it is very difficult to save everyone.
"This year over 1,470 migrants have already died or gone missing at sea. This number would have been much higher without the rescue operations currently active in the Channel of Sicily."
Save the Children is calling for Italian authorities to provide appropriate accommodation for refugee children separate from adults, with a spokesperson saying: "Lone children have specialist needs, have often experienced traumatic events and abuses, witnessed horrific crimes or been trafficked."
"They have a unique set of rights as children and need specialist care to recover."
Italy is not subject to the terms of the EU deal with Turkey, which sees any refugees arriving clandestinely in Greece detained and deported back across the Aegean if their asylum applications fail.
Britain is to send a warship to the Mediterranean to combat people smuggling as EU operations continue.
Speaking at the close of the G7 summit in Japan, David Cameron praised the impact of the controversial EU-Turkey agreement and said he wants to do the same with the central Mediterranean route.
The Prime Minister Britain would continue to help refugees, without specifying how, but called for stronger borders and the "means to return those who attempt the dangerous crossing".
Register for free to continue reading
Registration is a free and easy way to support our truly independent journalism
By registering, you will also enjoy limited access to Premium articles, exclusive newsletters, commenting, and virtual events with our leading journalists
Already have an account? sign in
Register for free to continue reading
Registration is a free and easy way to support our truly independent journalism
By registering, you will also enjoy limited access to Premium articles, exclusive newsletters, commenting, and virtual events with our leading journalists
Already have an account? sign in
Join our new commenting forum
Join thought-provoking conversations, follow other Independent readers and see their replies