If Europe turns its backs on its refugees, where on Earth will they go next?
The Big Question: The EU director for the International Organisation for Migration tells The Independent why Europe cannot turn its back on Syria's lost generations
Adam Withnall
Tuesday 08 March 2016 16:22 Comments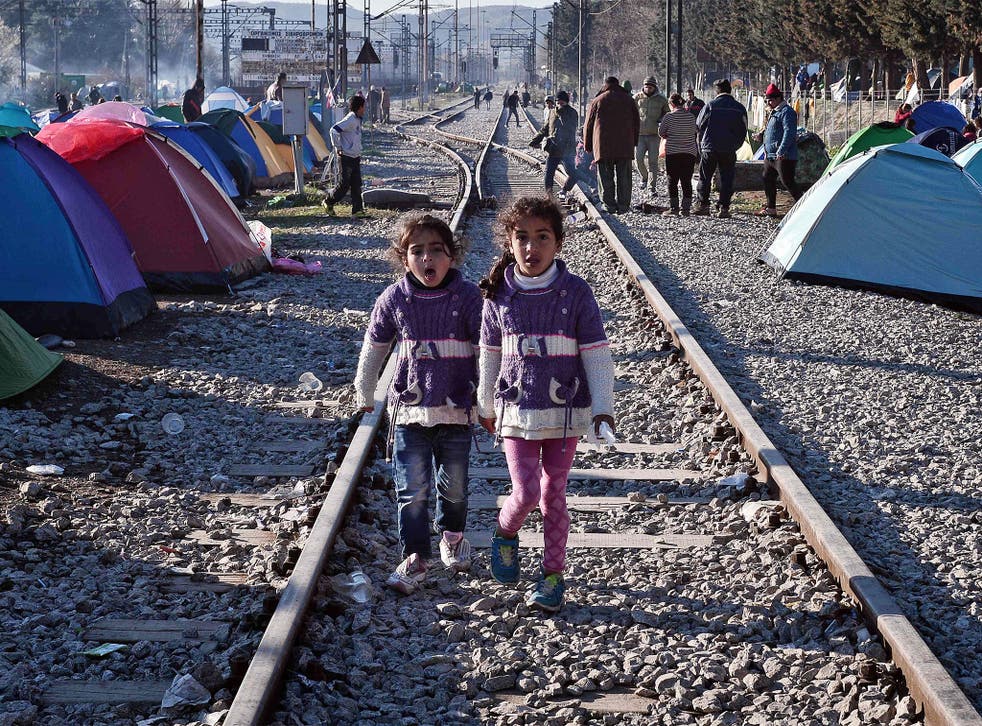 Why are we asking this now?
The EU and Turkey have agreed a draft deal that will supposedly stop the flow of refugees into Europe and send them back across the sea?
The EU's 28 leaders have celebrated the deal, with Donald Tusk saying it means "the days of irregular migration to Europe are over".
David Cameron, too, has said it would "break the business model of the people smugglers" and "end the link between getting in a boat and getting settlement in Europe".
But is it all really that simple? We asked the International Organisation for Migration's director for the EU and Nato, Eugenio Ambrosi, and asked him: If not Europe, then where?
How many people are coming over into Europe right now?
Eugenio Ambrosi: "From the beginning of year about 150,000 have come across, with a rate of daily arrival in Greece that has decreased over the last couple of weeks. Right now there are around 2,000 to 2,500 arrivals a day, which is a 50 per cent drop from the first few weeks of the year.
"At the beginning of the year we were gearing up for another million, but we will have to see what impact the discussions with Turkey and the closing of borders here and there have on the numbers. There is an element of uncertainty.
"Even so, the number reaching Europe is still going to be substantial. These people are fleeing for very serious reasons, they are running for their lives – so they are not going to be stopped by a fence."
What happens if they are all turned back to Turkey?
EA: "It is fair to consider Turkey a safe country at the moment, but you cannot have an approach that is purely theoretical, saying that since it is a safe country you can have a flow of people going there indefinitely.
"Let's not forget, we have rightly asked Turkey to keep their border open with Syria to provide asylum for the flow of people still fleeing that country. But if they also receive people sent back from various European countries there will come a point when the number is too high to offer appropriate conditions to these people.
"There is a risk if the population grows substantially and very fast, in terms of danger from physical violence but also in terms of the limited opportunities that are actually offered to these people.
"It is a question of how much the Turkish infrastructure will be able to take the burden. Lots of these people are children – how are you supposed to provide some sort of education to all these people who will be stranded for we don't know how long?"
Refugee crisis - in pictures

Show all 27
Can illegal migrant routes into the EU be shut altogether?
EA: "The idea of completely closing the border seems not only a bit excessive but also not very effective.
"When you shut down borders completely you end up increasing irregular movement and therefore, by definition, you increase the number of irregular, undetected, faceless people coming into your territory.
"That is more difficult to control, from many points of view but eventually including internal security. Without talking about terrorists, you have a bunch of people where you don't know who they are, you don't know where they are, so that in itself is a security management issue.
"Before giving up, traffickers and smugglers will try other, more dangerous routes. For them these people are disposable items – once they get paid to put people across a border they don't care if they arrive safely on the other side.
"I wouldn't be surprised if we see a return to movement across the central Mediterranean. It is a route that has continued in far lower numbers since the [safer] western Balkans movement became the preferred one in the last six or seven months. It might renew – and in bigger numbers."
Where else can the refugees turn?
EA: "We cannot just leave it to the neighbouring countries, they are already overwhelmed. Lebanon alone has the same number of refugees as arrived in Europe in the whole of last year – among a population of just 4.5 million.
"It is becoming too big a challenge, and if the burden isn't shared people are bound to move on. Just thinking that the rest of the world can deal with the problem does not work because sooner or later this huge movement of people will affect Europe in the end anyway.
"Other countries are looking at the possibility of legal resettlement which, because the transfer is taken care of by governments, can be done to any part of the world.
"Canada has resettled 25,000 Syrians over the past couple of months, while the US is doing a bit. But others, particularly Gulf states closer to the region, should do more.
"In order to tackle the immediate consequences of this conflict, better sharing of the charge of the refugee population that is right now 90 per cent weighing on neighbouring countries is important because there is no other solution.
"Europe has a bigger role to play. Right now resettlement of citizens to Europe is at a very low level compared to other parts of the world. The myth that everyone wants to reach Europe is incorrect."
How can Europe do more?
EA: "There is definitely a lot that needs to be done, by Turkey but also by all the EU member states, to fight trafficking more aggressively. People smuggling is a transnational crime, so by definition it has links across borders – that's the way it works and that's why they are effective.
"But the fight against trafficking is not just about stopping boats, destroying boats or arresting people. It has to do with much more aggressive prosecution of the masterminds of the criminal groups, but also needs to be accompanied by a different policy in terms of legal migration.
"The traffickers' "business model" is not just based on boats or herding people across unchecked border lines – it is largely based on the fact that legal channels for refugees or migrants to reach Europe are non-existent.
"In the absence of any legal option, if you are desperate or in need you will pursue less legal options."
What happens if no one takes them?
EA: "There is also some truth that the tougher you get with a population in need, especially coming from the region of the Middle East and Arab countries, the more likely it is that you raise resentment among this population that is kept out.
"And the more you increase resentment of these people, especially the youngsters, the easier prey they become for whoever wants to exploit that resentment."
[You mean pushing them into the hands of groups like Isis?] "There is that risk. I'm not saying that is happening with everyone who is turned away right now, but you increase the risk of that, yes.
"Marginalised people are easier prey of all sorts of criminal groups, not just terrorists.
"But again if you look at the profiles of the terrorists who carried out recent attacks in Europe, they all come from some level of history of marginalisation within their own society.
"The terrorist group offers them a way out – not necessarily a good one but it might become the only one."
Register for free to continue reading
Registration is a free and easy way to support our truly independent journalism
By registering, you will also enjoy limited access to Premium articles, exclusive newsletters, commenting, and virtual events with our leading journalists
Already have an account? sign in
Join our new commenting forum
Join thought-provoking conversations, follow other Independent readers and see their replies