Refugee rescue ships not acting as 'pull factor' or 'colluding with people smugglers', report finds
Goldsmiths college researchers say allegations are a 'convenient distraction' from policy failures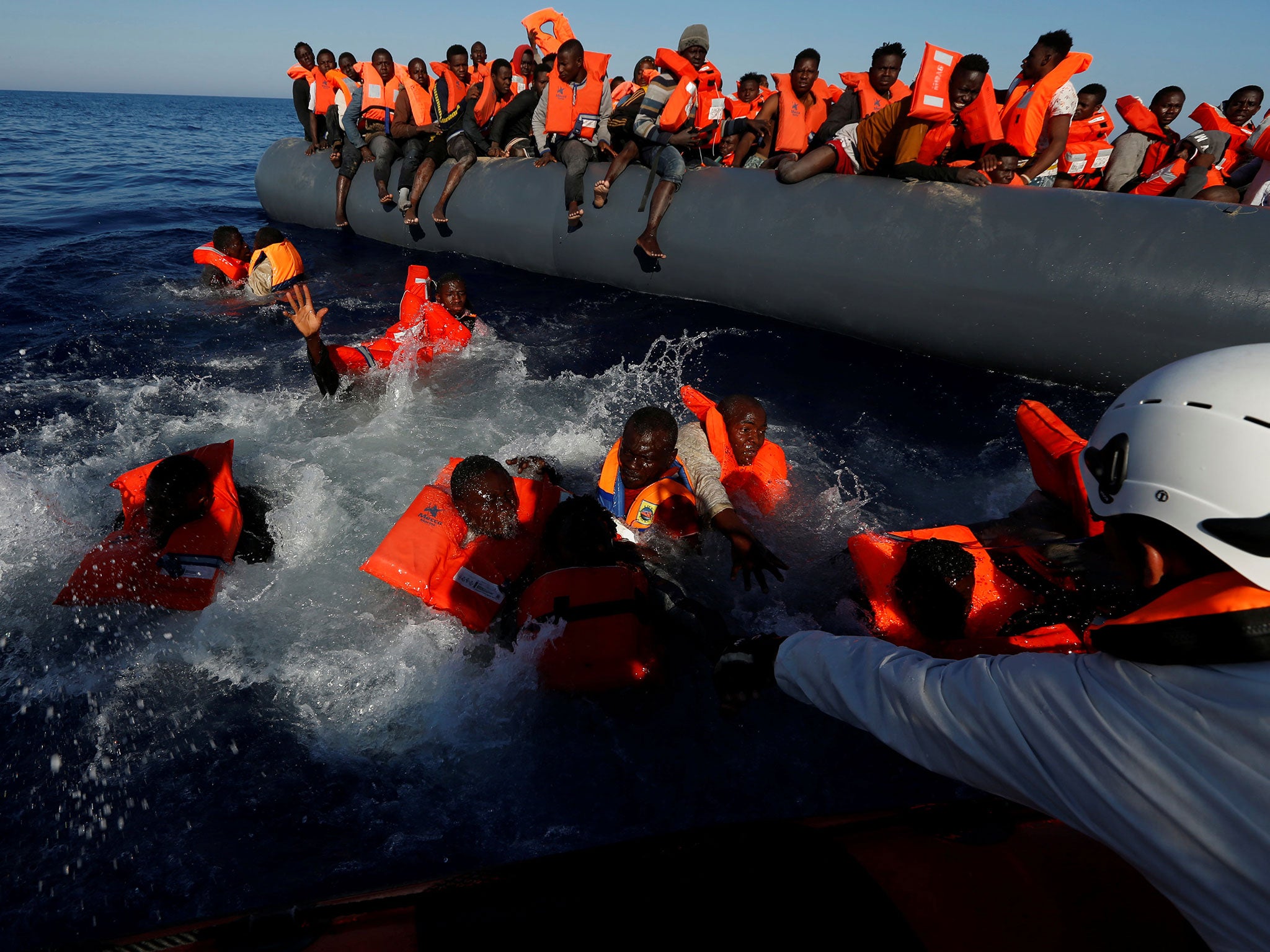 Humanitarian ships rescuing refugees in the Mediterranean Sea are not acting as a "pull factor" driving increasing refugee boat crossings or "colluding" with smugglers, research has found.
A report by the Forensic Oceanography department at Goldsmiths, University of London, rejected a "toxic narrative" seeking to blame NGOs for the worsening crisis.
Experts dismantled allegations made by agencies such as Frontex and leading European politicians, who claimed charities were encouraging smugglers to use more dangerous tactics on the treacherous passage between Libya and Italy.
The Blaming the Rescuers report's author, Lorenzo Pezzani, said: "The evidence simply does not support the idea that rescues by NGOs are to blame for an increase in migrants crossing.
"The argument against NGOs deliberately ignores the worsening economic and political crisis across several regions in Africa that has driven up the numbers of crossings in 2016.
"The violence against migrants in Libya is so extreme that they attempt the sea crossing with or without search and rescue being available."
Desperate journeys: Rescued at sea, refugees detail abuse in Libya
The United Nations has documented "slave auctions" where African migrants are openly bought and sold in the war-torn country, as well as endemic rates of rape, abuse, torture and forced labour.
Despite the dire situation, the EU has been giving funding, training and equipment to the Libyan coastguard in efforts to turn back migrant boats and prevent the crossings.
Humanitarian groups, which have documented the coastguard abusing migrants and attacking their ships, say forcing refugees from international waters back into Libya is a violation of international law.
Increasing co-operation with Libya's fragile Government of National Accord has coincided with record crossings and deaths in the Central Mediterranean, where almost 1,800 refugees have lost their lives so far this year.
Researchers found no evidence that the rocketing figures – 181,500 migrants were rescued and taken to Italy in 2016 – were caused by humanitarian search-and-rescue missions.
"As Frontex recognised, the increase was consistent with previous year-on-year trends of increasing crossings by African migrants, which cannot be attributed to the presence of search-and-rescue NGOs… who stepped in after the EU and its member states pulled out in late 2014," the report said.
As evidence, it pointed to increased migrant boats on routes that were not patrolled by rescue ships, including a 46 per cent spike in crossings from Morocco.
In pictures: A day of refugee rescues in the Mediterranean Sea
Show all 7
The report also examined accusations that rescue groups are "helping criminals", finding no evidence of the allegations after reviewing official documents, statistics, qualitative interviews, photographs and maps.
Right-wing groups have seized on unsubstantiated claims made by a prosecutor in Sicily that NGOs were "colluding" with criminal gangs and allegedly making phone calls to Libya.
The Italian parliament has also launched a fact-finding mission into the issue, which is hearing evidence from law-enforcement agencies and aid workers.
The accusations having resulted in efforts by the French far-right group Génération Identitaire to raise thousands of pounds for their own ship to intercept refugee rescues and stop a supposed "invasion by enemies and criminals".
A trial run off the coast of Sicily last month disrupted a rescue ship until Italian authorities, who deploy rescue ships on their operations, intervened and drove the anti-immigration activists off.
Campaigner Caroline Criado-Perez set up a crowdfunding counter-campaign that has so far raised more than £70,000 for Médecins Sans Frontières (MSF), which runs two rescue ships.
Researchers also dismissed claims that NGOs were causing smugglers to switch from wooden vessels to flimsy rubber dinghies that are incapable of reaching Europe.
They found that tactics used by gangs profiting from the lucrative human trade have worsened steadily since the outbreak of Libya's civil war, when the UK was among the countries backing the removal of dictator Muammar Gaddafi.
Barack Obama described the ensuing chaos as a "sh*t show", seeing rival governments and countless armed groups including Isis rush into the power vacuum, where they are still battling for control.
The Goldsmiths report also placed partial blame on the EU's Operation Sophia mission, which had a "major impact on smugglers' tactics" by intercepting and destroying larger and safer wooden boats.
"The Libyan coastguard's use of violence when intercepting vessels also affected smugglers' tactics and at times led to boats capsizing, endangering everyone on board," it added.
It concluded that those blaming NGOs are choosing to ignore the role other actors, including EU agencies and national governments, have played in making migrant crossings more dangerous.
"We believe that the toxic narrative falsely claiming that NGO search and rescue is to blame for the migrant crossing situation is part of a worrying tendency to criminalise solidarity initiatives towards migrants," Mr Pezzani said.
"It is also a convenient distraction, as it diverts attention from the failures of the states involved to deal with the real issues.
"One has to ask: why is there such a gap in search-and-rescue activities in the first place that makes NGO rescues so essential?"
Charles Heller, another researcher from Goldsmiths, said if mounting pressure and far-right campaigns stopped humanitarian operations in the Mediterranean Sea, "many more" refugees would die on the crossing.
"That is precisely what happened when attacks led to the ending of the Italian Mare Nostrum operation in 2014," he added.
Charities have previously rejected claims of collusion with smugglers as "baseless", while calling for the EU to provide safe and legal routes for refugees to reach safety.
Stefano Argenziano, MSF's operations manager for migration, said: "The real problem is that people are dying. There's a gap in assistance and we're starting to wonder whether this is part of a deliberate plan to step the migration flow… a deadly deterrent."
A recent Oxford University study also found rescues have "little or no effect on the number of arrivals", while research by the Unravelling the Mediterranean Migration Crisis project found European policy on the refuge crisis had been an "absolute failure".
Sophie Beau, the co-founder of rescue charity SOS Mediterranee, said NGOs were being forced to act by the "failure of European states", who should be increasing capacity themselves.
"NGOs are being blamed for our presence, when authorities should be blamed for their absence," she added.
"There's a humanitarian tragedy unfolding in front of our eyes at the door of Europe and we cannot just remain blind."
More than 61,000 migrants have arrived in Italy so far this year and 7,600 in Greece, mostly from Nigeria, Bangladesh, Syria and sub-Saharan African nations.
Join our commenting forum
Join thought-provoking conversations, follow other Independent readers and see their replies