Refugee crisis: Lesbos detention centre whitewashed amid last-minute preparations for Pope's visit
The refugee camp at Moria was turned into a detention centre as part of the EU-Turkey deal, with 2,900 people trapped inside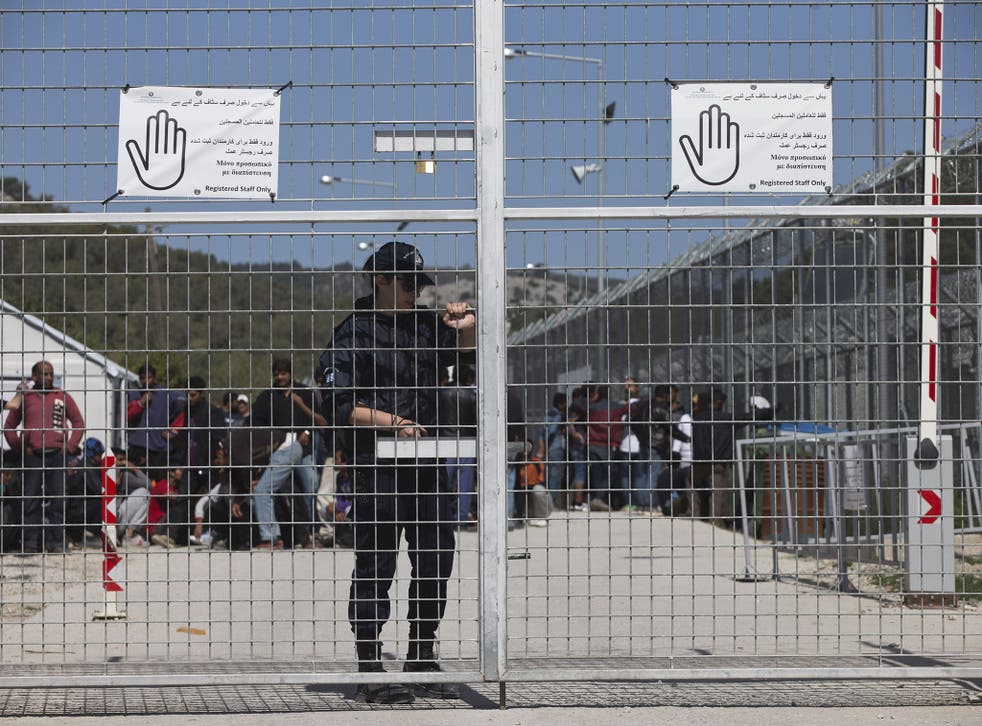 A detention centre for asylum seekers in Greece is being urgently spruced up ahead of a visit by the Pope as thousands of people remain trapped inside, waiting to find out if they will be sent back to Turkey.
Workers were dispatched to whitewash the wall surrounding Moria, a former refugee camp on the island of Lesbos, while others painted fences, cleared litter and moved stray tents.
The last-minute efforts on Friday came ahead of Pope Francis' arrival tomorrow with a delegation of Catholic and Orthodox leaders.
Sacha Myers, who is working inside Moria with Save the Children, told The Independent that the now "very white" wall was not a priority for the families living inside Moria.
"We hope the improvements continue but they don't change the fact that we have still got thousands of people locked inside this detention centre with no idea how long they were be here," she said.
"The camp was built to hold 2,000 people and now there are 2,900. Families are living on top of each other, there is absolutely no privacy.
"We're seeing a real deterioration in conditions."
Ms Myers, a communications and media manager for the charity, said she had met Iraqi and Syrian mothers whose babies were ill with diarrhoea and fever amid declining hygiene.
"Some people are aware of the Pope's visit," she added. "They really want him to help them and understand their issues."
Save the Children is warning that child refugees are being held in appalling conditions at the centre, where they report illness, fights and theft.
Charity workers described dirty rooms without enough beds, where children are denied legal services and basic support despite concerns for their mental and physical wellbeing.
High-profile visits by Angelina Jolie, Greek Prime Minister Alexis Tsipras and Labour MP Yvette Cooper, among others, have done little to improve the situation in Moris.
It was set up last year as one of two refugee camps in Lesbos, but on 20 March the gates were locked as it was turned into a detention centre as part of the controversial EU-Turkey deal.
In pictures: Refugees on the Greek island of Lesbos

Show all 12
The Pope will be joined by leaders of the Catholic and Orthodox churches as he tours Lesbos, which has seen the highest number of refugees arrive out of any island in Europe.
After visiting Moria, they will have lunch with refugee representatives and make a joint declaration, before heading to the island's capital for a prayer service in memory of the many asylum seekers who have drowned attempting to reach Europe.
The Vatican said the five-hour visit to Lesbos was purely humanitarian and religious in nature, not political, and wasn't meant as a criticism of the deportation programme seeing some asylum seekers sent back to Turkey.
Pope Francis said he intended "to express closeness and solidarity both to the refugees and to the Lesbos citizens and all the Greek people who are so generous in welcoming (refugees)".
The pontiff has been outspoken in calls for greater compassion and international co-operation in the refugee crisis, denouncing the "globalisation of indifference" during a trip to Lampedusa – another migrant hotspot.
Controversy continues over the situation in Lesbos, which is now subject to the 18 March EU-Turkey deal.
It stipulates that anyone arriving clandestinely on Greek islands will be returned to Turkey unless they successfully apply for asylum in the country.
For every Syrian sent back, the EU will take another Syrian directly from Turkey for resettlement in Europe but other nationalities make up more than half of those arriving.
In return, Turkey was granted concessions including billions of euros to deal with the more than 2.7 million Syrian refugees living there, and a speeding up of its stalled accession talks with the EU.
Additional reporting by AP
Join our new commenting forum
Join thought-provoking conversations, follow other Independent readers and see their replies