Refugee crisis: Shipping strike on Lesbos leaves 20,000 asylum seekers stranded
Ferries carrying migrants to the Greek mainland have not been running for four days because of an industrial dispute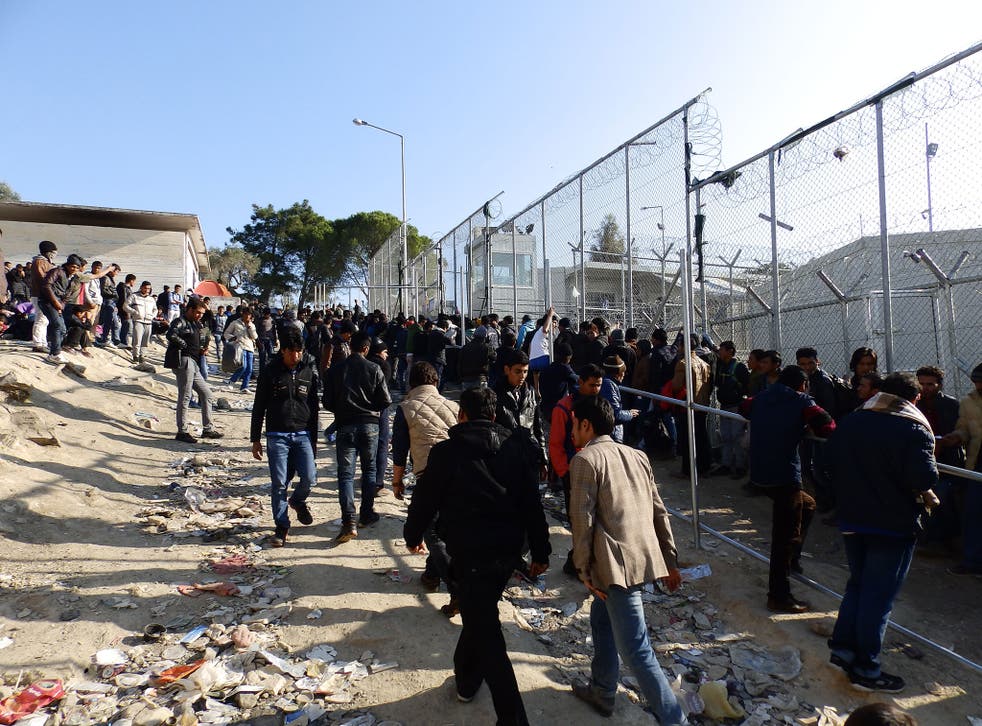 Thousands of refugees are bedding down in the open air on Lesbos as a shipping strike continues to trap up to 20,000 asylum seekers on the island.
Ferries carrying migrants to the Greek mainland, where many continue their journey onwards to western Europe, have not been running for four days because of an industrial dispute.
The stoppage has disrupted the chaotic flow of refugees on the island, seeing its two registration camps pushed to their limits while thousands of asylum seekers sleep rough or in ramshackle tents lining the port in Mytilene, hoping to make the first departure.
Officials from the United High Commissioner for Refugees (UNHCR) said at least 10,000 people were likely to be trapped on Lesbos by the end of the week, although estimates of the number ran to more than double that amount in the Greek media.
Alessandra Morelli, UNHCR's senior operations coordinator for Greece, told The Independent that three ferries with a combined capacity of 5,000 were standing ready to start transfers to Athens as soon as the strike is due to end at 6am on 6 November.
"Lesbos isn't meant to cater for this - it's meant to cater for tourists," she added. "The infrastructure is poor. It's an extraordinary situation."
Thousands of asylum seekers are still arriving on flimsy dinghys from Turkey every day, despite worsening weather conditions exacerbating the risk of accidents like the one that killed three children on 4 November.
The new arrivals can be seen walking for miles in endless streams along the island's roads, as well as waiting for buses in hundreds-strong crowds, all heading for Lesbos' two registration centres.
But Kara Tepe - for Syrians - and Moria - for asylum seekers from other nations - are struggling to deal with rapidly rising numbers trapped on the island in worsening conditions by the ongoing strike.
"They are stretched to the limit but they aren't cracking yet," Ms Morelli said, describing work to increase capacity with more cabins and new airport-style reception areas to make the process "effective and dignified".
The Greek Prime Minister, Alexis Tsipras, was on hand to witness the effect of the bottleneck while visiting the Moria refugee camp with the European Union President, Martin Schulz, today.
Many of its 4,000 current inhabitants, mainly from Afghanistan, were sleeping in tents or on the bare ground while struggling with limited supplies and risking infection from overflowing latrines.
Refugees were held behind crowd barriers as the Prime Minister and Mr Schulz passed through, surrounded by a crowd of media and minders.
But one man managed to make his voice heard, shouting: "We are here three days. We are hungry. I have two children, my children are sick."
"We will do our best," Mr Tsipras replied, patting his arm before being ushered away.
Efforts by his shipping minister to persuade union leaders not to extend their strike, which was originally scheduled for 48 hours, failed but the Panhellenic Seamen's Federation (PNO) has committed to re-starting transfers tomorrow.
The nationwide strike has seen ferries docked across Greece, on routes used by local people, businesses, cargo and tourists.
Organisers said they had no new demands but were taking a stand against the government's bailout agreement and austerity measures, opposing pension cuts and rising unemployment rates in the shipping industry.
Mr Tsipras, who saw a refugee boat arrive while journeying through Lesbos, called it a "suffocating situation".
Meanwhile, the number of arrivals stands at around 5,000 a day and is not expected to go down as weather conditions worsen through the winter, with smugglers reportedly offering off-season discounts.
UNHCR figures show that of the almost 609,000 asylum seekers reaching Greece this year, 353,000 arrived in Lesbos - which has a native population of just 86,000.
Ms Morelli said the UN would "not let its guard down", while Save the Children, Doctors Without Borders, the Red Cross, Oxfam, International Rescue Committee and numerous other charities and volunteer groups are running their own operations.
Many aid agencies are calling for safe and legal routes to be opened into Europe, while David Cameron is one of several European politicians advocating measures in Turkey and other countries where refugees initially flee to stop them leaving.
The UNHCR is calling for EU nations to fund increased Frontex search and rescue operations, which were diminished by Britain pulling two ships from the Aegean earlier this year.
It also wants a "mix of solutions" including dialogue with Turkey and the enforcement of new resettlement quotas that will see signatory nations take refugees from nations seeing the highest arrivals in Europe.
Only 30 refugees are said to have been transferred from the country so far, boarding a plane from Athens to Luxembourg on Wednesday.
Join our new commenting forum
Join thought-provoking conversations, follow other Independent readers and see their replies