Refugees Welcome supporters fight anti-migrant memes with satire - but not everyone gets it
People have been making humorous memes starring some famous faces to make fun of the fake anti-refugee memes circulating online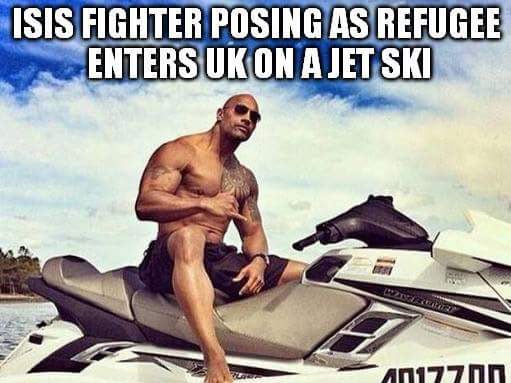 As fake and distorted images of refugees continue to circulate online, people have been making their own memes to demonstrate the "stupidity" of people believing everything they see.
Viral images have wrongly claimed to show former Isis fighters arriving in Europe using the current crisis as cover, and asylum seekers attacking police with the flag of the so-called Islamic State.
Right-wing groups across the continent have been making and spreading memes falsely purporting to picture migrants on steroids or "invading Europe", using photos taken as far away as Australia and as long ago as 1991.
But now social media users with a sense of humour are making their own versions, starring Sylvester Stallone, The Rock and Arnold Schwarzenegger, among other famous faces.
"ISIS FIGHTER POSING AS REFUGEE ENTERS UK ON A JET SKI," says one picture, showing a scantily clad Dwayne Johnson posing. "SHARE IF THIS IS A DISGRACE!"
Meanwhile, Arnie is seen with a four-barrelled rocket launcher in the 1985 film Commando, with the caption: "Six months ago posing for Isis."
Members of the Refugees Welcome UK Facebook group were appreciating the humour, with one person writing that the satirical memes "summed up the stupidity of people who really do believe a photo on the internet must be true".
But even the comedy pictures seemed to fool some people.
A picture claiming Ice Cube was an Isis fighter appeared to fool some members of far-right group the English Defence League (EDL) and Britain First after being shared using the logos of the two groups.
It shows the rapper fishing in 2005 comedy Are We There Yet, with a photo of him holding a gun during his N.W.A days below.
A caption, presumably written in jest, reads: "This Muslim convert Isis soldier is pictured here on a boat crossing from Syria into Greece on 23/08/2015.
"The second picture is the same Muslim convert Isis soldier pictures in a block of high rise flats in Balsall Heath, Birmingham on 13/0915. They're here. Don't say we didn't warn you!
"Please Share To Help Stop This Happening!"
Some people appeared to take the post seriously, with one man sharing it on Facebook writing : "This is a 'refugee' who is living in the UK now!!! #refugeesnotwelcome."
As the debate continues, thousands of refugees seeking safety in the EU are attempting to divert through Croatia after Hungary closed its border with Serbia in an effort to keep asylum seekers out.
The EU has called an emergency summit for next week in a fresh bid to urgently formulate a new strategy to tackle the crisis.
This newspaper has started a campaign for the UK to welcome a fair share of refugees.
Join our commenting forum
Join thought-provoking conversations, follow other Independent readers and see their replies