The fake refugee images that are being used to distort public opinion on asylum seekers
The outpouring of public support for refugees in the wake of the death of Aylan Kurdi has sparked an online backlash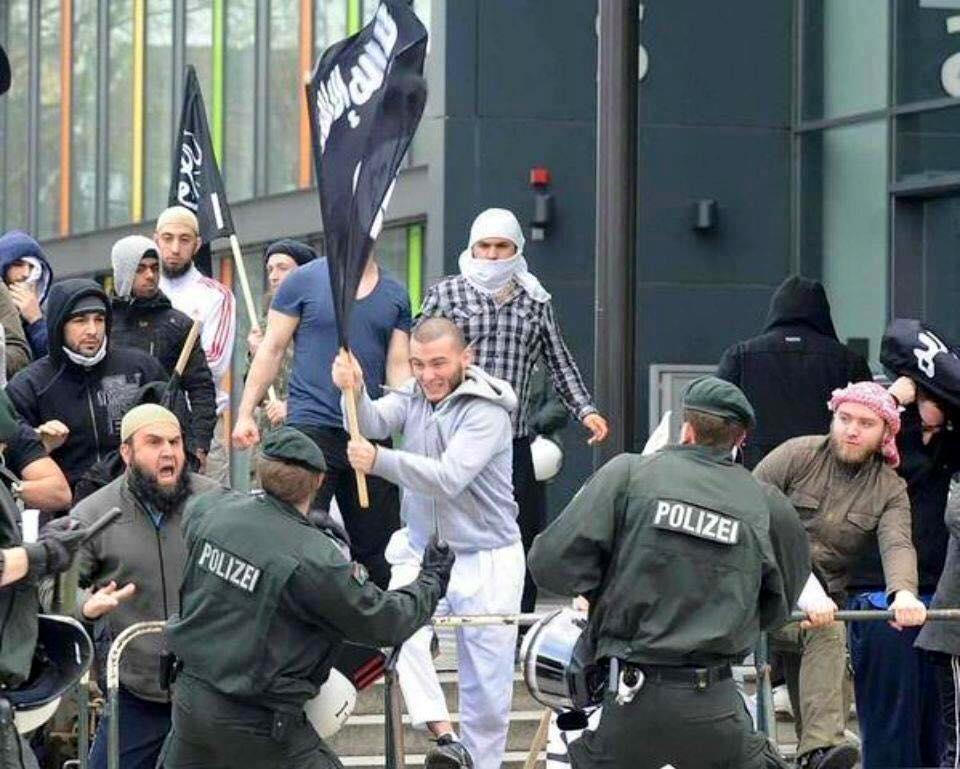 As debate about how to solve Europe's refugee crisis continues, right-wing groups and commentators are using photos and memes to demonise the desperate people risking their lives to reach the continent.
But many of the photos are being faked, twisted, edited or taken out of context in an effort to support the following myths and arguments.
'Isis jihadists are using the crisis to infiltrate Europe'
Several photos have surfaced online claiming to show Isis militants arriving in Europe, comparing images of men in battle dress and pictures of people arriving on the continent.
But even in cases where the photos do appear to be of the same person, claims that they are members of the so-called Islamic State have been wrong.
A widely shared picture claiming to be of refugees attacking police with an Isis flag actually showed a protest in Germany in 2012 – before the rise of the so-called Islamic State.
Several other images claiming to show refugees fighting for Isis wearing assault rifles and fatigues have also been debunked, with at least two of the men shown actually being part of groups fighting the jihadist group, including Kurdish forces and the Free Syrian Army.
Another meme shared by an anti-immigration group in Croatia claims to show another "Islamist" arriving in Europe. But online analysts said his uniform and equipment identified him as an anti-Isis fighter.
While there is a strong possibility that some of the people migrating to Europe may have been involved in armed conflict or linked with extremist groups, the UN has repeatedly dismissed claims that "thousands" of jihadists are arriving.
Following a Lebanese government minister's assertion that one in 50 Syrians entering Europe could be Isis members, a spokesperson for refugee agency the UNHCR said: "This kind of statement is extremely unhelpful.
"A refugee has a genuine fear of persecution, if you have any military connection at all then you lose your status as a refugee. There are over a million Syrians in Lebanon there is no legitimate way of providing figures like that."
'Refugees are healthy/rich and don't need our help'
Pegida UK, a branch of the German group known for its huge "anti-Islamism" protests, has been sharing numerous photos claiming to show "fake" or undeserving refugees.
Many of the assertions are based on the fact people in the pictures appear not to be malnourished.
In one post spotted by news website France 24, photos of a muscular man are sarcastically labelled: "Please help feed and house this poor, defenceless refugee…'I heard we can get free steroids in England – don't be racist and let me in!'"
But the photos were actually taken in 2013 on Christmas Island in Australia.
In other images taken at the same time, the border police's blue uniforms can clearly be seen with "Australian Customs and Border Protection" written on them.
Numerous images of mainly Syrian refugees carrying smartphones have also been shared by right-wing blogs and commentators on social media arguing they do not need Europe's help.
But as James O'Malley wrote in a comment piece for The Independent, possessing a phone is no indicator of how deserving an asylum seeker is of refuge, and middle-income countries like Syria are clearly just as susceptible to conflict as anywhere else.
"The answer to how surprised should we be that many of the Syrian refugees have smartphones is a resounding 'not very'," he said.
"The world isn't a binary split between 'rich' and 'poor' – and we should adjust our assumptions about the countries in the middle accordingly."
'Aylan Kurdi's dead body was staged to sway opinion'
In one of the most heartless conspiracy theories circulating online, people are claiming that the body of three-year-old Aylan Kurdi was "staged" on a Turkish beach as part of a political plot to garner global sympathy.
'If refugees needed protection, they would bring their wives and children'
A much-shared meme posted on Facebook by far-right group the English Defence League (EDL) contrasts photos of British soldiers and male refugees arriving in Germany.
Above the soldiers, the caption reads: "Go to warzone. Leave women and children in safe country." By the refugees, the writing says: "Go to safe country. Leave women and children in warzone."
The image, which has been "liked" more than 2,200 times, summed up widely circulating claims that many of the people arriving are male "economic migrants" rather than asylum seekers.
But as Vice pointed out, it appears to have been taken from Reuters footage that shows dozens of women and children of all ages arriving on the same train.
Join our commenting forum
Join thought-provoking conversations, follow other Independent readers and see their replies