Russia backs Chechnya government's denials over killing and torture of gay men
Chechen leader's spokesman previously claimed no gay people exist in the Russian republic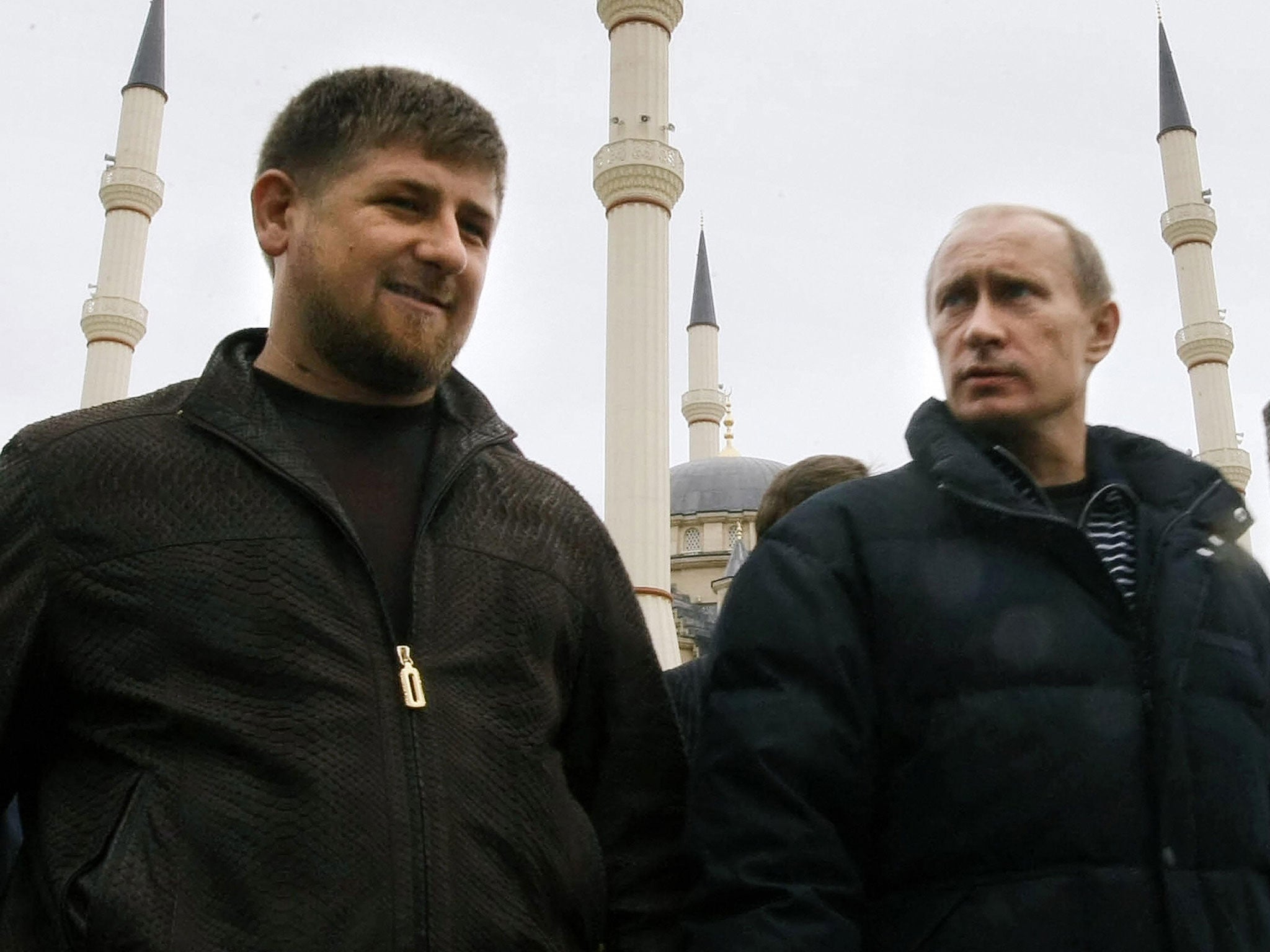 Vladimir Putin's spokesman has backed the Chechen government's denials that men suspected of being gay are being detained, tortured and killed.
MPs have called on Theresa May to summon the Russian ambassador over the reported campaign, which has seen global concerns reach the United Nations.
But Dmitry Peskov said the Kremlin had no reason to doubt Chechen leader Ramzan Kadyrov's claim there is no persecution based on sexual orientation in his Russian republic.
Mr Peskov told journalists investigators had found no evidence supporting reports by the Novaya Gazeta newspaper, whose journalists have received death threats over their work.
They reported that more than 100 men suspected of being gay had been detained and at least three killed, with others being tortured in secret jails.
"They started beating me with their fists and feet. They wanted to get names of my gay friends from me," one man told CNN.
"Then they tied wires to my hands and put metal clippers on my ears to electrocute me. They've got special equipment, which is very powerful. When they shock you, you jump high above the ground."
Hundreds protest at Russian embassy over 'gay concentration camps' in Chechnya
Freed victims said they feared being "outed" by authorities and attacked or killed by relatives, after being abducted at police checkpoints.
The Chechen interior ministry dismissed the allegations as an "April fools' joke", while the press minister demanded journalists name interviewed victims and apologise for their "filthy provocation".
A spokesman for Mr Kadyrov, a former militia leader and ally of Mr Putin, claimed the report was impossible as there were no gay people in the Russian republic.
"If there were such people in Chechnya, law-enforcement agencies wouldn't need to have anything to do with them because their relatives would send them somewhere from which there is no returning," Alvi Karimov said.
Mr Kadyrov later said he had met with the region's human rights council on Sunday and proclaimed that rights have undergone a "grandiose" improvement.
He accused international organisations of conducting a "massive information attack...using the most unworthy methods, reality is distorted, attempts are being made to blacken our society, lifestyle, traditions and customs".
Mr Putin met late on Wednesday with the Chechen leader, who in the televised portion of the meeting suggested Putin should not believe the "provocative" claims.
Mr Kadyrov said he told the Russian President the reports were "slanderous" and had angered many Chechens, but that journalists should not feel threatened there, Mr Peskov said.
"Kadyrov's confirmation that everything will be done within a legal framework was of course approved by the president," he added.
The reports have been taken seriously by the UN High Commissioner for Human Rights and prominent international organisations, which have urged the Russian government to investigate as well as protecting journalists.
British MPs discussed the brutal campaign in the House of Commons on Thursday, with the Government urged to send the "strongest possible siren message" to Russia, which itself adopted an anti-LGBT "propaganda law" 2013.
Sir Alan Duncan, who was the first openly gay Conservative MP, said the reported torture and killing was "beyond contempt and not acceptable" and pledged to raise the issue with allies in Europe and the Commonwealth.
LGBT+ rights around the globe
Show all 9
Stephen Doughty, a Labour MP, urged the Prime Minister to offer a clear condemnation of the attacks.
"We are talking here about detention, we are talking about beatings, we are talking about abuse, electric shock treatments," he added.
"I do not say this lightly, but some have described gay concentration camps and we hear now of at least four killings."
Mr Doughty accused Mr Putin of turning "a blind eye" to the issue and called for the Government to put greater pressure on both the Russian and Chechen governments to put an end to the persecution.
The shadow Foreign Secretary, Emily Thornberry, led calls for Ms May to summon the Russian ambassador over the allegations.
"I hope we will get an undertaking from the Government that it will be raised at a much higher political level," she added.
"It seems to me that this is a matter that the Prime Minister really should take an initiative on and she should call in the Russian ambassador and demand some answers."
Additional reporting by AP
Join our commenting forum
Join thought-provoking conversations, follow other Independent readers and see their replies