Russian activists call for domestic violence bill with painted bruises and cuts
Interior ministry says abuse kills around 14,000 women per year – one every 40 minutes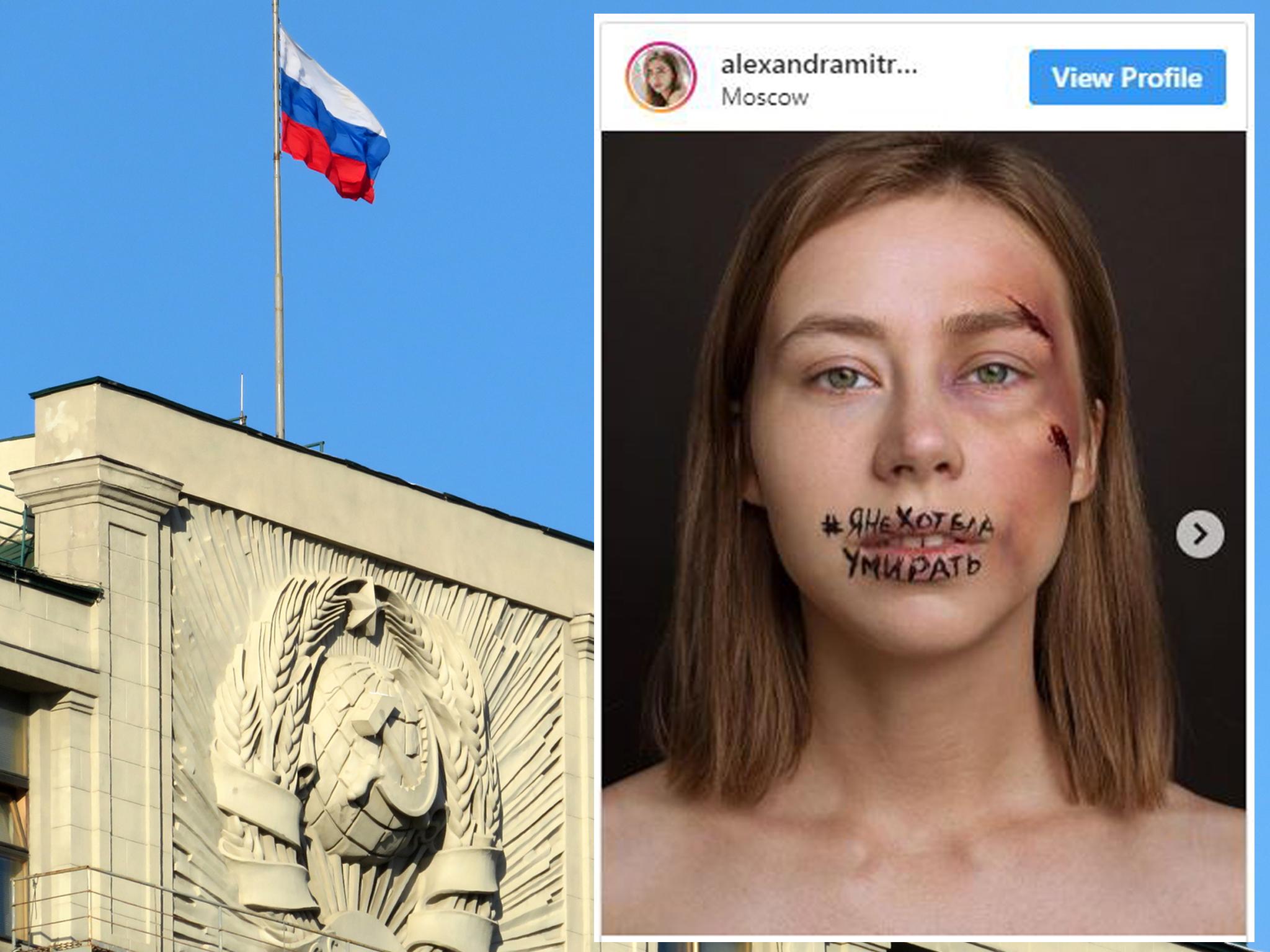 Thousands of Russians have called on the government to pass a domestic violence bill and warned women are dying due to a dearth of protections.
Russia is one of the only major countries in the world not to have dedicated laws for domestic violence, despite official studies suggesting at least one in five women have experienced physical violence at the hands of a husband or partner.
The country's interior ministry said domestic violence kills around 14,000 women per year – one every 40 minutes.
Parliament adopted controversial legislative amendments in February 2017 that decriminalised first battery offences among family members – marking a setback which reduced penalties for abusers and placed victims in even greater danger.
Human rights activists Alena Popova and Alexandra Mitroshina have now launched a campaign calling for social media users to share photos of themselves with the hashtag #янехотелаумирать (I didn't want to die) and to sign a petition.
World news in pictures
Show all 50
Many have followed the pair's lead and posted images of themselves wearing make-up which depicts blood, cuts and violence in an attempt to show their outrage over the country's stance on domestic violence.
Campaigners have struggled to change attitudes in the socially conservative nation, where a traditional saying goes: "If he beats you, it means he loves you."
Tabloid Komsomolskaya Pravda ran an article after the government reduced the punishment for spousal or child abuse from a criminal to a civil one, saying that women should be "proud of their bruises" from violent husbands, and arguing some evolutionary psychologists claim abused women are more likely to give birth to sons.
Ms Mitroshina devised the idea for the latest campaign and organised the initial photo shoots. A photo of herself on Instagram has accrued more than 400,000 likes.
Her post draws attention to the story of Olga Sadykova who was allegedly killed by her husband on 8 July in the village of Kumysnoye. The stabbing happened in front of her eight-year-old son, according to her family.
The Ministry of Internal Affairs of the Russian Federation said Ms Sadykova had previously reported her husband to the police. Officers started investigating him in June on suspicion of grievous bodily harm and making death threats.
"She would have been alive if we had had a domestic violence law," Ms Mitroshina said in the post.
"Russia needs a federal bill on preventing domestic violence and helping those who suffered from it. There is a chance that it will be considered this autumn. For this to definitely happen, we need a maximum public outcry."
Oxana Pushkina, a politician who is now working on a draft law against domestic violence, shared her post.
"The law on prevention of domestic violence is needed to make the number of such crimes as low as possible," she told RT.
"The existing system of measures and law is not enough to protect the victim from the troublemaker."
There has a been a rise in discussions around attitudes towards domestic abuse in Russia. Women in the country took to social media and held protests last month to raise awareness around the country's poor track record of tackling violence and sexual assault against women.
The hashtag #NotHerFault (#саманевиновата in Russian) gained traction on social media in the country.
Europe's top human rights court found Russia's failure to adequately investigate domestic violence discriminates against women in a landmark ruling in early July that campaigners hope will lead to changes in local practice.
Russia remains a traditional society which critics say has deeply entrenched sexist views and a culture of victim-blaming. Since Vladimir Putin first took office almost 20 years ago, he has joked at least twice in public about rape. The president famously bragged that Russia's prostitutes are the best in the world and has ridiculed women for menstruating.
A report by Human Rights Watch alleged Russian police were refusing to register or investigate women's reports of domestic violence and were instead advising them to reconcile with abusive partners.
The research found serious gaps in Russia's laws, a dearth of protection orders, and inadequate police and judicial responses for women who had suffered severe physical violence.
The study – titled "I Could Kill You and No One Would Stop Me": Weak State Response to Domestic Violence in Russia and published in October last year – said social stigma, lack of awareness and lack of trust in police resulted in victims not reporting abuse.
It also found domestic violence in the country is still predominantly viewed as a private "family" matter – with police, courts and sometimes even service providers attributing blame to the victims and advising women to avoid "provoking" their abusers.
Women described being choked, punched, beaten with wooden sticks and metal rods, burnt, threatened with weapons, sexually assaulted and raped, pushed from balconies and windows, having their teeth knocked out, and being forced to endure severe psychological abuse.
Join our commenting forum
Join thought-provoking conversations, follow other Independent readers and see their replies