Russia deploys nuclear-capable missiles to border with Poland and Lithuania
President of Lithuania warns weapons pose threat to 'half of all European countries'
Samuel Osborne
Wednesday 07 February 2018 15:35 Comments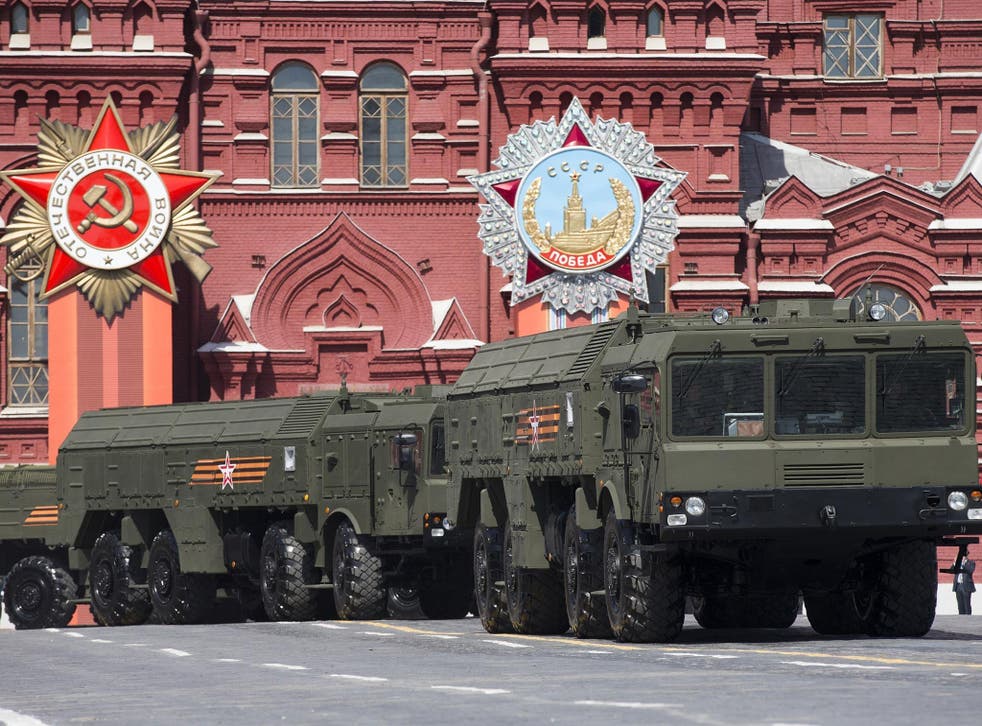 Russia has said it has the sovereign right to deploy weapons anywhere within its own borders after sending nuclear-capable missiles to its territory between Poland and Lithuania.
The Kremlin deployed advanced Iskander missiles to its Kaliningrad exclave on the Baltic Sea, within striking distance of large swathes of Poland, Lithuania, Latvia and Estonia — all members of Nato.
The head of the Russian parliament's defence committee, Vladimir Shamanov, confirmed the missiles' deployment in remarks carried by Russian news agencies.
He said the move was a response to a Nato buildup near Russia's borders, with the number of US weapons in Poland being a particular irritation to Moscow.
Royal Navy tracks Russian warship through North Sea on Christmas Day
When asked about reports of the deployment on a conference call with reporters, Dmitry Peskov, a spokesman for the Kremlin, said: "The deployment of one weapon or another, the deployment of military units and so forth on Russian territory, is exclusively a sovereign issue for the Russian Federation.
"Russia has never threatened anyone and is not threatening anyone. Naturally, Russia has this sovereign right [to deploy weapons on its own territory]. It should hardly be cause for anyone to worry."
Dalia Grybauskaite, president of Lithuania, said the missiles would be deployed on a permanent basis and called them a threat to Europe.
Ms Grybauskaite told reporters: "Iskander missiles are being stationed in Kaliningrad for permanent presence as we speak," after visiting Nato troops in the central Lithuanian town of Tukla.
She called the deployment a threat not only to Lithuania but to "half of all European countries".
Latvia's foreign minister, Edgars Rinkevics, said the deployment added fresh impetus to discussions already underway inside Nato about improving the alliance's capabilities.
World news in pictures

Show all 50
"It means that what we have been talking about – the necessity to discuss strengthening air-defence elements during the Nato summit in July; strengthening the chain of command, to talk about many questions that affect defence of our region and Latvia specifically... – it all has been confirmed by the practical actions of Russia," the minister said.
Reports of the Kaliningrad deployment so close to Nato territory are perceived by some alliance members as a threat at a time when tensions between Russia and its Western neighbours are running high over Moscow's illegal annexation of Ukraine's Crimea.
Washington has said placing such missile systems near the Baltic states and Nato member Poland is "destabilising," while US officials have expressed concern the deployments represent a permanent upgrade to Russia's forces in the area.
The Kremlin has often said it would place Iskander missiles in Kaliningrad as a challenge to a US missile shield being developed in eastern Europe. Washington says the shield is designed to counter possible missile attacks by Iran, but Moscow says it is directed against Russia.
The high-precision Iskander missiles deployed in Kaliningrad can be fitted with a conventional or nuclear warhead and have a range of up to 310 miles (500km). In the past, Moscow deployed them to Kaliningrad temporarily for military drills.
A Nato official, who spoke to Reuters on condition of anonymity, said: "Any deployment close to our borders of missiles that can carry nuclear warheads does not help to lower tensions. In the spirit of transparency, we look forward to hearing more from Russia on this.
"It is important to determine the exact situation. Nato is alert, we understand the capability, but we also understand that the Russians have been moving equipment in and out of Kaliningrad for a long time."
Additional reporting by agencies
Register for free to continue reading
Registration is a free and easy way to support our truly independent journalism
By registering, you will also enjoy limited access to Premium articles, exclusive newsletters, commenting, and virtual events with our leading journalists
Already have an account? sign in
Join our new commenting forum
Join thought-provoking conversations, follow other Independent readers and see their replies