Russian Prime Minister accuses West of starting 'new Cold War' as tensions rise over Syria and Ukraine
Nato's Secretary General had accused Russia of 'intimidating its neighbours' and undermining stability in Europe
Lizzie Dearden
Saturday 13 February 2016 13:22 Comments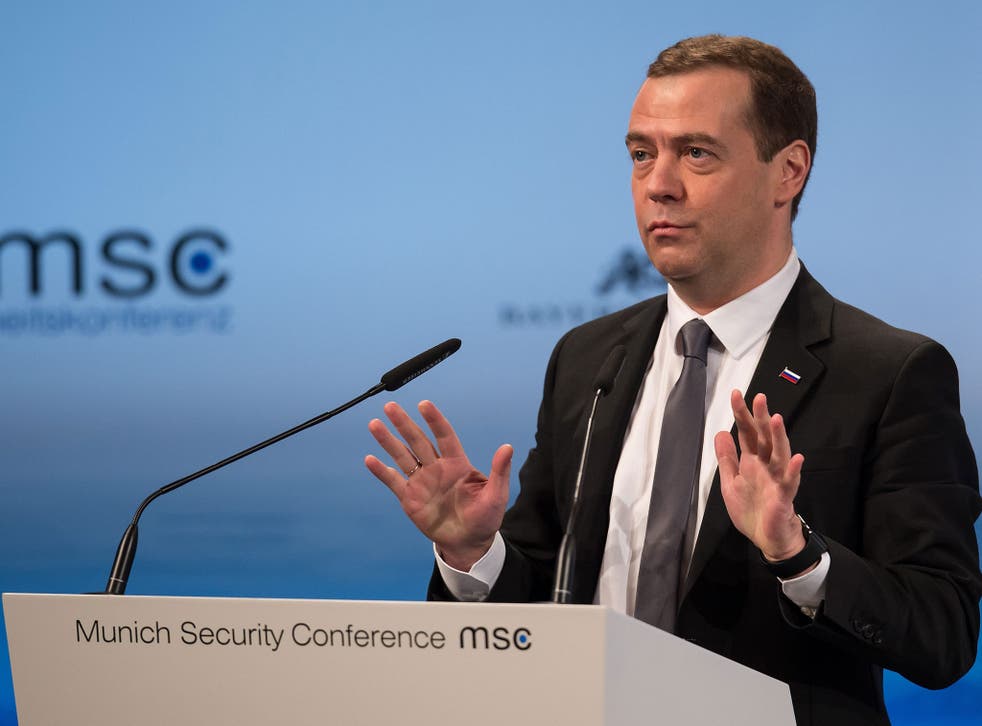 The Russian Prime Minister has accused the West of starting a "new Cold War" as Nato expands its presence in eastern Europe and bitter arguments continue about Syria and Ukraine.
Dmitry Medvedev spoke at the Munich Security Conference shortly before John Kerry, the US Secretary of State, accused Russia of "repeated aggression" and killing civilians.
The country has come under heavy criticism for its intervention in Syria, where it is predominantly believed to be targeting anti-government rebels in support of Bashar al-Assad, and is under international sanctions for its annexation of Crimea.
NATO reinforces Baltic presence as tensions rise with Russia
Jens Stoltenberg, the Nato Secretary General, added to the pressure today by telling senior diplomats, politicians and defence officials a "more assertive" Russia was "destabilising the European security order".
"Nato does not seek confrontation - we do not want a new Cold War," he said.
"At the same time our response has to be firm."
But Mr Medvedev responded strongly, blaming Nato itself for worsening tensions with a new missile system based in Romania and increased presence along the Russian border.
"Nato's policies related to Russia remain unfriendly and opaque - one could go so far as to say we have slid back to a new Cold War," he said.
Scoffing at what he said was a suggestion that Moscow may use nuclear weapons in a first strike, he quipped: "Sometimes I wonder if it's 2016 or if we live in 1962."
The Russian Prime Minister called for sanctions on Russia implemented after it annexed Crimea from Ukraine in March 2014 to be lifted, saying they were "a road that leads nowhere".
"The longer the sanctions continue, chances for the Europeans to keep their position at the Russian market as investors and suppliers are fading," he added.
"That's why one has to act quickly."
Mr Medvedev also defended his country's intervention in Syria, saying it is targeting Isis and has been open with its goals.
A war of words has been raging between American and Russian defence officials over the bombing of hospitals and civilian areas in Aleppo, where regime forces are pushing to take territory from anti-government rebels.
Russia has insisted it is targeting Isis but the UN and monitoring groups claim data shows its air strikes have predominantly hit "moderate" rebels, who are styled as "terrorists" by Assad but viewed by the West as a legitimate and effective fighting force against Isis and other extremists.
Mr Kerry said Russia was defying the international community with its support for the Assad regime and separatists in eastern Ukraine.
In pictures: Russian air strikes in Syria

Show all 19
"To date, the vast majority of Russia's attacks (in Syria) have been against legitimate opposition groups," he said.
"To adhere to the agreement it made, Russia's targeting must change."
He also said US sanctions would hold until Russia helps implement the Minsk agreement drawn up with the aim of ending the Ukrainian conflict.
A temporary "cessation of hostilities" in Syria was agreed in Munich in the early hours of Friday but hopes for a long-lasting truce are waning with Assad's vow to retake the whole of Syria by force, and Saudi Arabia's deployment of troops and planes in Turkey ahead of an expected intervention.

Additional reporting by agencies
Register for free to continue reading
Registration is a free and easy way to support our truly independent journalism
By registering, you will also enjoy limited access to Premium articles, exclusive newsletters, commenting, and virtual events with our leading journalists
Already have an account? sign in
Join our new commenting forum
Join thought-provoking conversations, follow other Independent readers and see their replies