'Train tracks or traffickers': how government policy is forcing child refugees to risk their lives rejoining family in the UK
'The system is simply not working,' says Yvette Cooper, chair of Labour's refugee taskforce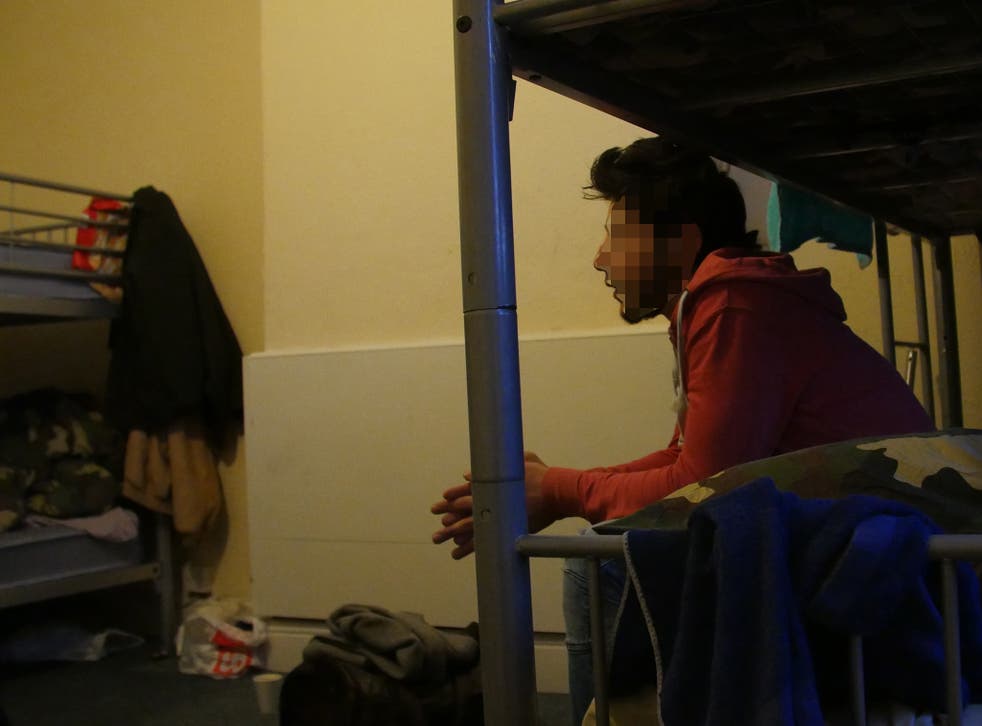 Sami had been in 'the Jungle' for two months when he broke his leg. It was raining that night, as it does 120 days a year in Calais. He climbed on top of a lorry heading to the UK, slipped, and cracked his fibula.
He was trying to find his older brother, Adnan, who made the hazardous border crossing a few weeks before. After his injury, the pair lost contact because Sami's phone was stolen in the refugee camp. But his brother, for all Adnan knows, might be the only person in his family still alive – their parents and sister haven't been seen since their home was bombed in Syria. Sami has been living in the Jungle for six months, waiting for news from the British Government. He is 15.
"When he sees me he'll smile for me, but inside he's broken," says Adnan, 18, when we meet him at a refugee centre, where more than a dozen people sleep in some its shabby rooms. "He can't go for a walk because of his leg. He has no medicine, antibiotics, and no vitamins or anything to fight infection. No painkillers, so he cries at night from the pain."
Sami is one of 423 unaccompanied minors living in the Jungle, according to a census carried out by the charity Help Refugees last month. Many of these children have relatives and siblings in the UK; some are as young as nine.
"The system is simply not working," says Yvette Cooper, chair of Labour's refugee taskforce. "The idea that lone child refugees could be caught in a nine month bureaucratic limbo is just appalling."
Ms Cooper is concerned at how many children are "stuck in the system", with particular reference to the "Dublin regulation". It is an EU law that stipulates that an asylum claim must be dealt with in the claimant's first country of entry. In order for the asylum claim to be passed on between countries, a "take charge" request should then be issued to the UK by the French government. Yet Ms Cooper does not know of any requests that have been accepted by the UK in recent years. Why is this happening? "I simply don't know. I've not heard any proper explanation."
Britain is required to reunite spouses, siblings, and parents with minors, under current immigration law. But the number of people filing applications for asylum in the European Union doubled to a record 1.2 million in 2015, and as a consequence "Dublin" is creaking badly. The European Commission has even admitted there are "systemic deficiencies in the way the current Dublin system is working".
As such, amendments to the Immigration Bill are being discussed. This week Lord Alf Dubs, a Labour peer who fled Nazi Germany and entered the UK as an unaccompanied child refugee, succeeded in his call for the country to immediately accept 3,000 unaccompanied children from France and other countries in Europe – it passed in the House of Lords, but will face stern opposition in the Commons. Meanwhile, Lord Hylton, a cross-bench peer, has tabled an amendment that would give refugee families more rights to be kept together.
These changes could have a very real impact. "Since my brother arrived in France he's been in a lot of trouble. Even underage people are getting beaten up," says Ali, 21. His 14-year-old brother, Tariq, was living alone in the southern part of the Jungle before it was demolished. Tariq has now been moved to a shipping container with several other children supervised by volunteers. "He can't sleep well at night," reveals Ali. "He's quite distressed. Some of the people with him that I spoke with said he talks a lot at night now, which he never used to."
Ali, who was driven out of Afghanistan by the war in 2008, stayed in Kent with a foster family for five years. Now he lives in north-west London, enrolled as a business management student at university. He wants his brother – who travelled across Europe alone for 20 days – to follow in his footsteps, having "a better education, a better life, a better future". He can't go back to Afghanistan now, and says his family – including brother Tariq – have been targeted in the past few years because he came to the West.
But there are signs of improvement. In January, a UK court ruled that three Syrian teenagers and an adult with mental health problems should be reunited with their relatives and allowed to have their asylum claims heard in Britain. It was a landmark decision against "Dublin", with lawyers for the four successfully arguing for the refugees' entitlement to a family life, under Article 8 of the European Convention of Human Rights. More progress was made this week, as three unaccompanied Syrian children arrived in the UK from Calais after a similar ruling.
A Syrian refugee's journey across Europe
Iona Lawrence of Citizens UK, who worked on the case, says the charity are currently collaborating with the Islington Law Centre, Bhatt Murphy Solicitors and other firms on more than 70 "live" claims. But there are as many as 170 children in the Calais Jungle that have the legal right to reunification with their family in the UK, according to Lliana Bird, co-founder of Help Refugees.
It is "unfathomable", Ms Bird says, that the Government are "not doing everything possible" to prioritise their cases and expedite the claims. "Leaving them in the Calais Jungle exposes them to living conditions unfit for any human as well as the very real threat of traffickers," she says. "We have a moral as well as legal duty to protect these children."
But the Home Office doesn't see it as Britain's duty to deal with the Calais refugee situation. "Migrants in France are the responsibility of the French Government, which is providing alternative accommodation outside Calais to all migrants," says James Brokenshire, the immigration minister. "There is no need for anyone to remain in the camps."
"We have a long and proud history of offering sanctuary to those who genuinely need it," he adds, acknowledging that there is an issue. "It is important that we do all we can to discourage unaccompanied child asylum seekers from making dangerous journeys to reach the UK."
Like many other refugee children, Elias, 16, has tried to cross the Channel several times. But on each attempt he's been arrested and taken back to the camp.
"He's feeling stressed," says his older brother Youssef, shaking his head. "He inhaled some police [tear] gas a month ago and he's very tired from that now. He still has a headache from it. He gets dizzy every day from the gas and he can't breathe like he could before."
Youssef, 21, now lives in London, and says he's gone to Calais five times in the last few months to check up on Elias. But his youngest siblings are still in Syria. "I try to speak to them every day" he says, quietly. "They're not safe there. But what can they do? There's nothing they can do now. The army have closed the borders."
It is a familiar pattern – on the whole, a brotherly phenomenon, in which young boys are sent ahead by their families to find a better life, and care for their younger siblings. "If my brother comes here he'll live with me," Youssef says. "I'll put him in college and we'll live a normal, good life as a family."
According to the EU police agency Europol, more than 10,000 unaccompanied child refugees have disappeared in Europe in the last two years. With new areas demolished each week, the charity Save the Children warns that if the government doesn't provide legal routes to family reunification immediately, lone minors will have to make dangerous choices. "Children will be forced to choose between the traffickers or the train tracks," says a spokesperson for the charity.
What does Youssef think his baby brother will do now that the Jungle is gradually being destroyed? He pauses. "I think he's going to try and cross every day."
Names have been changed in this piece in order to protect identities
Register for free to continue reading
Registration is a free and easy way to support our truly independent journalism
By registering, you will also enjoy limited access to Premium articles, exclusive newsletters, commenting, and virtual events with our leading journalists
Already have an account? sign in
Register for free to continue reading
Registration is a free and easy way to support our truly independent journalism
By registering, you will also enjoy limited access to Premium articles, exclusive newsletters, commenting, and virtual events with our leading journalists
Already have an account? sign in
Join our new commenting forum
Join thought-provoking conversations, follow other Independent readers and see their replies