Ukip MEP Mike Hookem claims he stopped group of migrants from trying to get to the UK
He also attempted to scale a fence, to show how easy it was for the struggling migrants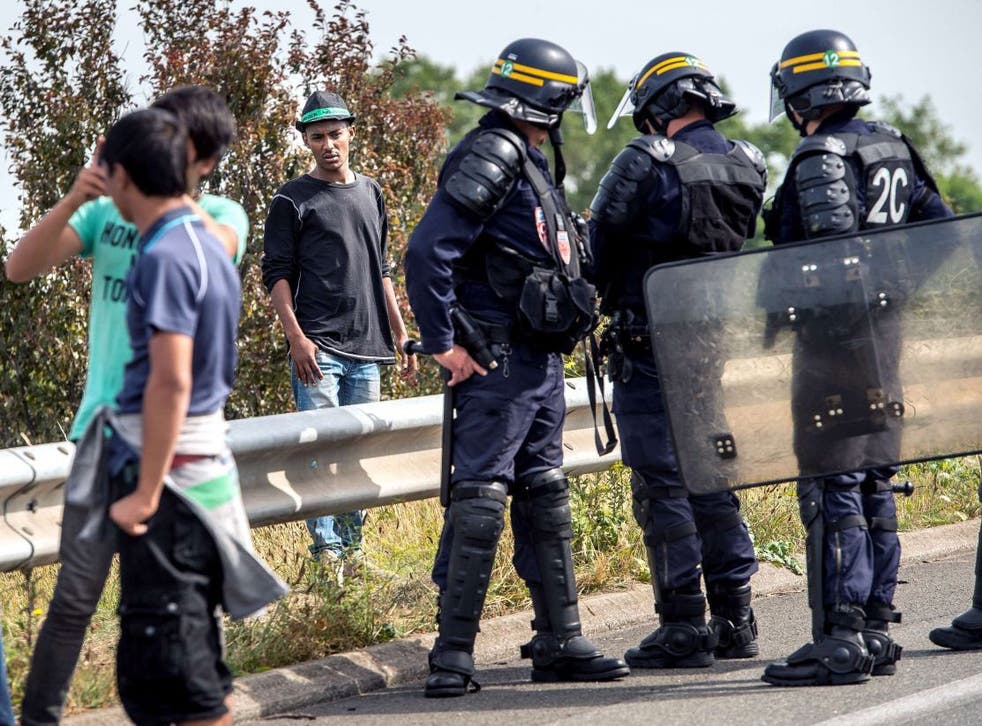 Mike Hookem, a Ukip MEP for Yorkshire and the Humber, has claimed he discouraged 25 migrants from trying to get to the Eurotunnel during a visit to Calais.
Hookem, the party's defence spokesman, went to Calais after hearing reports that lorry drivers from his constituency had been attacked by knife-wielding migrants.
Speaking to The Times, he said that he and his staff had come across a group of people hiding near the fence, who fled after being discovered.
During his trip, he has been posting pictures to his Twitter account, including one that shows a shocked-looking man in a bush, who was apparently trying to make his way to the tunnel.
Underneath the picture, he wrote: "My team and I stopped more illegals getting onto the track than Eurotunnel security".
However, he stressed that he did nothing "violent or illegal" to deter the group from attempting to make it into the tunnel.
In pictures: Calais crisis intensifies

Show all 20
He also conceded that the migrants may have tried again after he left.
Another image shows Hookem attempting to scale a fence, writing "If a 61-year-old can a 25-year-old can."
He also shared pictures of holes cut out of fences, migrants walking on the side of the road, and a picture of the makeshift camp that thousands of people are currently staying in before making their attempts to get to the UK.
Mr Hookem denied claims that he was a vigilante, telling the paper: "We don't want vigilantes. This is not about vigilantes."
Although Foreign Secretary Phillip Hammond said that the crisis in Calais peaked last week and is currently getting better, hundreds of people continue to try and make it into the UK, by stowing away on lorries, trains, or going into the tunnel itself.
The government's strategy to stop the crisis includes the installation of miles of extra fencing, the deployment of additional guards, and more collaboration between the UK Border Force, French Police and Eurotunnel in Calais.
Another British politician, Shadow Justice Secretary Lord Falconer, is currently visiting Calais for talks with haulage and Eurotunnel officials.
Last month, eight people, including one baby, died from injuries sustained during their attempts to make it to the UK.
Join our new commenting forum
Join thought-provoking conversations, follow other Independent readers and see their replies