Ukraine crisis: Kerry warns Putin 'This is not Rocky IV' as Russian fighter jets are put on combat alert
Tensions in the Crimea peninsula are increasing as armed men seized control of local government buildings this morning
Heather Saul
Thursday 27 February 2014 10:23 Comments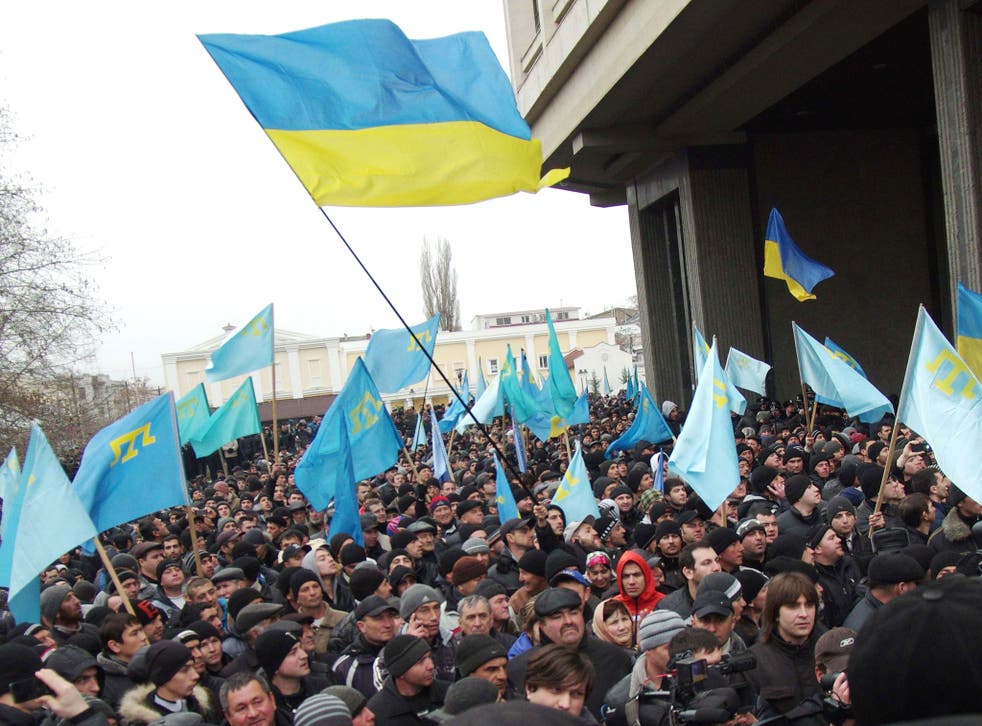 Fighter jets along Russia's western borders have reportedly been placed on combat alert amid continuing unrest in the Crimea region of Ukraine.
The exercise came a day after US Secretary of State John Kerry warned Russian President Vladimir Putin to remember that the escalating crisis "is not Rocky IV".
Meanwhile, Ukrainian fugitive president Viktor Yanukovych - who is seeking refuge in a luxury health resort outside Moscow, Russian news agency RBC has claimed - has allegedly asked for Russia's protection from "extremists".
He also said he still considers himself to be the legitimate leader, according to a statement published by three Russian news agencies. An unnamed Russian official said his request was "satisfied in the territory of Russia."
A spokesperson for Mr Putin said they were not aware of Mr Yanukovych's reported arrival in Moscow.
Ukraine's acting president Oleksandr Turchynov issued a warning to Russia that any movement of its troops from their naval base in the southern Crimea region "will be considered military aggression."
In pictures: Crisis in Ukraine

Show all 11
Mr Turchynov also declared the takeover of government buildings in Crimea as a "crime against the government of Ukraine. I have given orders to the military to use all methods necessary to protect the citizens, punish the criminals, and to free the buildings," he said.
The Russian Interfax news agency quoted the Defence Ministry as saying:"Constant air patrols are being carried out by fighter jets in the border regions. From the moment they received the signal to be on high alert, the air force in the western military region left for the ... air bases."
The apparent move comes as "criminals wearing military fatigues" seized the regional government and parliament headquarters on Ukraine's Crimea peninsula this morning.
Mr Turchynov, who is also the head of Ukraine's armed forces, appealed for Moscow to adhere to the rules of an agreement which allows Russia's Black Sea fleet to be based in Sevastopol until 2042.
"This is not Rocky IV," he said, referring to the 1990 film depicting a battle between the East and West, in which Rocky Balboa fights Soviet Union boxer Ivan Drago.
"Believe me. We don't see it that way", he told US TV Network NBC News.
"I think Russia needs to be very careful in the judgments that it makes going forward here," he added. "We are not looking for confrontation. But we are making it clear that every country should respect the territorial integrity here, the sovereignty of Ukraine.
"Russia has said it would do that and we think it's important that Russia keeps its word."
Mr Kerry's comments came after Mr Putin ordered the urgent drill test combat readiness of its military forces amid tensions with the West over Ukraine.
The exercise, involving 150,000 of precisely those forces which are likely to be used for any intervention, and their reserves, came amid growing claims that the country faces the threat of breaking up, as protests and violent sectarian clashes continue.
Russia said earlier this morning it would "uncompromisingly" defend the rights of its compatriots in Ukraine, while expressing concerns over "large-scale human rights violations", attacks and vandalism in the former Soviet republic.
Additional reporting by agencies
Register for free to continue reading
Registration is a free and easy way to support our truly independent journalism
By registering, you will also enjoy limited access to Premium articles, exclusive newsletters, commenting, and virtual events with our leading journalists
Already have an account? sign in
Join our new commenting forum
Join thought-provoking conversations, follow other Independent readers and see their replies