Ukraine crisis: Nato readies rapid-reaction spearhead force in response to Russian intervention – with sizeable British contingent
The Alliance has not named Russia as the threat against whom the measures are being taken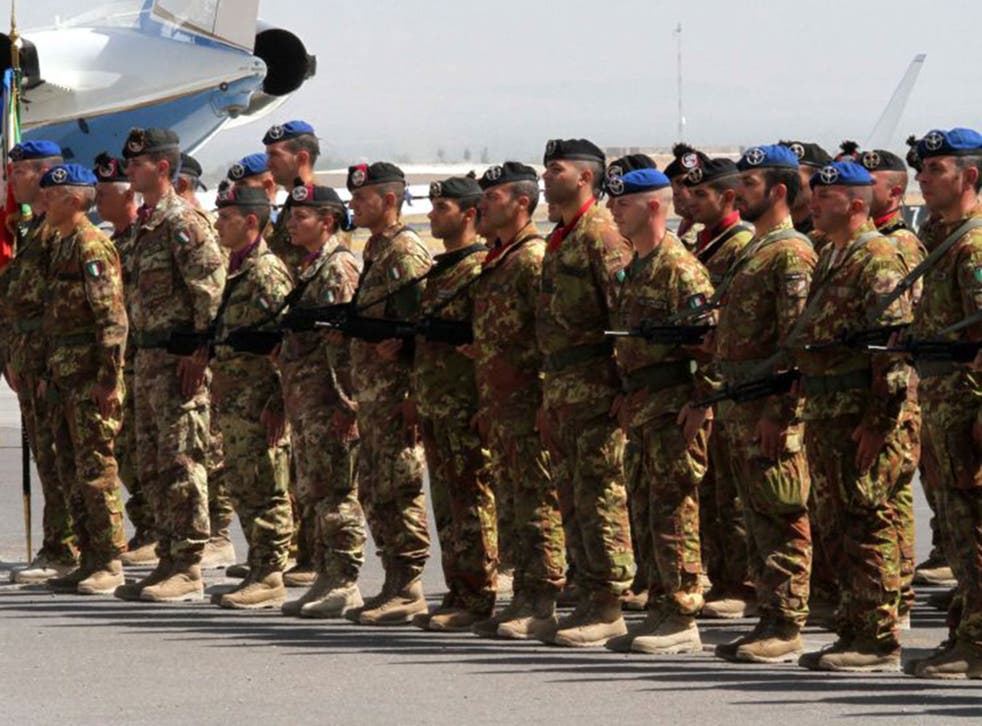 Nato is to form a 4,000-strong spearhead force designed to go into action in 48 hours in response to Russian intervention in Ukraine. Stockpiles of military equipment will be stored at bases in Eastern Europe for the troops to use when they go into operation.
The mission, which is expected to have a sizeable British contingent, is due to be unveiled at the Nato summit in Wales later this week. It will include special forces, air, naval and intelligence detachments which will deploy alongside the soldiers of the host nation against an outside threat.
The Alliance has not named Russia as the threat against whom the measures are being taken and has stressed that it can be deployed anywhere in the world. But it will be working alongside the Readiness Action Plan which will have bases, it is believed, in Estonia, Latvia, Lithuania, Poland and Romania.
The deployment is certain to be seen as provocative by the Kremlin. Under the 1997 Founding Act, which was viewed as ending the Cold War, Nato pledged to Boris Yeltsin's government that it would not have a permanent troop presence in any of the former Warsaw Pact states. Nato insists that the bases do not break the pact as they are not permanent, but they will be there "for as long as it takes". A senior official stated: "We have been through this thoroughly, taken extensive legal advice, and this is not in breach of the Act. There will not be permanent presence in these bases, there will not, for example, be personnel stationed there with their families."
In pictures: The Ukraine crisis

Show all 66
The force is part of a raft of measures being taken by Nato to sharpen up its reaction since the Ukraine crisis began in February. Since then, Crimea has been annexed by Vladimir Putin's government and separatist forces, with Russian backing, are engaged in an increasingly violent civil war in the east of the country.
Anders Fogh Rasmussen, the Nato Secretary-General, said on Monday: "This is a time of multiple crises on several fronts. To the east, Russia is intervening overtly in Ukraine; to the south we see growing instability, with fragile states, the rise [of] extremism, and sectarian strife. These crises can erupt with little warning, move at great speed and they all affect our security in different ways.
"We will develop a spearhead within our response force. This will require reception facilities in Nato territory, pre-positioned equipment and supplies, command and control and logistics experts. So this force can travel light, but strike hard if needed.
"…That also means more visible Nato presence in the east for as long as required, not because Nato wants to attack anyone, but because the dangers and the threats are more present and more visible and we'll do what it takes to defend our allies."
Poland, the Baltic States and Canada are calling for the repeal of the Founding Act, according to diplomatic sources, after accusing the Russians of sending regular troops, tanks and artillery into Ukraine. Kiev's forces, after a series of successes in recent months, are now on the defensive, with separatist forces making gains in the south-east and seeking to force a corridor to Crimea.
Join our new commenting forum
Join thought-provoking conversations, follow other Independent readers and see their replies