Indian pharmacist honoured by Kyiv for supporting war effort: 'Ukraine is my nation too'
Brijendra Rana, a Kharkiv resident who provides medicines to Ukrainian troops and civilians, tells Arpan Rai it is his 'kartavya' – or duty – to help his adopted homeland
Tuesday 07 February 2023 17:50 GMT
Comments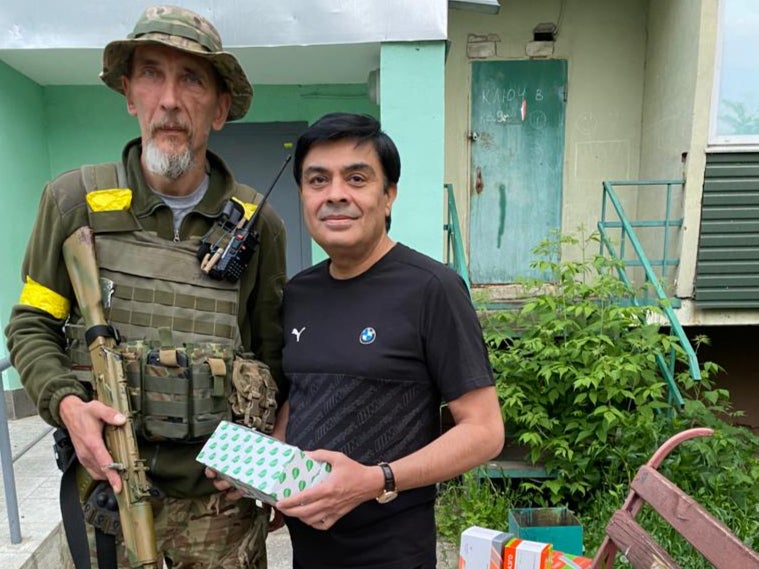 When Russia invaded Ukraine a year ago this month, India was one of many countries that raced to evacuate thousands of its citizens out of harm's way. A huge operation followed, with planes, trains and buses pressed into service to rescue some 18,000 Indian nationals in the space of around three weeks.
Brijendra Rana, a 50-year-old Indian living in Ukraine, was among the few who chose to stay, despite his adopted home of Kharkiv being just 60km (37 miles) from the Russian border and among the first cities targeted by the initial wave of invading forces.
His pharmaceutical firm Ananta Medicare has provided antibiotics to hospitals and medical institutions through the course of the war. He also started volunteering with the Red Cross in the months after Russia's invasion.
When an official call from Kyiv came for Mr Rana, he assumed it to be a regular order from the government that would involve providing aid or medicine to civilians.
Late last week he drove down to the Ukrainian capital where, much to his surprise, he was told he would be meeting Valerii Zaluzhnyi, the commander-in-chief of the country's armed forces, and handed the "Badge of Honour" – one of the country's most prestigious civilian awards.
It consists of a shiny silver medal bearing the image of the Motherland Monument statue that is on top of Kyiv's National Museum.
Mr Rana now counts among the recipients of an award given for significant personal contributions, including active volunteering under the conditions of martial law, to the armed forces.
Speaking to The Independent, he explains that his pharmaceutical firm provides essential free medicines for cold, fever, flu and heart conditions.
"Among the primary medicines needed for injured soldiers and civilians include antibiotics, which is in heavy demand in Ukraine," he says, adding that they constitute 70 per cent of the consignments he receives from western India's Rajasthan state via Poland.
These are sent to stadiums accommodating civilians-turned-refugees whose houses were shelled in Russian attacks. Mr Rana and his team also send essentials like fruit, bread, milk and eggs along with medicines to such families.
Mr Rana, who has lived in Ukraine for more than 30 years, says he never considered going back to India even after the war broke out last year.
"India is my motherland but Ukraine is also my nation, to which I feel I belong," he says. "I will not leave. I will not be at peace if I leave the country and desert so many people who are struggling to get through the war. The idea of exiting Ukraine does not come to mind, it does not strike me even once," he says over a phone call from Kharkiv.
Mr Rana explains the daily horror of war experienced by him, his wife and their 16-year-old daughter Sophia. Not a single day goes by without shrill air raid sirens piercing the daily rhythm of their household, he says, forcing the family to rush into the basement in case of attack.
This routine has become so common now, he says, his entire neighbourhood goes about their day despite the sirens.
Mr Rana first travelled to Ukraine from eastern India's Baghpat city in the state of Uttar Pradesh in 1991 to study mechanical engineering.
He started a small pharmacy business with friends in Kharkiv in the 1990s. Ananta Medicare later expanded into a successful multinational pharmaceutical firm and now supports both the Ukrainian military and civilians.
But staying behind during the war hasn't been easy, and it wasn't a decision he took lightly. "There are times when I think of my child," Mr Rana says. "We have seen more than a hundred missiles on some days since the war struck. No one knows which building will come in the way of the missile being fired."
The residential building he lives in has been ripped apart by missiles twice. No more than five floors remain from the original 24, he says, and there is not a building left in the neighbourhood that has not been damaged by artillery fire.
The problem with living so close to the Russian border is that the air raid sirens offer little notice to residents. Missiles take just 15-20 seconds to reach the city after being fired from Russian territory – often the warning sirens are still blaring for some time after the artillery has already struck, Mr Rana says.
Mr Rana's work has continued, but the war has inevitably made the logistics of providing medicines across Ukraine much more challenging. He says that the kinds of basics being provided to frontline soldiers used to take no more than a day or two to reach Ukraine, but now – with supplies routed via safer havens between India and Europe – they can take up to one and a half months via sea.
On the ground in Ukraine there are fears Russia is preparing for a fresh incursion to try and seize the initiative in the conflict, and Kharkiv's future seems no more certain than it did in the toughest weeks after the invasion.
But one thing is clear for Mr Rana – come what may, he will not leave Ukraine. He calls it his "kartavya" – a Hindi word meaning duty – to keep serving his adopted homeland.
"There is a lot of uncertainty about the future," he says. "I have been reading about some success in Russia's advances towards Kharkiv in the past three to four days. But the thought of leaving Ukraine has never crossed my mind."
Join our commenting forum
Join thought-provoking conversations, follow other Independent readers and see their replies