Death of nationalist Ukrainian commander 'Da Vinci' gives Russia a propaganda win
Dmytro Kotsyubaylo was a leader of one of the most controversial armed groups in the country, and was hailed as a hero by Volodymyr Zelensky, writes Kim Sengupta. He is the latest high-profile casualty in the fierce fighting around the eastern city of Bakhmut
Thursday 09 March 2023 06:44 GMT
Comments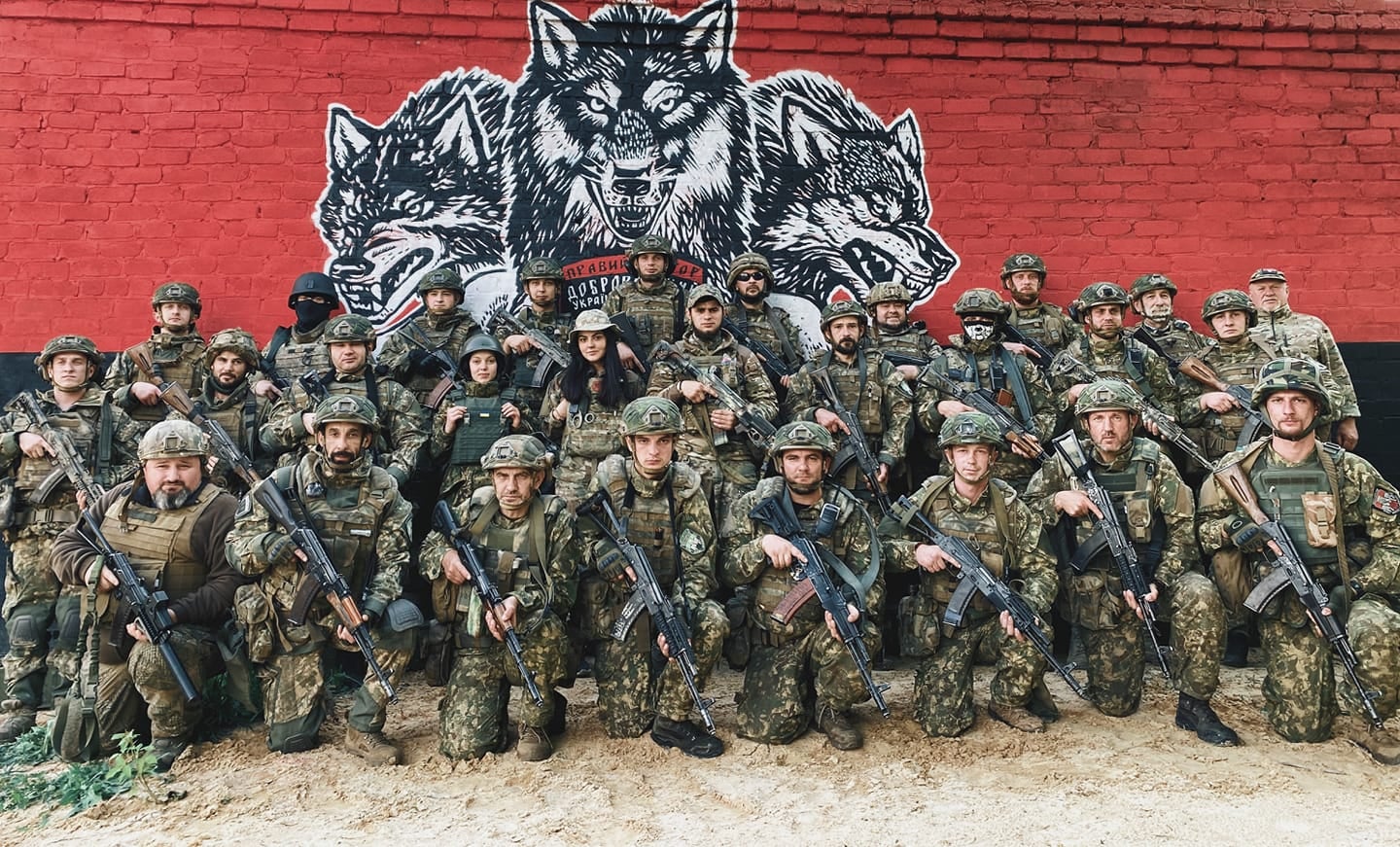 The youngest battalion commander in the Ukrainian military, famed for his bravery and a long-time prime target of the Russians, has been killed in the battle for Bakhmut.
Dmytro Kotsyubaylo, a leader of a group that Moscow has accused of having neo-Nazi and fascist links, died during shelling near the Donbas city, which has been the focus of a sustained Russian offensive for months.
Ukrainian president Volodymyr Zelensky, who presented Kotsyubaylo with the Order of the Golden Star as well as the title "Hero of Ukraine" last year, said in tribute: "He was one of the youngest heroes of Ukraine; one of those whose personal history, character and courage forever became the history, character and courage of Ukraine. He was killed in a battle near Bakhmut – a battle for Ukraine."
Kotsyubaylo, 27, who had the callsign "Da Vinci", was a leader of the Pravy Sektor [Right Sector] group, and had become well known in Ukraine for his part in the seven-year-long war against Moscow-backed separatists in the east. His reputation for frontline combat had been further enhanced during the current conflict.
The young soldier's death is a propaganda win for the Russians. One Kremlin-supporting website posted: "A high-ranking Ukrainian nationalist has been liquidated. We are talking about Dmytro Kotsyubaylo with the callsign 'Da Vinci', an ardent supporter and one of the leaders of the 'Right-Sector' banned in Russia and recognised as a terrorist organisation."
Kotsyubaylo's death follows the highly publicised killing of another Ukrainian soldier, Tymofiy Mykolayovych Shadura, in Bakhmut. A video has emerged of the soldier defiantly saying "Glory to Ukraine!" before he appears to be summarily executed by his Russian captors.
The Ukrainian government has declared that it will not withdraw from Bakhmut, which has been surrounded by Russian forces led by fighters of the Wagner mercenary group. The city in Donbas has been almost totally destroyed, though it is widely regarded by Western military analysts as having no great strategic significance.
A senior Western security official emphasised this week that gaining control of Bakhmut would be "quite a small tactical event" with no value "for either side". President Zelensky, however, has said that the Russians would threaten the rest of the Donbas if they managed to seize the city.
The decision to keep troops hanging on in Bakhmut has led to questions being asked within Ukraine's armed forces, with critics pointing to the failure to withdraw in time from Mariupol, where thousands were taken captive by the Russians when they captured the southern city. Similar delays in withdrawing from Sievierodonetsk and Lysychansk, two cities in the east, also led to large number of soldiers being killed and wounded.
Pravy Sektor is one of the most well known and controversial armed groups to have emerged from the fierce street clashes of the Maidan protests, which overthrew the government of Ukraine's pro-Moscow president Viktor Yanukovych in 2014.
The group went on to play a prominent part in the conflict that followed against separatists in the east, and became – in the process – figures of hate for their Ukrainian and Russian adversaries. For the first six months of the fighting that took place at that time, Pravy Sektor was one of the top three most frequently mentioned groups in Russian media, and the organisation was banned in Moscow.
I spent some time with the group in the Donbas last year, as Vladimir Putin's invasion got under way, with Russia's president declaring that one key aim of his country's "special military operation" was to "denazify" Ukraine.
The Pravy Sektor fighters echoed the wider Ukrainian and Western disparagement of Mr Putin's claim to be eradicating fascism, saying it was one of the spurious excuses used to launch the war.
The group was initially formed as a confederation of radical nationalist organisations. Some of these, including one called White Hammer, were subsequently expelled. Others, like Patriot of Ukraine, the paramilitary wing of the country's Social-National Assembly, left the group after it supposedly watered down its militancy.
Kotsyubaylo insisted to me that strenuous efforts had been made to keep out those who held Nazi, fascist or racist views.
"We are nationalists; I am a nationalist. But we are not [like] some others, who are neo-Nazis, white supremacists, and all that stuff. In this unit we have Jews, Muslims, Christians; you'll not see anyone with a Nazi or fascist tattoo, or anything like that. We have volunteers from lots of different countries; we don't mind where they come from, or their religion," he said.
Kotsyubaylo adopted the name "Da Vinci" because of his admiration, during his days as an art student, for the Renaissance polymath. "I liked his imagination and invention, embracing of new ideas. One can't admire things like that and be an intolerant racist," he said.
After the war was over, Kotsyubaylo said, his aim was to try to lead a "normal life" with his partner Alina Mykhailova, a former activist and deputy councillor in Kyiv, who also served on the frontline.
Kotsyubaylo felt, however, that normal life would be difficult for people like him, as they would always be targeted by hostile propaganda campaigns.
One story that fuelled such a campaign was about a wolf cub that he and his troops had raised after its mother was shot by hunters. It became the natural mascot of the unit, which has charging wolves in its badge. Asked by a reporter visiting the unit's base what the wolf was being fed, Kotsyubaylo replied that the bones in the cage were of "Russian-speaking children". After he received his award from Mr Zelensky, there were claims in the Russian media that Ukraine had given one of its highest honours to a right-wing extremist who wanted to feed his wolf the bones of Russian children.
"It was obviously a joke; anyone could see it was a joke. I was trying to make fun of the type of ridiculous things they say about us, and this got turned into 'fact'," Kotsyubaylo protested.
"I suppose it helped the way they wanted to show us, a way of making people fear and hate each other," he said. "We are in a real war now, not just a propaganda one. There will be a lot of fighting and people will die – we must accept that not all of us will come out of it alive."
Join our commenting forum
Join thought-provoking conversations, follow other Independent readers and see their replies